A good work person never blames their tools. A great work person gets the right tools in the first place. Put the kettle on; we're about to make you a great work person. 
Product managers have got their work cut out for them. Spread between product development, product planning, user research, road mapping, and product lifecycles, product managers often have a lot on their plate. 
Cue the best product management tools and software to save the day and help with every step of your product development process. We're about to share a few of our favorite PM tools to help you be the best product manager you can be and build better product lifecycles. 
Has that kettle boiled? Got a mug of something hot in hand? Great, let's get into it.
There's often debate around when a product team should be looking to implement certain product management tools.
Pop quiz:
A) Does a SaaS need to be turning over a certain amount to warrant committing to a solution contract? 
B) Should they be planning ahead and investing in the future, so they're ready for growth? 
In other words: reactive or proactive product management? 
The answer is (B). 
If you want your product development process to evolve manageably, it's a safe bet to start using those management tools sooner rather than later. Do it while you have the time, don't wait for a quiet moment—with any luck, you won't have one! 
The best product management tools can help you to: 
Solidify visions

Remain data-driven  

Be effective and efficient 

Minimize risk

Enable product discovery 

Communicate clearly

Manage feature prioritization

Build products that reach and retain customers
Each piece of product management software comes with its own onboarding flow that will (hopefully) smoothly guide you through setting up exactly how to work with your new product. 
What's important on your end is communicating the new tool with the rest of your product team and beyond, so it's adopted by those who need it most and utilized to your business's advantage. 
Right! Now we've covered the basics, let's dive into the (vegan) meat of this product management sandwich.
Some software solutions are best for planning, research, and development, while others are most useful in the post-launch phase. Mix and match to find your perfect fit.
Here, we dissect some of the best tools proven to work well for SaaS companies.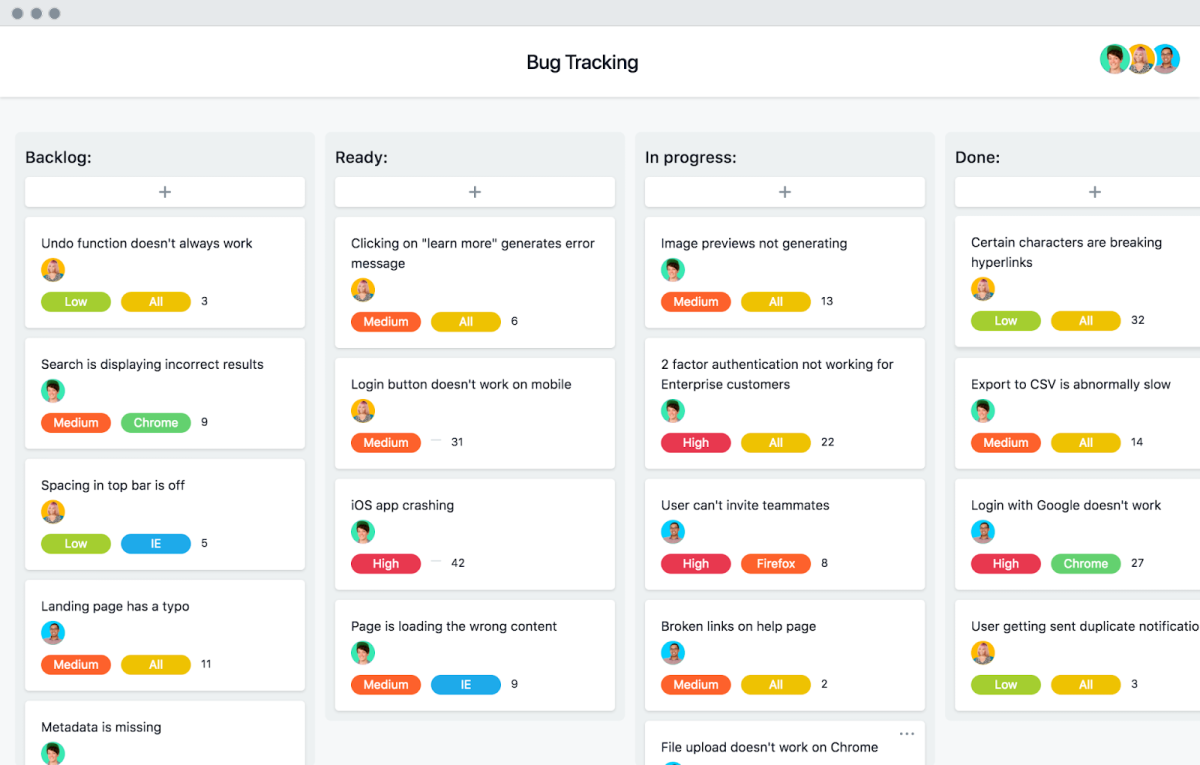 (Source)
Now there are a lot of great web-based project management tools out there: Jira, Monday.com, Trello, Wrike, to name a few. However, as for our top product management tool, we're putting Asana on the podium.
Why? Besides its raving G2 reviews, Asana effortlessly allows product managers to plan product roadmaps, simplify sprint planning, and create smoother product launchers from one platform. It helps product lifecycle organization and communication.
Besides this, Asana also enables product teams to track bugs and manage work requests. 65% of premium users say Asana has reduced the number of emails and status meetings with their team in the product development process.   
What's Asana best for?
Perhaps the biggest pro with Asana for product teams is that it doesn't just cover product planning—it can also be useful for other teams. Sales, operations, and marketing can integrate Asana into their workflows to help streamline projects and tasks, idea management, and nurture agile workforces. 
This means these teams will have no worries when it comes to reading data or using the platform in collaboration with your product team. 
When do product teams need Asana? 
As soon as your product team is getting regular requests, running much-needed updates, working on multiple features at the same time, or becomes more than one person, it's probably a good time to introduce a product management platform like Asana. 
Also, if you need to build cross-team communication flows or align product workflows and product planning, Asana should join your SaaS tech stack. It's also a fantastic combination of product management and product marketing software. 
What's the learning curve? 
Despite Asana being a relatively intuitive platform, there's a lot to learn if you want to maximize your team's potential with the SaaS tool. The learning curve is high but with a high reward. Make sure you give your team time to fully onboard the platform and educate themselves on its capabilities. 
Asana pricing
There's a freemium version of Asana for new starters, with a surprising amount of capabilities. After that, Asana starts at $10.99 per user per month and can go up to $24.99 per user per month. It depends on your business needs.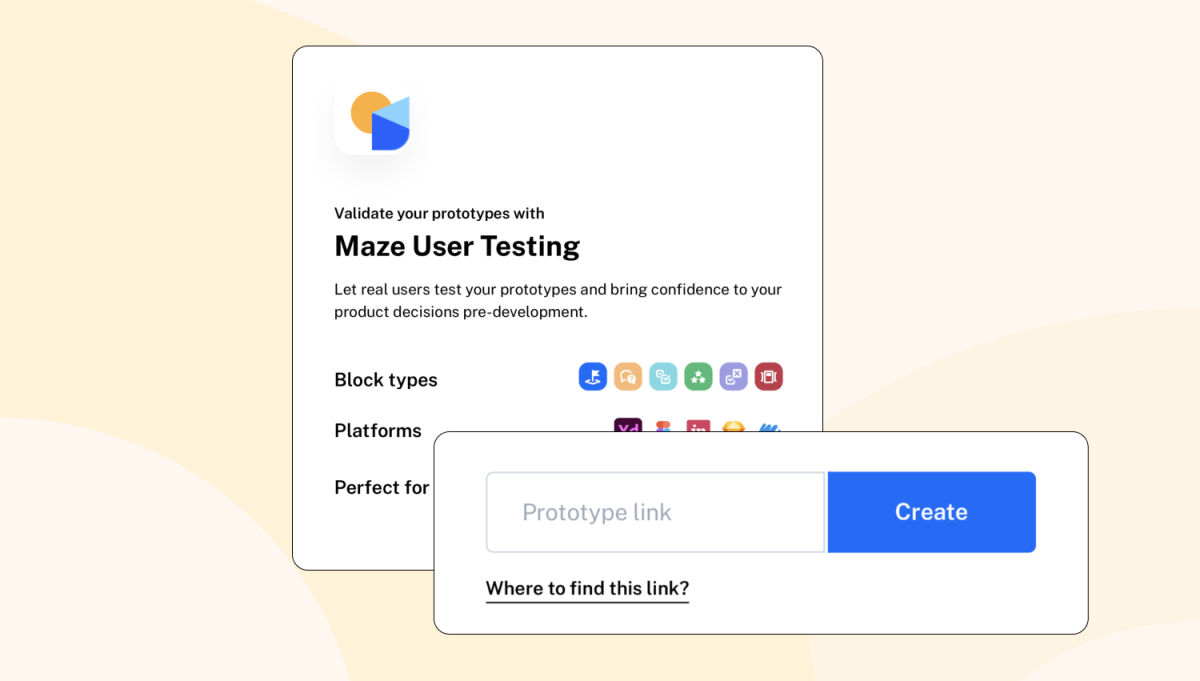 (Source)
Maze is a rapid, remote testing SaaS tool enabling product teams to test everything from copy to prototypes within the product lifecycle. This product management tool enables product managers to make data-driven decisions on product releases and in the product development process—with real people.
What's Maze best for? 
Maze is best for agile product-led teams that want to minimize adoption risk and maximize product-market fit. 
It's a fantastic user research tool and resource for teams that need to conduct user research but don't have the physical capacity to do so. This product marketing software can run tree tests, 5-second tests, ask open or closed questions, and get the customer feedback you need to launch. 
When do product teams need Maze?
Your team doesn't need to be any size to warrant using Maze. The SaaS tool is great for product designers, product managers, product marketers, and user researchers alike.
As far as user research tools go, Maze is perfect for helping product teams define product positioning for different personas and release customer-centric products that people need, understand, and use. 
What's the learning curve? 
The learning curve for Maze is medium. Despite the product being relatively technical in what it needs to do, it has a drag and drop format, so you'll be able to launch product tests with relative ease. 
Like Asana, Maze can do a lot. For that reason, the team has built a Maze 101 Guide to ensure you get the most out of the user research tool and can continue building products people love. 
Maze pricing  
The Maze freemium model gives your team unlimited seats and allows you to host up to three active projects. After that, the professional plan starts at $25 per month per user and allows you to host ten active projects. 
You can also get in touch with their sales team if you need ten seats or more and unlimited projects in your task management.
We're finishing with what we know best, Chameleon. It is a tool that helps you personalize in-product messaging to make onboarding for your product or new features smooth as butter.
With Chameleon, you can: 
Create tooltips to unblock users with additional explanation

Build onboarding tours that'll lengthen your product lifecycle and CLTV

Enable launchers to introduce new features and encourage adoption

Launch microsurveys to drive product development with user insights
What's Chameleon best for? 
Chameleon's best for product teams that are looking to increase their customer retention and fight churn rates by focusing on the user experience. 
The Chameleon features allow product teams to optimize onboarding experiences and create onboarding "bowling lanes" that get users to their job-to-be-done and "Aha!" moment that much quicker. 
When do product teams need Chameleon? 
If you can, it's best to implement Chameleon from the day you have your MVP in the market. From the first day, your product is in contact with users, you're building a brand reputation. If you can build that positively—and maintain it—you'll see organic growth of product sign-ups thanks to reviews and referrals. 
What's the learning curve? 
Relatively low, as Chameleon is a no-code platform. It means you're able to implement onboarding tactics with little to no help from your developers. 
Plus, Chameleon offers a heap of benchmark reports, product marketing inspiration, and an easy-to-navigate help center to make sure you make the most out of the tool and spark ideas as you go. 
Chameleon pricing  
Chameleon offers a Startup plan for smaller companies starting at $279 per month, and a Growth plan for growing businesses starting at $599 per month. 
Not sure where you'll fit in? The Chameleon pricing page has a calculator to help you predict your spending based on the growth of your monthly users.
Let's hear what product leaders at Heap, ActiveCampaign, and Braze have to say...
In an ideal world, a product team would be able to bring on every tool mentioned in this article for their product development processes and product data management. However, for as much as it pains us to say, sometimes we cannot have it all. 
You need to consider a few things when assessing one of the above SaaS tools or any product management software for that matter. 
Do you have the time to adopt the tool? 
No matter how intuitive the SaaS is, it will take time to adopt—especially if you want to make the most out of your new tool. Does your team realistically have the time to onboard and learn a new tool? 
Will this tool aid your current priorities, or can it wait until after those looming deadlines?
Is this the best fix for your problem? 
We've shared our favorites, but that's not to say they're the best solution for your needs. Consider if this tool is exactly the right fix for your problem. Don't be afraid to shop around. 
The SaaS world is flooded with product management solutions. Make sure you spend time sourcing the perfect one for your needs, not just the best product management tools that the market tells you you need. 
There are several agile project management guides you can go through to better understand what you need from a project or product management tool.
Do you have the budget? 
A huge thing any new tool adoption strategy needs to consider is your budget. Can you realistically take this tool on for a long period of time? Once you start depending on a SaaS tool, your business operations change, so can your business afford it? 
Also, consider this alongside any freemium plan. It can be very easy to adopt a new tool on a freemium plan, find you can't live without it, but not have the budget to jump to the paid plan (just yet). Don't start a freemium model if you can't pay for the plan you'll need in the future. 
Do you have team buy-in?
Last but certainly not least, do you have team buy-in? This needs to be senior leadership if they're the ones approving your spending. However, it also needs to be your fellow product teammates. Just because you're whole-heartedly set on this fantastic new tool, if your team isn't on board, then you'll have a hard time getting them to use it. 
Convince internal stakeholders and users that this solution is best for your business and showcase what it can do before buying in.
We hope you've found this article helpful on your journey to discovering product management software that's a fit for your business needs. 
Remember, despite the benefits you may see to onboarding a new piece of product management software if your team is not on the same page as you are then your efforts are in vain. 
Lastly, don't be afraid to remove the ego from your decision and regularly reevaluate if the tool is right for you. Set KPIs for the tools and keep tracking regularly. If you don't see an ROI-centered goal hit within a designated time, consider another option—there's no shame in it! 
Now go find those dream PM SaaS tools, and try some of the ones we've mentioned above. Happy hunting!
Want to find out more about the optimal product management stack? Watch our webinar👇