Pick Launchers from the Chameleon Dashboard and choose the onboarding checklist template. This ensures your users will have a clear understanding and expectations about the steps they have to take to fully enjoy your product.
Add a Welcome and an Empty State to your Launcher.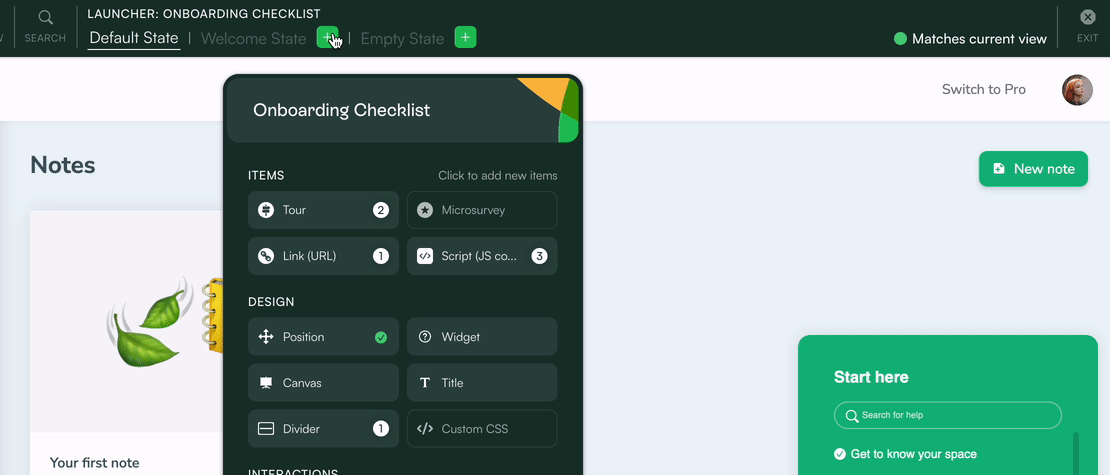 Under Rules, configure the Welcome state to appear after the page loads. Craft a compelling message to introduce the user to your product and what awaits him next, and use the Personalization option too.
Add a custom widget or pick one provided by Chameleon to indicate the flow you prepare. Add an explanatory and reassuring title; use it to bring attention to the actions users should take to be successful.
Think back to the First Step. What are the crucial actions your users need to make? Link the Tours you created in Step 2, and order them based on the steps your users need to take to discover how great your product is. Link any external resources needed to understand specific features, such as URL items. Use a friendly description for each one, to lay out expectations for your users.
Add a Search component, if you have many items to make it easier for your users to find help, or guidance if they get stuck along the way. Position it at the top of your onboarding checklist.
Under Interactions, click Checklist to create an onboarding checklist, and pick a progress bar to display in your Launcher and widget. This way you'll drive users to progress by reminding them of the investment they made and how quickly they can reach accomplishment. And help them progress easier, by hiding items once they've been completed.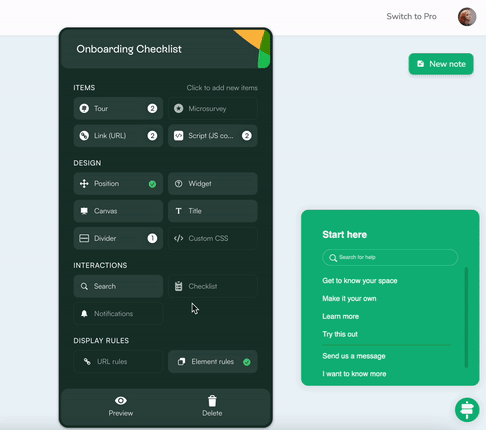 You can leverage custom events to mark the Completion criteria of each onboarding Tour or external guidance, for a clear understanding of your users' behavior.
A self-serve onboarding can still get users confused, so make sure they can reach you when they feel blocked and want more information. Make sure you allow users to either:
send you a message,

schedule a meeting,

request further help.