Chili Piper is changing the game for scheduling tools. Founded in 2016, this fast-growing meeting automation platform is helping SaaS teams qualify leads, route prospects, and convert customers; generating pipeline for companies such as Airbnb, Gong, and Spotify.
As they planned to further their product line and improve user onboarding, Chili Piper looked for a better way to implement in-app guidance without relying on engineers. In this spicy customer story, we'll dig into how they used Chameleon to launch a data-driven experiment that drove over $150K ARR in just a few weeks.
Chili Piper is championing PLG with a free product
Chili Piper started as a meeting scheduling automation tool, but has evolved into an all-encompassing revenue platform for B2B teams. Now, on the cusp of launching their first free product, the importance of effective user onboarding and feature adoption for user retention is paramount. 
As their Product team plans to scale onboarding for the new free product while continuously driving growth for their existing solutions, they realized that building user onboarding flows and other in-product experiences in-house wasn't sustainable.
"We were building things in-house, so if we wanted to test out onboarding flows they had to be built by our developers, and it took a lot of time to iterate."
Chili Piper ran a comprehensive evaluation before choosing Chameleon as their user onboarding solution. In this process, they found that Chameleon would be the best partner for success because:
The buying process was personal, focused on enabling Chili Piper to discover how Chameleon fit their specific needs

Chameleon had strong buy-in from stakeholders outside the Product team who saw more potential ROI 

Chameleon met all of Chili Piper's requirements like having advanced styling features that make the onboarding flows look native to their product
"A big reason why we were blocked in the past from purchasing a solution like this was that we wanted our in-app experiences to look like they were part of our app."
While Chameleon users can use custom CSS to design their in-app experiences, they are not required to do so. Product teams can also use Chameleon's Settings dashboard to select fonts, colors, styles, and other design elements to easily customize the look and feel of their in-app experiences without CSS.
The Challenge: Maximizing revenue with in-app experiences
As part of its product-led approach to growth, Chili Piper focused on delivering value with personalized customer support. Chameleon is part of this PLG engine and is being leveraged for marketing, expansion, and customer success use cases that target key friction points for Chili Piper users.
These include:
Driving upsells: Chili Piper uses in-app banners to notify, drive awareness, and conversion to upgraded features

Beating churn: Chili Piper collects user feedback on churning features and provides guidance around friction points

Measuring customer satisfaction: Chili Piper uses in-app NPS surveys to track and improve their first-time user experiences 

Promoting events: Chili Piper drives webinar attendance in-app with 1-click signups and automated invites thanks to the Chameleon + Livestorm integration

Conducting user research: Chili Piper uses Microsurveys to ask users questions that will inform product decisions or help target features
Leveraging Chameleon for timely, in-app upsells
One of Chili Piper's core products, Form Concierge, has three tiers of pricing. Once customers reach their tier's usage limit, they can only enable upgrades through their Account Manager, but Chili Piper's traditional strategy of driving these upsells through email was difficult to iterate and scale.
"If users go over a number of submissions for their subscription tier in a given month, we didn't have a good way of making sure that they were updating their contract once that threshold was passed. If they go over it three months in a row, then that's when a conversation really needs to happen."
To overcome this, they used in-app Banners to prompt users who reached their tier's limit to book a meeting with their Account Managers.
Chili Piper's Tier 1 Overage Banner
Using Chameleon's integration with their own product, as well as integrations with Hightouch, Hubspot, and Zapier, Chili Piper was able to transform this into an omnichannel revenue-generating flow – here's how it went.
Targeting the right users with Snowflake and Hightouch
Chili Piper was able to identify the users who had reached their usage limits from the product data stores in Snowflake, their data warehouse, and send them as segments to Chameleon via the integration with Hightouch. 
"We were able to get information about the upgrade tiers and where people stood seamlessly into Chameleon and it didn't require us creating new fields in Salesforce."
Hightouch is a reverse ETL (Extract, Transform, Load) tool that enables users to send data from their data warehouse to other applications. With Hightouch and Census, Chameleon customers can build and target user segments on almost any attribute stored in their data warehouse.
Enabling Account Manager calls with the Chili Piper integration
The primary button on the upsell Banner was powered by Chameleon's integration with Chili Piper. The button opens a scheduling modal inside the product, making it easier for users to seek Account Managers to discuss account upgrades.
With Chameleon, they've found that putting overage notifications in context in the app is the best for converting or getting users to take action.
Amplifying the campaign with Zapier and HubSpot
The secondary button on the Banner ('Remind me later') did more than just snooze the Experience. When a user clicked this button, an event was sent to HubSpot to trigger a reminder email after 2 days of engaging with the Banner. This data was sent to HubSpot via Zapier, a workflow automation tool that enables customers to use Chameleon events as triggers for actions on other platforms.
"When someone clicked to remind me later, we would send that notification to the app and add them to a HubSpot campaign for this. From there, we would send an email as their account manager with another reminder."
This follow-up flow generated more booked meetings and also opened another channel of communication for Account Managers to support users more effectively.
"The person that received the email would forward it to the right person and ask them to take action. The ability to run those automations straight from Chameleon was really powerful and important for our process."
Results: $150k ARR generated within a few weeks
In less than 2 weeks after launching the campaign, customers booked more than 40 meetings with Account Managers and Chili Piper booked over $30k of ARR from upsells. After a little over one month, this number had multiplied to $150K ARR (and it keeps going!)
This incredible impact on revenue was a combination of product and sales-led strategies that ensured that Chili Piper delivered an omnichannel user experience that aligned their messaging across touch-points. 
"Most meetings were booked straight from the app, but the 'Remind me later' also got great responses, even if it wasn't booking another meeting."
They embraced the PLG approach by contextually engaging with users and creating a self-serve motion where customers take action and, in turn, fed their sales-led motion of actualizing upsells via Account Managers.
Qualitative results: Learning from experiments and iteration
By experimenting with variations in the design of their in-product Experiences, Chili Piper was also able to determine what makes an in-app experience successful.
Chili Piper's Tier 3 Overage Banner
According to Elyssa, Director of Product at Chili Piper, the banner they showed after users went over their tier limit for three consecutive months was the most successful one because of its ever-present design.
We got no true-ups from the 1-month tier Experience because it was more focused on starting a conversation, but started seeing those numbers move from the second tier forward.
Empowering revenue growth across teams
Chili Piper was able to run an incredibly successful campaign that generated ROI in record time thanks to their Product team's dedication to understanding their user's pain points and limitations. 
The Form Concierge upsell campaign was developed with a clear goal of generating revenue, had a precisely defined audience to scope, leveraged integrations to automate sales-enablement processes, and was optimized via experimentation and iteration. A true recipe for success. 
Moving forward, Chili Piper is determined to continue using Chameleon to increase customer satisfaction and propel user retention with personalized user experiences. Besides the campaigns being led by the Product team, Chili Piper's Customer Success, UX Research, and Growth teams are also actively using Chameleon for various use cases.
"I think the value is in engaging our customer base in ways that we couldn't before, whether it's through onboarding, or trying to get them to adopt new features, or have a conversation with us about a new product that we're offering. We're constantly in contact with them in ways that we weren't able to be before."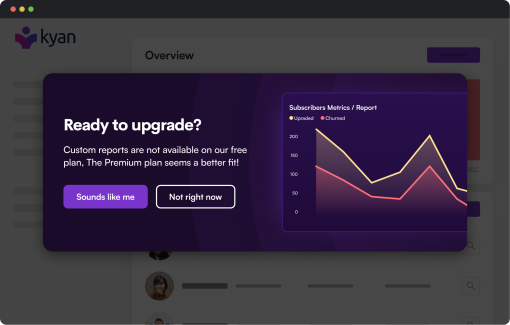 Nudge users towards conversion with seamless in-app experiences
With precise targeting and immaculate timing, Chameleon can turn user engagement into revenue.