In our Women In Product Fireside Chats, hosted by Chameleon's very own woman in product and Head of Marketing, Kirsty Finlayson, we had the pleasure of talking to eight women spearheading the world of product and tech who certainly know a thing or two about prospering in the industry.
They shared their top tips on how they're elevating their careers, navigating typical industry challenges, supporting others to grow and develop – and how you can do it, too.
Here are our speakers and the topics we covered:
Here, we bring you the highlights and key takeaways from each talk. For the full event series, leave your email below and we'll send it straight to your inbox.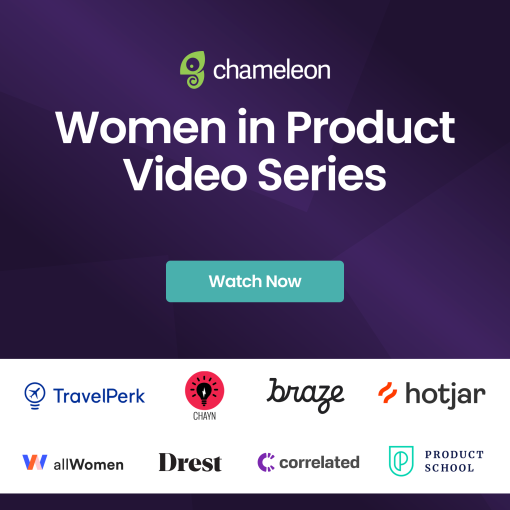 Career Success Tips from Leading Women in Product
Leave your email and we'll send you the video series.
Why women in tech are the key to product-led growth #
We chatted to PLG expert Breezy Beaumont, Head of Growth at Correlated, to find out how women help drive essential PLG outcomes and ensure the customer is understood 👇
So what's Breezy's top tip for growth-first companies to build a culture that is inclusive of women?
"Your first hundred employees shape your next thousand. Focusing on diversity as a core piece of growing your company from day one is one of the main ways that you can ensure that that's how you'll expand.
It's especially hard to do because, as a small company, you're so strapped for time everywhere else. But having that core focus on diversity is so essential and worth the time and effort put in, even if it feels like you're already being pulled in a hundred directions in those starting stages of the company."
– Breezy Beaumont, Head of Growth at Correlated
Breezy advocates that PLG companies are where women want to be for two reasons:
"The most forward-thinking companies out there are going to be product-led companies. They're the ones who understand about reducing friction in the buying process, making it as simple as possible, and that the best product is going to win. And so that's a company that you want to be working for.
That reflects on how they think internally as well - they're generally more forward-thinking about women in the workplace and diversity. And I genuinely feel like those do go hand-in-hand.
So it's a good place to be both career-wise and also in the short term."
– Breezy Beaumont, Head of Growth at Correlated
And how can women empower other women in the workplace?
Breaking the glass ceiling into product leadership #
There's often a glass ceiling for women to get into product and design leadership. What is it, why does it still exist, and how can you break it? 
Caitlin Goodale, Head of User Experience at Drest, shares her wisdom.
Here are some of the biggest challenges women face moving into leadership, according to Caitlin:
Caitlin believes that companies can really help to promote diversity of leadership by promoting internally, even if, on paper, people don't have the exact skills that are needed.
"The first time I was Lead Designer on a project, it was because there was no one there to step into it, and I needed to take all that responsibility. Honestly, I probably wasn't prepared at the time, I wasn't experienced enough. I had to sink or swim because someone needed to do it. I know I might've made a few mistakes in there, but at the end of the day, the project got shipped and it did really well.
If that company had just said: "We need to get someone in from outside to do this", I would have never had the opportunity, grown those skills, and made those small mistakes that have allowed me to be a better leader in the future."
– Caitlin Goodale, Head of User Experience at Drest
Often, women struggle to ask for that next step, whether it be a promotion, pay rise, or career change. Here's Caitlin's advice on navigating that:
Personal branding for career success #
Standing out in the tech workplace is hard but essential when helping you develop in your role, get that promotion, or land that new job. One way to get the edge is to build your personal brand and use it to demonstrate and amplify your skills.
Here's how Andrea Saez, Senior Product Marketing Manager at Product School, got started. The key is: start small.
"Like everything I do in my life, it was by accident. I became a Product Manager by accident. I became a Product Marketer by accident, and I built my own brand by accident. So I think the lesson here is to try new things until something sticks – I love experimenting in general."
– Andrea Saez, Senior Product Marketing Manager at Product School
Let's hear her journey from bitcoin writer, to Apple legend, to growing from 30 to 5000+ Twitter followers, to where she is now…
So how can building a brand help women propel their careers?
Find what you're passionate about, concentrate on that one thing, and use it to leverage new future opportunities.
Here's Andrea to explain more:
And Andrea's number one tip for supporting other women in the industry:
"If you have the chance to be there for one of your friends, or another woman in tech, please do so. Mental health is really important, and if we can be there for each other, even if it's just for a quick coffee and discussing things, it definitely makes a big difference."
– Andrea Saez, Senior Product Marketing Manager at Product School
Using life's learnings as strengths in the workplace #
Saskia Everard and Irene No Calvo both come from international backgrounds, have lived in several countries, and experienced many different cultures. They share how this transforms their work as Product Designers at Hotjar 👇
How important is it to foster a culture of diversity and inclusion in the world of tech? Here's Saskia's take on it:
Saskia shares her advice on how can women support other women in the workplace:
"It's a male-dominated industry and it's quite difficult as a woman to find your place in that. I would encourage people to use the vulnerability and the voice that we have as a strength, and not be afraid to bring your whole self to work. When you don't know something, saying: "Hold up, can you explain this?", or "I'm not feeling great today", or whatever that might be. Just showing that you're human and that that's okay.
It starts with one person, then it creates a space for other people to do the same, and that allows psychological safety. Then people feel more included, and that will eventually ripple out and encourage other women to do the same."
– Saskia Everard, Product Designer at Hotjar
Irene shares her experience with imposter syndrome:
"I found myself not knowing if I was hired for my strengths in design or as a good employee, or if I was hired just because I was a woman and they needed to fill the numbers. And when you're in that situation, it's very hard – you're always going to think: "I'm just here because they needed to fill the gap".
And that needs to be tackled because the imposter syndrome can hit you badly. You might be performing the best of the best, but you think you're still a number that they're trying to fill into the 50, 50. It happens, and it happens constantly."
– Irene No Calvo, Product Designer at Hotjar
The importance of mentorship for career growth #
Women often experience challenges in the workplace, whether it be imposter syndrome, anxiety, lack of direction, or something else. Another woman who's been right where you are can support, advise, and play a key role in your success.
Here's Diana Militano, Lead Product Designer at TravelPerk, UX/UI Instructor at allWomen, and Mentor at Designlab, to explain why mentorship can be a superpower for women:
Diana's top tips for what to look for in a mentor:
Someone you "click" with! You can't just look at someone's profile and think that they have years of experience or a role that will be useful for you. If you don't instantly relate to them, it's not going to work.

Someone honest who can tell you when you're wrong in a transparent way.

Someone with the ability to listen to you and understand exactly what you need and what you don't.
"For example, if you're a shy or insecure person, you don't just want someone that tells you: "You need to speak up more in meetings". You need someone who pushes you out of your comfort zone a little bit, step-by-step."
– Diana Militano, Lead Product Designer at TravelPerk
It can be quite difficult to find those people, and that's a big challenge. Here's how Diana recommends doing it:
What can every woman do to support other women in product?
"If we value a sense of community over competition, that's the key to supporting each other. And if we are a team and celebrate each other's successes. 
I know that in some companies, it can be difficult because there are companies that push for a competitive environment as part of the culture. But I think if women can push for collaboration, it's much better.
And networking and creating safe spaces for us to talk, learn, and exchange knowledge. As, especially in tech, it can feel very lonely if you are one of only a few women on a team."
– Diana Militano, Lead Product Designer at TravelPerk
Building inclusive approaches to work #
Nadine Krishnamurthy-Spencer, Head of Product at Chayn, is building products that support survivors of gender-based violence. While this is extremely rewarding, there are many challenges that come with it, and she's had to rethink and adapt both the product development process and her team practices.
So how and why does Chayn prioritize wellbeing to foster a resilient and inclusive product team?
"We have a really strong trauma-informed HR approach. We want to be able to facilitate an environment where everyone gets a chance to thrive.
Also because we recognize that we do try and bias towards employing survivors where possible, and towards allies, or who have lived experience. And that can come sometimes at a cost, especially if you are re-exposing those people to these kinds of traumatic situations just through user interviews or the material that we cover." 
– Nadine Krishnamurthy-Spencer, Head of Product at Chayn
Here are a few things they do at Chayn:
Monthly wellbeing check-ins with the HR team.

Monthly wellbeing sessions with a therapist around a topic that people have had experiences with, or things that are playing on people's minds. 

A Christmas 3-week wind-down period, where everybody works at 10-15% capacity and gets the opportunity to work on a project that they think will help the charity.
And how is Nadine building products that foster inclusivity?
Finally, what piece of advice would Nadine go back and tell herself at the start of her career?
Growth through the always-be-learning mentality #
Continuous learning every day is central to being a great designer and product person, in order to work adaptably, experiment, and improve your craft.
Yuna Akazawa, Lead Product Designer at Braze, joined us to share what a growth mindset is, why it's critical when working in product, and what the helpful habits and practices are to foster it.
"For me, growth is setting a goal for myself — let's say for one year — and then asking: "How much learning have I done and how much knowledge did I acquire in that period of time?
The growth mentality grounds me in how I think and how I work on a day-to-day basis. It helps me empathize with the people I work with. For example, if I'm working on a project and I want to learn about how the data is structured or being saved in the backend, I'll ask the Engineers. That really helps me provide my solutions and designs effectively.
I think it's really important for women who are more traditionally shy to speak out in a room full of men. That was my case, at the beginning of my career, and this mentality really helped me grow while acquiring different knowledge from people that have different expertise outside of my domain, using that, and then applying my own understanding in the most efficient way possible."
– Yuna Akazawa, Lead Product Designer at Braze
It can be a challenge to put this mentality into practice, and Yuna has two tips to do it:
Tip 1: Don't put too much pressure on yourself
Tip 2: Learn around your passion
How women can get into tech and product #
While there may be challenges that come with breaking into the product and tech industries, many of these can be overcome with the right education and support.
Ellen Merryweather, Senior Content Manager at Ironhack, busts some common industry myths:
It can be daunting knowing where to start. If you're already working in tech, Ellen advises that you talk to the people at your company who have the jobs that you want, because it's much easier to move into a new role in a company you're already in.
"They already know what you're capable of and that you fit the culture, and you already have access to the people that have your dream job. So even if they can't offer you a job, you can shadow them, learn more about the role, and get guidance on how they started."
– Ellen Merryweather, Senior Content Manager at Ironhack
If you're a graduate or completely out of the tech industry, Ellen recommends both online and offline communities including Ironhack, Product School, and Meetup.
And Ellen's biggest tip for women in tech to navigate the workplace?
Celebrating women in product #
We hope you take inspiration from these product women and feel better supported in your career journey. If you want to join us in showcasing all women in product, please go ahead and share our article with your network.
To watch the whole event series on-demand, sign up below. As you've seen here, each of the chats is packed with valuable insights and advice to help you level up and succeed in your career.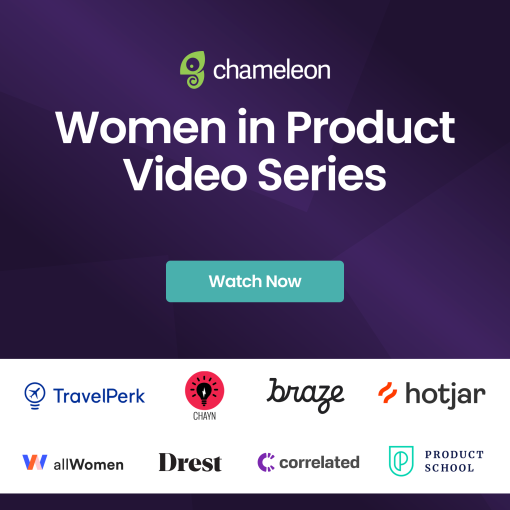 Career Success Tips from Leading Women in Product
Leave your email and we'll send you the video series.