Video marketing is one of the most effective ways to showcase your product's value, connect with a broad range of potential customers, and ultimately improve your revenue. The key to unlocking this incredible opportunity is knowing how to produce a captivating, informative video to do the talking for your business.
A product marketing video showcases your SaaS solution or digital product in action, using an audiovisual representation of everything from tutorials to testimonials. Here's everything you need to know about using video for product marketing to take your conversions to the next level.
TL;DR
A well-crafted product marketing video can help you increase customer engagement, build hype around upcoming launches and new features, and offer proactive support and self-serve onboarding.

These videos can be used as touch points throughout the customer journey to improve customer retention. Different types of videos will appeal to different phases of the funnel.

For example, you can use a product introduction video to show your target audience the key features and how they can use it to solve their pain points, while new feature announcement videos will highlight changes to the product.
Creating relevant, high-quality product marketing videos can help your business stay relevant and competitive in the face of constant change.
Product marketing is the process of bringing a product to market, from ideation to launch. However, it expands beyond the idea of creating a product and putting it into the world at large. Product marketing is an ecosystem that connects innovation to market demand and uses those insights to solve a problem for customers. It encompasses everything from identifying the four Ps; pricing, placement, product, and promotion – to offering customer support after a transaction.
A product marketing video falls within the "promotion" bucket of the four Ps. A well-crafted product marketing video can help you build customer engagement, build hype around upcoming launches and new features, and even be used for proactive support and onboarding.
A product video is a straightforward demonstration showcasing the product. Conversely, a product marketing video showcases the product through a marketing lens, connecting consumer problems with the solutions provided by said product.
Product video marketing may focus on social proof from happy customers or highlight interesting features that can simplify the user's pain points. The idea is to create a connection with the viewer.
So, what are the three most important characteristics of an effective product marketing video?
First, they tell a story that engages the audience. Secondly, the video should be clear and concise with minimal fluff and without dragging on too long. Finally, a great product marketing video will strike a balance between conversational and professional.
One of the primary benefits (and most exciting things!) of creating a B2B product marketing video strategy is the variability in content. Here are some of the common types of promotional product videos you can make.
A product introduction video shows your target audience key features of your product and how they can use it to solve their pain points. In addition to highlighting the solutions, software product marketing videos should also take a proactive approach to answer any questions a user might have before investing in the product. 
When looking at product marketing video examples, Dropbox does this exceptionally well. They highlight that the product can be used as a professional and personal tool. They proactively tell people they can share files even if the recipient doesn't have a Dropbox account.
In the example below, the video highlights important factors, like security, while using branded animations and continuous motion to keep the customer's attention.
One of the greatest challenges with marketing is developing product marketing video ideas. Fortunately, digital products are continuously evolving to improve on sticking points and to offer more value for customers.
Enter new feature announcement videos. These marketing assets will highlight changes to the product and how they make the offering. You can improve your product marketing video ROI by using a product marketing video script template to outline each new feature announcement. This structure takes the guesswork out of content creation and ensures a high-quality, consistent video every time.
Here's an example of how Mixpanel uses product marketing videos in their product to showcase new features. These modal pop-ups run users through key updates quickly.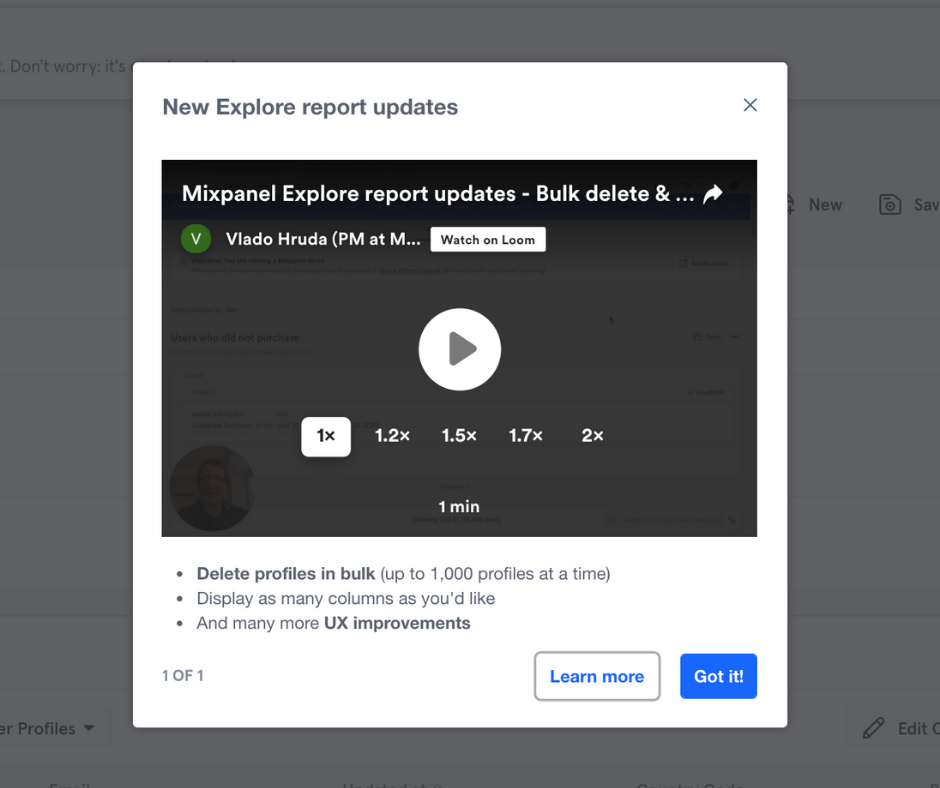 How-to videos are another effective way to improve product marketing video ROI due to their various applications. These videos can be used during the onboarding process to improve the initial customer experience, as well as offer a powerful self-serve support resource.
By empowering customers to take ownership of learning the nuances of the product, you'll create efficiency throughout the latter half of the sales funnel.
The how-to videos cover both how to use the platform, and how to make data-driven decisions based on industry best practices. Look at how Hootsuite walks new users through key actions. This is part of an in-depth video series on how to use their product.
Company videos are a fantastic way to boost brand awareness and build a rapport with customers. These videos are especially important in the digital realm, as customers need a human connection with which to build trust. In tech-dominant products, it's important to personify the brand.
Creating company videos is also a great way to fill out your top-of-the-funnel content calendar. These videos can showcase what's happening behind the scenes, from product creation to philanthropic endeavors. Use company videos to convey your mission, values, and the people who make it all possible and show how you're customer-centric.
Testimonial videos are the future of product marketing videos. These powerful assets are easy to assemble through tools such as VideoAsk or Zoom recordings and act as social proof of your product. 
It's important to note that consumers are becoming warier about online reviews. The idea that some reviews might be faked or filtered isn't a trade secret anymore.
Creating a video that personifies those reviews and adds a face to the claims can help drive the purchasing decision process and convert leads into paying customers – who you can then reach out to for more testimonial videos.
When figuring out how to make a product marketing video, the best approach is a structured series of standardized steps. By standardizing the process, you'll create consistent content and a fluid workflow.
When creating a B2B product marketing video, it's important to start by clearly defining which features you want to highlight. Creating content around intentional goals will provide a solid framework for quality video development. This essential first step will help you maintain the succinct yet clear messaging that makes for a great great product marketing video.
Once you know what you want to convey, it's time to figure out how you want to say it. Set aside some time to generate product marketing video ideas with a brainstorming session. Start with a free flow of ideas without considering the nuances of brand alignment or fit.
You can also watch some product demo video examples from different industries if you feel like you need inspiration but try and be as original as possible.
Once the brainstorming session is complete, revisit the ideas you've generated to see which ones hold merit for your video marketing.
This is where the branding elements come into play. Your video style should represent both the product and the company as a whole. 
When creating online marketing videos, the style is often dependent on the type of video content being produced.
For example, an explainer video could be created with animation or as a live video streamed on social media as a training session. While animation works well for product and new feature introductions, having an immersive video recording works better for "how-to" videos.
Deciding on the style of your product marketing video ultimately comes down to your branding, intention, and resources.
Writing a script is an integral part of the video content creation process. This exercise helps you stay focused, include everything that needs to be conveyed, and establish the timing of your video. This step of the creation process is one of the best opportunities for establishing standard operating procedures (SOPs) and optimizing your product marketing video ROI by using a product marketing video script template.
Plan to conduct a few rounds of edits on your script. It takes time to craft a message that's both informative and concise. If needed, make use of AI writing software like Writer to assist you while finishing up the final draft.
The video production process will vary depending on your video style. Generally speaking, the production process will include setting up the equipment, shooting (or animating) the video, recording voiceovers, and editing.
Many companies opt to take a batch production approach when creating promotional product videos. Producing multiple videos during one production run helps mitigate costs and streamline the creative workflows. Notably, this can reduce your costs by 20-50% if you're using a professional studio like Rocketwheel. If you want to cut production costs even more and have more flexibility, another option is using a free online video maker like Visme. This will enable you to easily scale your video-making process while offering the flexibility to easily produce videos in a quick and timely manner.
When the videos are complete, the focus shifts to implementing a promotional strategy to ensure the videos get in front of the target audience. A digital marketing agency or in-house team can help accomplish this task with both organic and sponsored social media videos, a paid ad strategy, and other distribution channels.
Don't forget to add your product marketing videos to your product too, where they'll feel right at home. Consider adding a slide-out that promotes your latest video, or add new "how-to" videos to an onboarding Launcher to offer additional help and streamline the onboarding flow.
While determining how to make a product marketing video is crucial, it's also important to determine how your video will fit into the overall customer journey.
Different types of product marketing video content will appeal to different phases of the funnel. These videos can be used as touchpoints throughout the customer journey to build brand awareness, push transactions, and build loyalty and brand trust to improve customer retention.
When creating a video content marketing strategy, it's beneficial to engage in the customer journey mapping process. Use this exercise to identify when and where a customer will interact with your brand, from seeing an ad to using your customer support services. Then, evaluate how you can incorporate video content to improve each touchpoint or take the customer from one point on the map to the next.
As you go through this process, take a deep dive into each touchpoint. Clarify what actions a customer has to take to move forward and what their motivations and friction points are at each stage. Use this information to identify how videos can help create a smoother customer journey. 
The future of product marketing videos is creating a connection with customers across various platforms no matter where they are in the sales funnel or in their daily lives. The shift toward cloud technology and remote work has contributed to the exponential increase in web browsing and streaming. Creating accessible video content is a must. 
One of the most significant examples of how the future of product marketing videos is shaping up is the expected inclusion of closed captioning or subtitles. This feature in online video marketing has become a best practice when optimizing video content for mobile consumption. This asset allows viewers to engage with videos while in public settings or places where turning up the volume is inappropriate.
Another overarching trend in video marketing is the use of influencer collaborations and user-generated content (UGC). Brands can capitalize on this powerful form of social proof to expand their reach, boost brand awareness, and build trust. Creating testimonials and "how-to" videos with well-respected and brand-aligned influencers is a burgeoning trend that's shaping the future of product marketing videos.
Product marketing is continuously evolving as consumer behaviors shift and technology changes our daily existence. Staying ahead of the curve and creating relevant, high-quality product marketing videos can help your business stay relevant and competitive in the face of constant change. 
This article is written by Ashley Lipman, an award-winning writer who discovered her passion for providing knowledge to readers on topics closest to her heart – all things digital.