Picture your SaaS product as a sandwich. Digital Adoption Platforms (DAPs) are a dressing that makes the difference between a dry, chewy bite and a burst of flavor that makes you excited for more. DAPs add a seamless layer over SaaS tools that is personalized and contextual for each user. They let product teams use a variety of patterns, such as highlights, nudges, walkthroughs, and more, to help onboard new users, introduce new features, and promote a healthy dose of self-serve learning. 
This article will walk you through the what, the why, and the how of digital adoption, and give you a look into the best-in-class DAPs to consider. We'll also share our tried and tested selection process with you, to ensure you find a perfect platform for your business needs. 
Lunch is served.
Digital adoption is the act of enabling a user to understand how a product works and start using it actively. When a user adopts a SaaS tool into their tech stack, it's safe to say that they find it useful, valuable, and feasible.
Digital adoption means a user has not only reached and rocketed past their "aha!" moment with your SaaS technology, but they're also completely comfortable with your product and are more than likely to recommend it to a colleague or a friend.
Digital adoption can apply to your product overall, but also to specific features; as software continues to develop it's important to help users continue to adopt and benefit from changes and new functionality.
A digital adoption platform (also known as a product adoption platform) is a software layer over another technology tool that guides users through. Digital adoption solutions are typically used by SaaS brands looking to decrease churn, delight users, and minimize customer effort scores for certain tasks. 
A solid digital adoption process should be a seamless experience between your product and the tool you're laying over it to guide your users. Done well, the right DAP can drastically increase user activation, retention, and your SaaS MRR. 
As Gartner estimates:
"By 2025, 70% of organizations will use digital adoption solutions across the entire technology stack to overcome still insufficient application user experiences."
Now, let's take a look into why DAPs are becoming so increasingly popular.
To answer this question, we reached out to our very own Pulkit Agrawal, Co-Founder, and CEO at Chameleon. His answer might surprise you:
"One of the biggest benefits of using a digital adoption platform is speed."
Why speed? Because, as Pulkit further explains, product growth and success depend on how quickly you're able to help customers use your product successfully, and digital adoption platforms like Chameleon can help you speed that process up. 
Let's hear Pulkit out for more insights. Spoiler alert: The benefits also include saving time and resources, and running more in-product experiments, more effectively.
The product or company types that will find the most benefit from a digital adoption platform are those that care about their software being used effectively by users. 
The way Pulkit puts it:
"If your company has a software product, or it's enabled by a software product, whether it's for internal or external users, it's really important for them to discover the functionality and use the software effectively. 

This is where a digital adoption platform comes in. That typically means it's useful for all SaaS companies and even B2C products that have web-based software, as well as companies that care about being product-driven, or that want to build a self-serve motion."
– Pulkit Agrawal, Co-Founder, and CEO at Chameleon
In other words, as Pulkit concludes, if you want to drive success at scale, or you want your users to figure things out through a tech touch without interventions from your CS team, digital adoption platforms can be very powerful and very helpful for you.
Now that you know what DAPs are, why you should consider adding them as an additional layer to your software, and who will benefit the most, let's look into which platforms are among the best and how to choose the right fit for your business needs. 
For a visual representation of top DAP solutions, you can check out the G2 Grid® – a map based on G2 scores of products, user reviews gathered from the G2 community, and data aggregated from online sources and social networks. 
This list is based on customer reviews and scores on G2 and is presented in alphabetical order.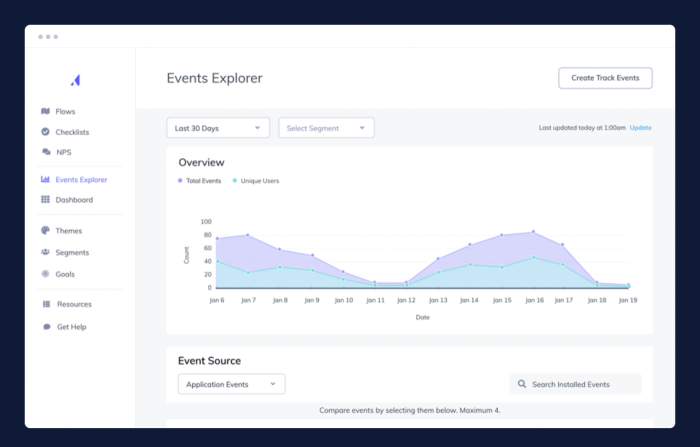 (Source)
Elevator pitch: Appcues helps non-technical teams create in-app onboarding tours, feature announcements, and in-product surveys. To better understand your user behavior, you can also use the platform to track events and analyze product usage data through reports. 
Best for: Product-led SaaS businesses and larger companies with multiple products that want to improve user onboarding and manage flows within the app.  
Ease of implementation: It's easy to get started and integrate with third-party tools to scale the usage up, but note that some of the integrations would need an intermediary tool like Zapier to bridge the data flows from Appcues to other tools, and vice versa.
Pricing: The Essentials plan starts at $299 per month, the Growth plan starts at $879 per month (paid annually), and the Enterprise plan offers flexible terms and you'll get a custom quote for it. Pricing for each plan scales with the number of your monthly active users (MAUs).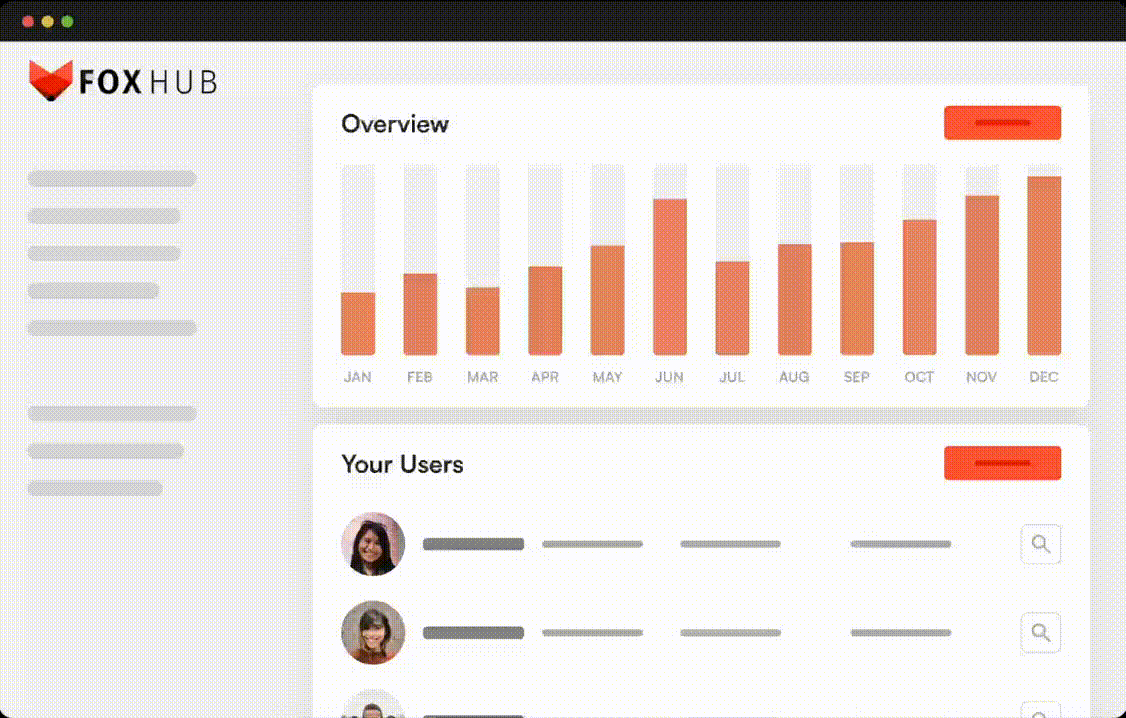 Elevator pitch: Chameleon is a best-in-class Digital Adoption Platform with deep functionality to create Tours, Microsurveys, Tooltips, and Launchers. A lightweight, modern, focused offering, Chameleon offers advanced features such as real-time event-based targeting, custom CSS, rate-limiting, A/B testing, native integrations, and more. 
Best for: Teams that prioritize good UX, want a connected stack of product tooling, leverage modern tech (such as single-page apps), and have been frustrated by other solutions. Examples of successful customers include Mixpanel, which switched from WalkMe to Chameleon and improved user retention, and The Motley Fool, which reduced churn by almost 10% within 2 months.
Ease of implementation: You can get started for free, without a credit card. Chameleon offers a sandbox environment to test the Builder, a Chrome Extension to build in your own product, and many installation options, such as Segment, Freshpaint, Google Tag Manager, npm, and plain JavaScript. 
Pricing: Chameleon pricing starts at $279 per month for the feature-rich Startup plan, best suited for smaller companies. The Growth and Enterprise plans, starting at $10k per year, are designed for teams that will be relying on in-product experiences to drive growth or collect feedback. You can start for free, without a credit card, on all the plans, or get in touch for a demo.
Elevator pitch: ChurnZero is a real-time customer success platform that helps subscription businesses fight churn by understanding how customers use their product and assessing their health. The tool is designed intelligently integrate the customer's application and CRM system, giving them the means to automate and personalize customer experience based on account information and product usage.
Best for: Fast-growing subscription-based businesses looking to fight or avoid churn by continuously assessing customer health and improving customer experience by communicating directly with users in relevant touchpoints.
Ease of implementation: ChurnZero is not a plug-and-play solution, making the implementation process more complicated than alternatives. Their Ease of Setup score on G2 is 7.7/10, amongst the lowest in the category. However, their high quality of support score indicates that their Customer Success will be available to help you throughout the process.
Pricing: The company doesn't disclose pricing information on its website unless you book a demo, but customer reviews on G2 suggest that ChurnZero has reasonable and affordable pricing for small companies.
" Also, the price point is fantastic. ChurnZero is a tool that smaller Success organizations could use with a higher likelihood to see the return on investment sooner than larger competitors."
- Jessica L., ChurnZero customer on G2
(Source)
Elevator pitch: Intercom is a digital adoption software that connects businesses to customers using in and off-app messaging and automation technology. With Intercom, you can deliver direct support to users via their Live Chat or Messenger features, and set up Support Bots that automate the process. They also offer a Product Tour solution to create onboarding flows or product walkthroughs.
Best for: Expanding SaaS businesses that want to create an in-app channel for customer support and communicate with users in real time, thus reducing customer frustration and avoiding churn. Based on client reviews on G2, Intercom may not be the best option for more mature businesses that need deeper customization of in-app UX flows and the ability to iterate quickly.
Ease of implementation: Intercom can be installed in a few different ways depending on the type of application or software it's being layered over, or what types of users are being targeted. Their Help Center offers guidance on all installation methods, like adding the JavaScript code snippet, running Google Tag Manager, or installing the software or a WordPress site.
Pricing: Intercom offers 3 different plans -  Support, Engage, and Convert - each offering a different bundle of services depending on the customer's use case and specific needs. Pricing starts at $74/month in the Starter plan for very small businesses and is calculated based on product usage.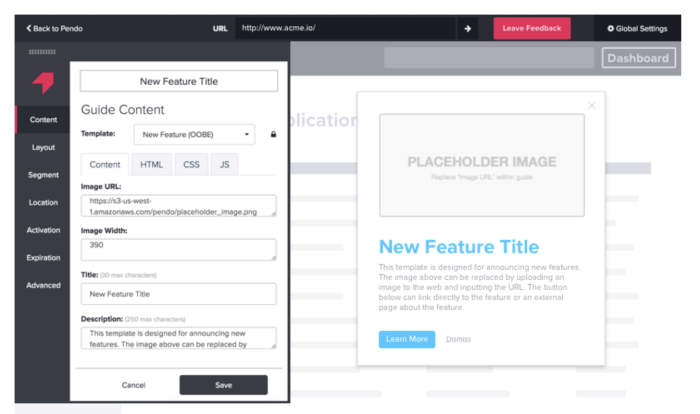 (Source)
Elevator pitch: Pendo is a digital adoption platform that enables product teams to manage the overall product experience for their users, as well as to increase the adoption of employee-facing software. You can use it to create in-app messages, feature guides, and product walkthroughs based on the insights you gain from customer feedback and interactions. 
Best for: SaaS products that want to increase the adoption rate for advanced features they offer to their users and companies that want to guide their employees through onboarding and change management. 
Ease of implementation: The initial setup might require some training on the platform, but once you set everything up, the ease of use increases. Based on the user ratings on G2, Pendo scores 7.9/10 for ease of setup and 8.3/10 for ease of use.
Pricing: There is a Free plan for up to 1,000 MAUs, limited to one web app key and one mobile app key.. Subscription-based plans include the Team, Pro, and Enterprise plans – you'll need to get in touch with the team to get a quote for these.
Elevator pitch: Userflow is a user onboarding software for building product tours, onboarding checklists, resource centers, and surveys with no code. Their Flow Builder allows customers to create and personalize UX flows like welcome modals, tooltips for in-app guidance, onboarding checklists, and more. 
Best for: Product-led teams focused on creating user-centric experiences with control over how users journey through the product and find value at different touch points.
Ease of implementation: Userflow is a top scorer in terms of ease of use and ease of setup, scoring 9.3/10 on both categories G2. Installation using the Userflow.js code snippet is easy and their JavaScript has one of the smallest footprints in the category.
Pricing: Many G2 reviewers rate Userflow as having one of the best prices out there for a DAP. Startup plans begin at $250/month and even offer a discount if billed annually, which would bring the price down to $200.
(Source)
Elevator pitch: UserGuiding allows customers to create interactive product walkthroughs and guide users to support articles. Besides the ability to create in-app flows that allow you to communicate with users directly from inside the product, UserGuiding offers features like hotspots, goal tracking, analytics, and more. 
Best for: Small to mid-market SaaS companies looking for an effective in-app messaging solution that can fit their pocket and provide quick and effective customer support. UserGuiding is a top-scorer on quality of support and is often commended by customers for its excellent service.
Ease of implementation: UserGuiding is relatively easy to set up, scoring 8.9/10 on G2 for the category, a reviewer added that the software was "up and running within 10 minutes". 
Pricing: After the generous 1-month free trial, UserGuiding begins pricing at $69/month for its Basic Plan which covers up to 2500 monthly users.
(Source)
Elevator pitch: Userpilot helps product teams create behavior-driven in-product experiences to improve the onboarding flow for new users, offer interactive tips, and guide users to their "aha!" moments. With Userpilot, you can also track and analyze your product growth and gather qualitative customer feedback through surveys.
Best for: Fast-growing SaaS businesses that want to onboard new signups with ease, offer personalized in-app messages, and stimulate feature discovery as their product evolves. Based on the user reviews on G2, it might not be the best fit for companies that are looking for advanced product analytics features or sophisticated customization options.
Ease of implementation: Userpilot's tool is easy to implement, which got this digital adoption platform a score of 9/10 on G2 for ease of use. Besides that, its customer support is also highly rated by users, with a score of 9.9/10. 
Pricing: After a free trial, the Growth plan starts at $299 per month while the Enterprise plan, which offers priority troubleshooting, advanced security options, and more, starts at $749 per month, paid annually.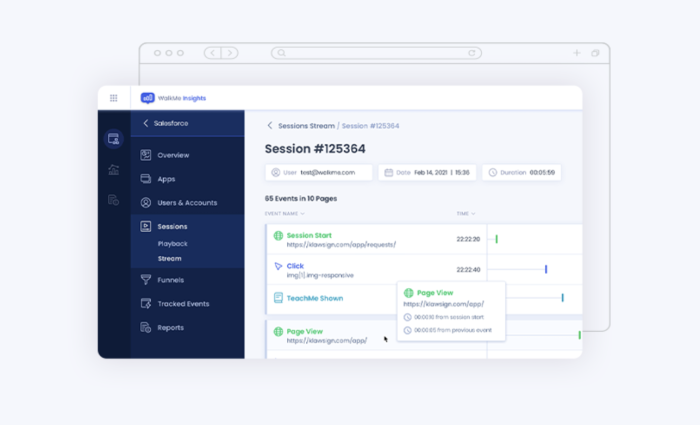 (Source)
Elevator pitch: WalkMe enables organizations to enhance the experience and improve efficiency for both employees and customers. It offers a code-free platform to measure, drive, and act to ultimately accelerate digital transformations and better realize the value of their software investments. With WalkMe, you can create customized product Walk-Thru experiences and use third-party integrations for more options. For example, one of the additional solutions that WalkMe offers is the UI Intelligence for Microsoft Dynamics 365 which adds an additional layer of product analytics.
Best for: Companies that want to increase the productivity of their teams by implementing a DAP for employee onboarding and training, as well as businesses that want to improve customer satisfaction rates, and drive product adoption. Some of the industries and verticals that would be a good fit include telecommunications, retail and eCommerce, healthcare, and the public sector.
Ease of implementation: The learning curve may vary depending on your use case. The tools are easy to implement for basic usage, but the more integrations and tools you add, the more skills you'll need for running the process of adoption effectively.  
Pricing: With the Basic plan, you'll get up to three Walk-Thrus with five steps per each, while you can customize the offer to fit your needs with the Custom plan. For each, you'll need to reach out to their team to get a quote. Additional tools, like UI Intelligence, for example, are paid for separately.
Related Post
WalkMe Alternatives: The Eight True Competitors You Need To Trial
(Source)
Elevator pitch: Whatfix empowers users with in-app guidance and on-demand support. Their products fall under three categories: to analyze, build, and deliver in-product experiences.
Best for: Enterprise SaaS companies that need an effective way to communicate internally with employees, vendors, and other stakeholders with remote training of systems and applications and targeted change management communication. 
Ease of implementation: WhatFix offers an Editor plugin for Chrome that makes it easy to get users into the product Dashboard. The product scores just below the average for digital adoption platforms in terms of ease of setup, garnering an 8.4 on G2 for the category, while the average stands at 8.6. 
Pricing: Whatfix doesn't disclose pricing information on their website or elsewhere, so you'll have to get a quote for the full picture. One reviewer on G2 does comment that the pricing is competitive "compared to others in the market."
Remember that just because someone is raving about their digital adoption platform, that doesn't mean it's the right fit for you. You need to consider a few things when picking the perfect digital adoption process and tool for your SaaS company. 
What to pay attention to the most? Let's take a look at what Pulkit Agrawal, Co-Founder, and CEO at Chameleon, has to say.
In a nutshell, the secret lies in building and nurturing a strong relationship with the DAP solution of your choice. Think of it as a long-term partnership and you'll be on your path to success.
Apart from that, here are some other aspects to take into consideration when making a decision.
Consider what resources you have access to. Certain digital adoption solutions will require a greater lift than others, especially when it comes to human resources. 
For example, do you have access to in-house developers? If not, a no-code or low-code solution may be a better fit than a solution that requires developer input.
This is an exceptionally important point to consider when picking the right DAP, or whether you need one at all. No matter how great your UX is, if your product is complicated or has multiple features, there's a high chance your users are going to need some guidance getting started. 
What does your product onboarding look like, and where are you delivering it? If it's only in emails at the moment, then a DAP solution can offer self-serve, in-app product onboarding to help break down the complexity of your product.
The digital adoption platforms we've listed above come with an array of different branding capabilities. Some fully allow you to take over and give users a seamless brand experience. However, others are quite clearly a separate product or charge more in their plans if you want to brand the overlay. 
How mature is your brand, and how important is product branding right now? For example, if you're in beta testing, branding may perhaps not be top of your list when you're just trying to find product-market fit and build a user base.
Lastly, what are your goals with a DAP? What are you hoping to achieve? A few goals, KPIs, and retention metrics to consider are: 
Product adoption rate

Feature adoption rate

Churn rate

Engagement rate 

Customer retention rate 

Customer lifetime value (CLTV) 

Customer satisfaction (CSAT) score

Customer Effort Score (CES) 

Net Promoter Score (NPS)
When you understand what the above metrics look like for your product, you can set some goals and KPIs around improving them with a digital adoption platform.
That's a wrap (or in this case – a sandwich) on digital adoption solutions. Hopefully, you've discovered the best practices around digital adoption platforms you can implement for your users, product, and business. 
In closing, try to track and analyze product usage to kick-start your company's digital adoption process on the right foot. Once you've got a better understanding of your users and data, you can compare the above products to find what's the best fit for you. Remember, all of them are designed to help SaaS applications succeed, but that doesn't mean they'll be perfect for your needs. Take your time in working through your selection process. 
And if you think Chameleon is the perfect match, you can start using it for free right now!