When thinking about user onboarding, a lot of teams first think about "training" a user. After all, a user needs to learn how to use your product to succeed… but that's actually a fallacy! 🛑
Employ a marketing mindset
Software is eating the world and people have a lot of choice. They expect to experience products first, before committing or purchasing.
However, with so much available information and shorter attention spans, people don't want to read an instruction manual or sit through a long training video before trying something out… new users don't actually want to learn how your product works!
Instead, users want to see value quickly and evaluate whether a product will satisfy their specific need or resolve their pain point. And in the age of product-first, they want to determine this by trying your product, NOT by reading your marketing site.
That's why so many companies offer free trials, or sandbox environments without requiring signup.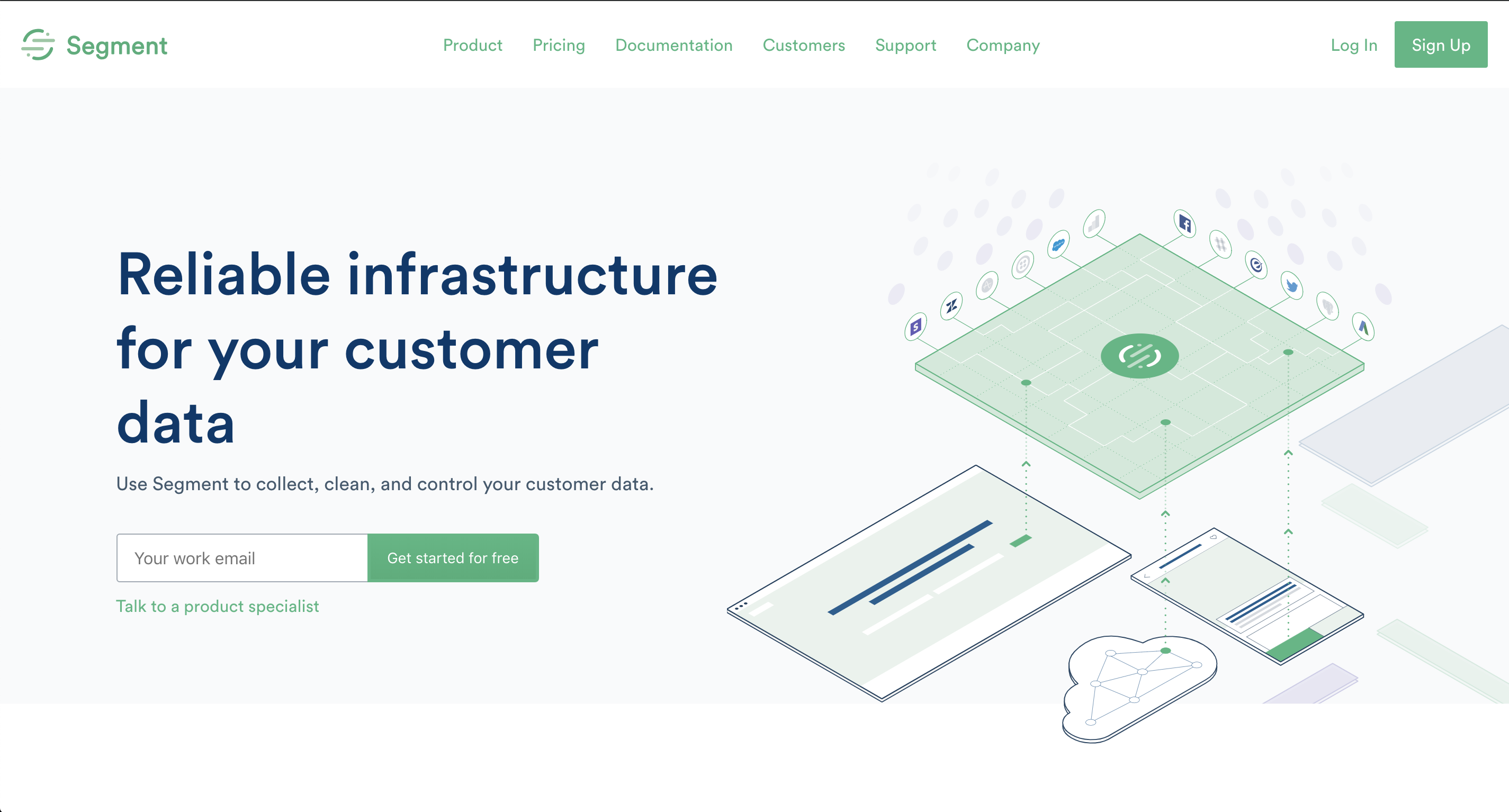 This means that all the great content on your site explaining the benefits of your solution is often bypassed and the user lands into the product without sufficient context or understanding. Therefore, the first-time user experience needs to be a continuation of your marketing messages.
---
New user onboarding should actually be about reinforcing the value of your product ("marketing"), and not about teaching how to use the product ("training").
---
So the takeaway here is to design your user onboarding with a focus on marketing the value your product provides. It should be consistent with the messaging and branding on your website, and you may even want your (product) marketing team to own it.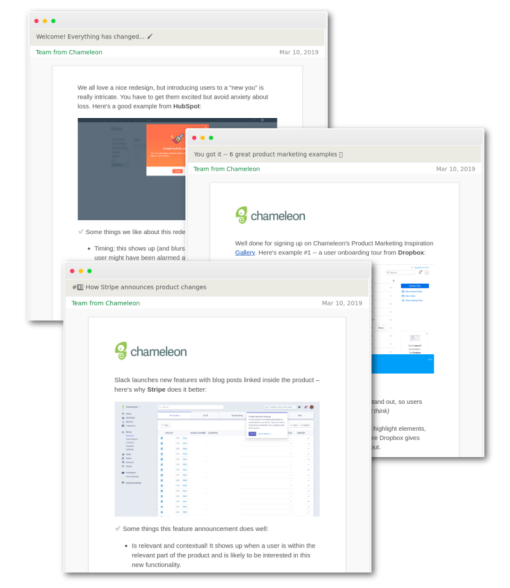 Free in-product marketing mini-course
Learn feature launches, upsells, and onboarding from products like Stripe and Dropbox. Get lesson #1 now 👇
For Better User Onboarding, Switch to Product Marketing
A new phase in the buying cycle
Previously the buying cycle for SaaS companies was often via a demo request; users would be required to fill out a form on the site to arrange a demo and sales discussion. There was ample opportunity to learn about the prospect's needs and reference these when explaining the value of the product.
Now, as more companies are putting their product first and letting users try it out, there is a gap in users understanding how the solution will meet their requirements. Although conversion from website visit to sign-up (or free trial) might be good, there is a large drop-off from this to purchase.
Andrew Chen illustrates the average product's retention drop-off with this scary chart: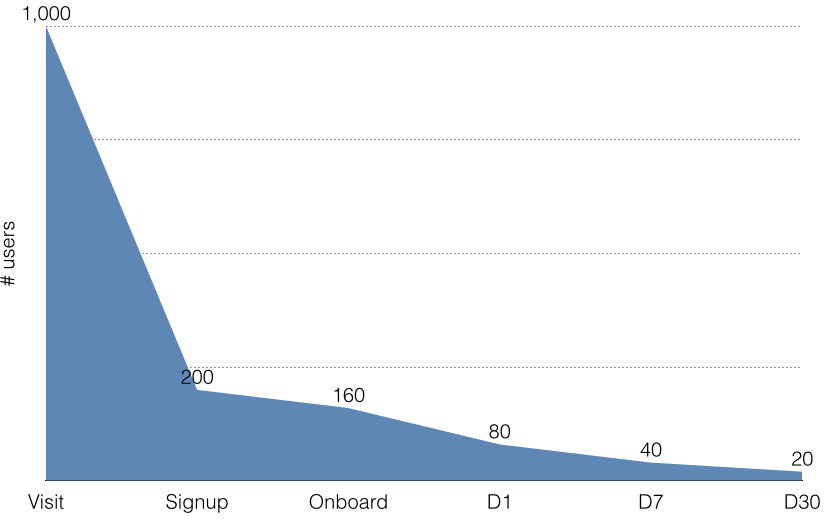 This happens because there is a new phase in the buying cycle that is often not addressed well; the product evaluation phase.
Some of the reasons why companies see poor conversion from product evaluation to purchase include:
A belief that the product will sell itself (sometimes represented as a focus on "intuitive design")
No clear owner accountable for conversion in this phase
A lack of systems / tools / processes to measure and iterate the new user experience to drive improvements
If you are looking to improve conversion from free trials then ensure there is a clear owner responsible for ongoing improvements.
The evolution of Product Marketing
The Product Marketing function has typically been responsible for competitive positioning and messaging and been a specialized part of the marketing organization.
However in the product-first world, marketing needs to take place inside the product – to existing customers, along with prospects.
Product Marketing is now filling this role, and is often responsible for driving adoption of new features by existing users, as well as creating "product-qualified leads" (PQLs) for sales teams to engage with.
One key element to this role change are software products like Chameleon that provide a platform for Product Marketers to easily deploy in-product announcements (e.g. banners, walkthroughs, and modals) for specific users, and measure performance. This equips marketers to own and control in-product marketing without engineering resources, and enables teams of all sizes to optimize their new user experience.
We've always found user onboarding has a divese set of owners (from designers, to customer success reps, to training / learning teams, to product managers) and this has left it under-optimized.
---
Too often user onboarding is considered a one-off project or left as a set-and-forget mechanism. For such a key flow in the buying cycle, this isn't sensible.
---
However with the evolution of the Product Marketing function, we believe PMMs should be the clear owners of user onboarding, as long as they are accountable for conversion and equipped with the tools to deliver results.
Key marketing principles for user onboarding
So aside from accountability and ownership, what else needs to change to make user onboarding relevant and successful?
Let's review three key changes you can make and how Chameleon can help enable these:
1. Focus on the Aha moment
The absolute first piece of successful user onboarding is to know the goal. This has to be the Aha moment for a user – when they understand how your product can help them meet their need.
For this you need to know their pain points and speak to these. For example, when welcoming a user into the product, reinforce the value proposition from your marketing site.
If you have different types of users then you may wish to offer them an option to choose their path, or target their welcome message based on data you already have about them (e.g. info collected during sign-up).
Here's an example from Eventbrite that enables a user to quickly find their aha moment based on their need: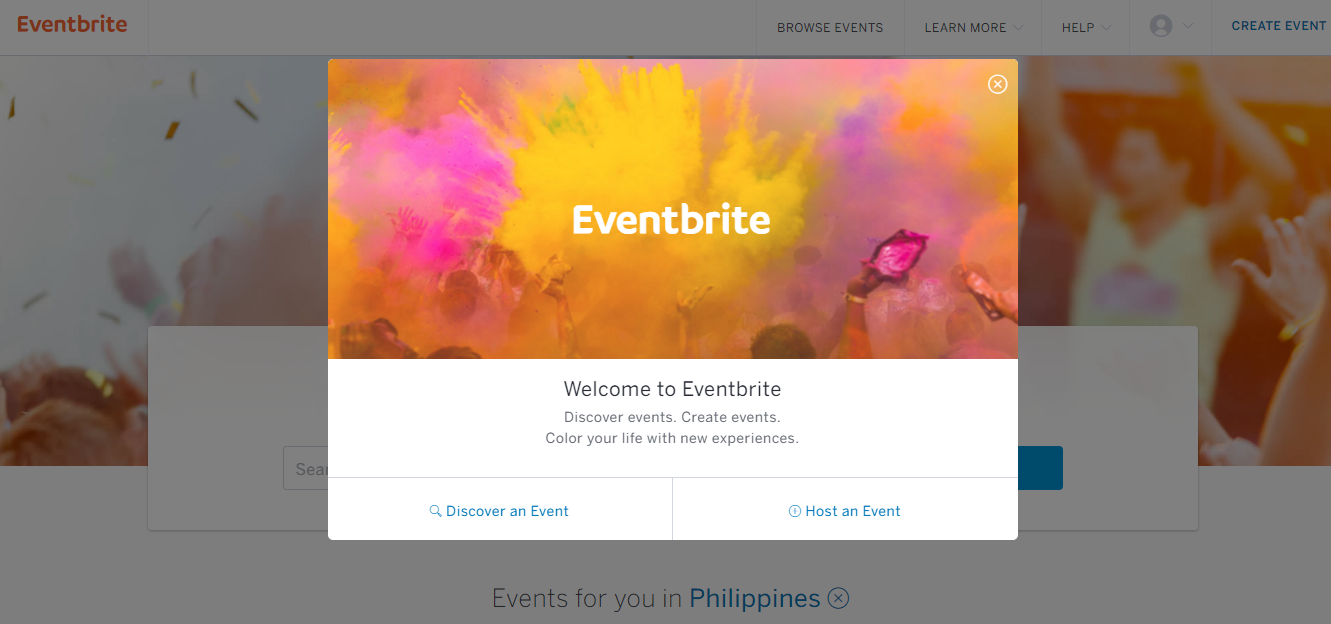 Chameleon can help you quickly build this kind of branching flow without any code.
2. Ensure the copy is punchy and value-focused
Copy is the single-most important lever in any user onboarding experience, and often presents a quick-win opportunity to increase conversion. Many teams don't spend enough time iterating on the copy, and waste valuable space with text that isn't powerful or relevant.
Here is an example from InVision that leverages the title copy of this in-product tip to convey value. It's something a user can quickly scan and appreciate.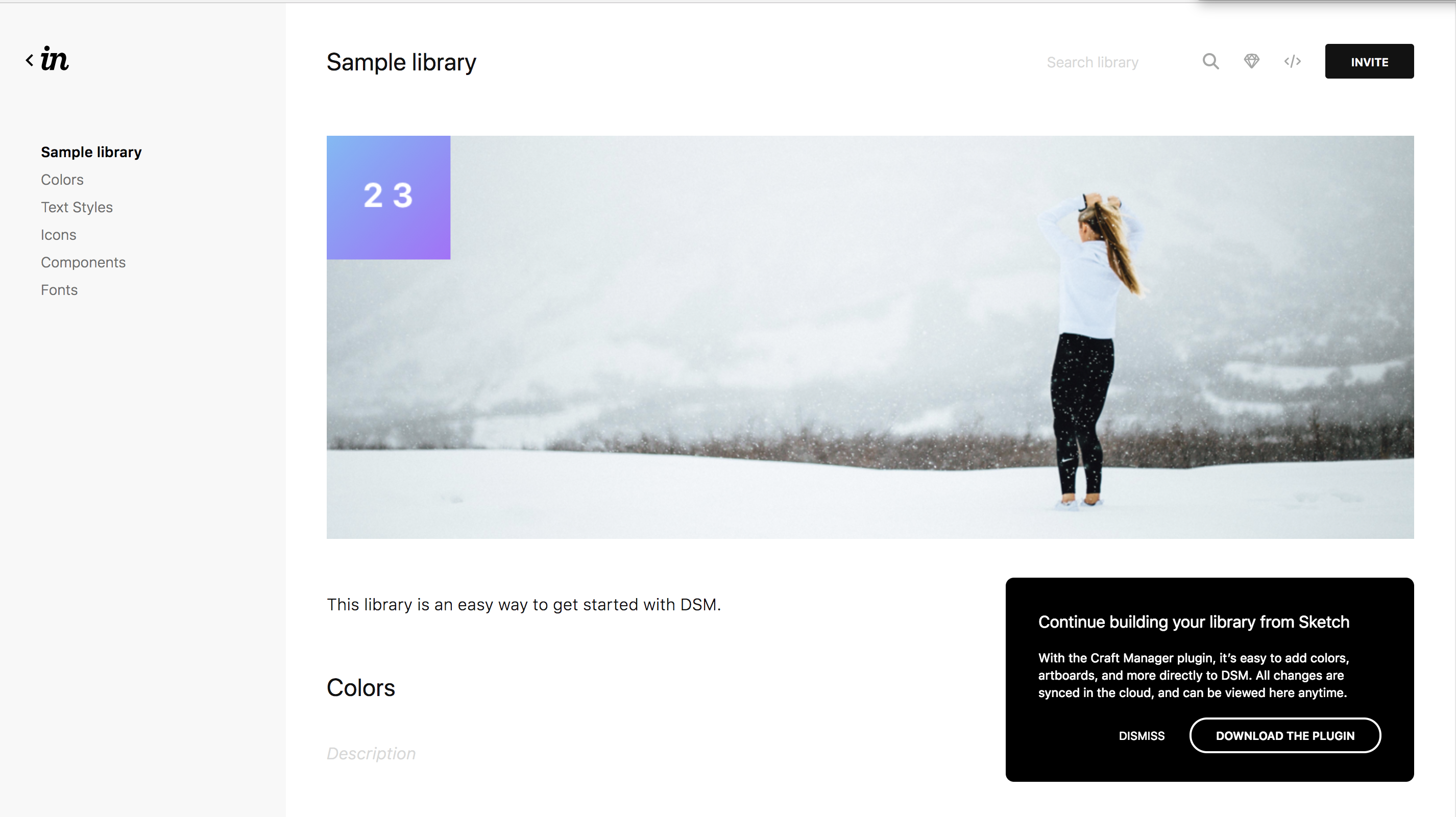 In addition the body copy also continues to reference user benefits, and doesn't try to first teach a user how any of this works.
3. Measure performance and optimize
Good marketers are extremely data-driven and ensure they are able to analyze and experiment. This is necessary for your user onboarding to enable ongoing improvements; often results show you counter-intuitive behavior!
For user onboarding built in-house, you may need to request data from your BI team or engineers. It's better if you can instrument events and send them directly to your analytics software, so that your teams are not blocked on engineering availability.
Chameleon also makes this easy, by providing dashboards that show drop-off across any flow. You can then identify which steps are not converting, and adjust the content.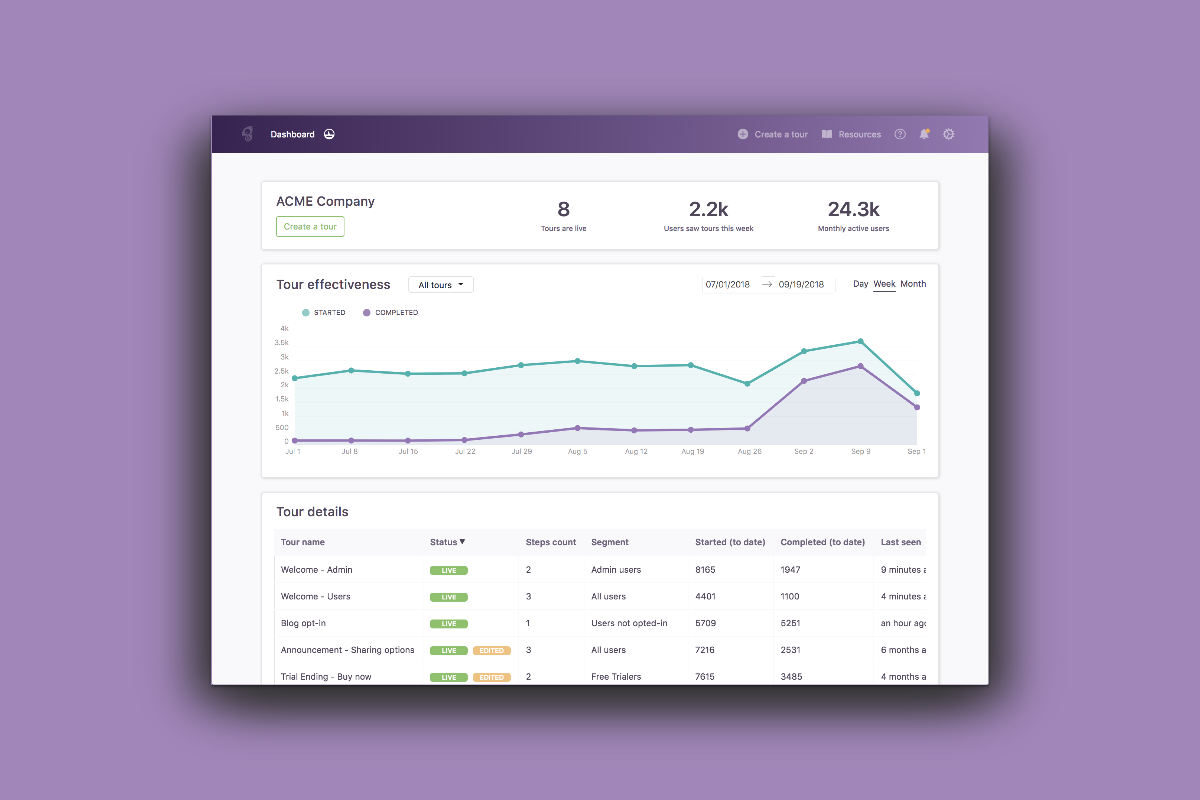 You can also run A/B tests to best determine impact; either with variations of the flows or between a flow and nothing. One recent customer saw a 22% increase in free trial conversions when using Chameleon.
---
Adapt to the change
Product has become the most important factor in users purchasing software and it's critical that you help users understand how your application meets their needs.
Don't let the transition to free trials and product sign-ups put you at a disadvantage; let your marketing teams continue their good work inside your product, and equip them with Product Marketing software that helps them convert more users.
To learn more about how Chameleon can help you, talk to one of our product specialists.