When most people think of the benefits of content marketing, they think of things like "more traffic", "increased brand awareness" and "higher Google rankings".
Sure, those benefits are very real. But there's a key benefit of content marketing that many folks overlook: increasing product engagement and reducing customer churn. In this post, I'll cover a handful of actionable ways you can use content to help keep your existing customers stick around and become brand evangelists.
1. Use blog posts to educate customers about important features #
If you're doing content marketing right, your audience will continue reading your content well after they exit through the end of your funnel. In fact, in many cases, your existing customers will be the first group to read your latest post or watch your new YouTube video.
This is a great opportunity to start a blog (if you haven't already) and let customers know how they can squeeze more value out of your product and service and in turn, reduce churn.
Ahrefs is one of the best in the business at incorporating product features and use cases into their blog posts. Some of this content is designed strictly to introduce prospects to their tool. But as Ahrefs CMO recently pointed out on Twitter, their posts are also engineered to educate existing users.
The product we sell is somewhat complex and has a relatively challenging learning curve. By publishing lots of educational content we help our users figure it out, achieve their goals and stick with us longer.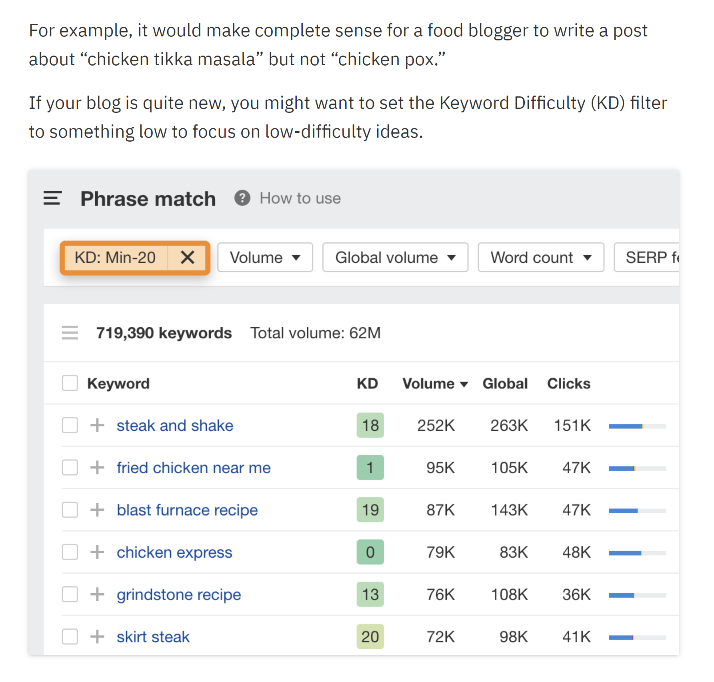 The key is to not make the post strictly about your product. Instead, you want to weave your product into a value-driven piece of content or a comprehensive pillar page. In other words: the content should be able to stand on its own. 
For example, let's say that you've found that customers who use a certain feature tend to churn less than those that don't try the feature. A more traditional approach would be to create a video all about that feature. While that may be direct, it's not the type of content anyone, even existing customers will want to consume.
Instead, you can make a product marketing video about the benefit that feature brings to the table. In that video, subtly mention that the feature in your tool can help make the process a little bit faster, easier, or for bonus points – both. This will encourage existing users to try that feature. And push new people to give your tool a try. 
More "pro tips" to make this strategy super effective 💡
Use an abundance of visuals and screenshots to bring the feature to life

Try using a real-life case study of how a customer used that feature 

Make sure to emphasize the benefits someone will enjoy from trying that feature

Don't overdo it: for the content to really work, the feature needs to be used in a "by the way" fashion
2. Publish industry studies to keep users coming back #
Industry studies are a great way to get more traffic, social shares, and backlinks. This is why their popularity in the content marketing world is growing, no matter the industry you're writing for.
Interestingly, studies are another tool you have at your disposal to keep your product top of mind for existing users as well. Especially if you make your content exclusive to customers.
BuzzSumo is one company that does a fantastic job at creating industry studies designed to increase awareness. But also to boost engagement. For example, each year BuzzSumo publishes a large-scale analysis of headlines that get the most clicks. The most recent version of this study was called: "100m Posts Analyzed: What You Need To Write The Best Headlines."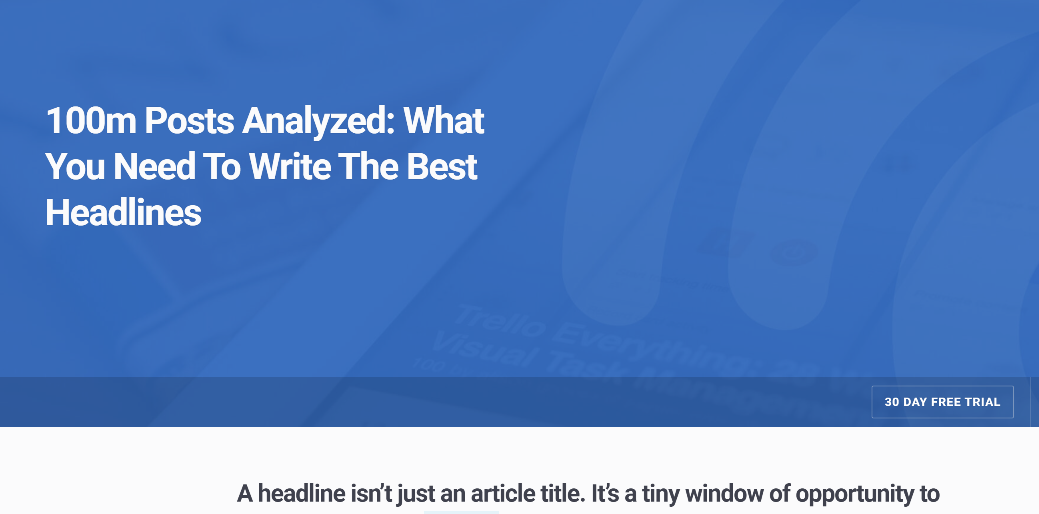 In this analysis, BuzzSumo analyzed 100M articles to see which content got the highest levels of engagement and shares on social media, which helped understand the performance in comparison to social media benchmarks.
Like any industry study, this post was shared far and wide with the masses. But the smart thing BuzzSumo does with this research is repurposing it into an exclusive, customer-only webinar. This webinar recaps some of the highlights from their research. Adds new context, data, and examples. It also includes a Q&A section at the end.
This kind of "no strings attached" value add is essentially the reciprocity principle applied to existing customers. Not only does this free value-add increase loyalty, but it's a great way to remind users that you exist. And, for disengaged users on the verge of churning, encourage them to log in and start using the tool again.
To maximize the value from this approach, it's important to create studies that really appeal to your niche customer group. In the case of BuzzSumo, their target audience is made up largely of content marketers. And providing them with exclusive insights from their study can help give them an edge.
Download the Tours and Experiences Benchmark Report
We'll send you the report with insights from over 214 million interactions
More "pro tips" to make this strategy super effective 💡
Like BuzzSumo, you don't necessarily need to create industry research only for your customers. You can repurpose or remix existing data for that group.

Try to choose a format ideal for your customers. If you're in B2B, webinars or PDFs tend to work best. If you're in the B2C space, then you might be better off sharing your research as a YouTube video. Also, find the best time to post on social media to maximize engagement.

Highlight what's exclusive in your research. That way, customers are clear about the extra value they're getting vs. the general public.
3. Create data-driven articles that highlight your unique data or analysis #
Does your tool or service have unique data that people can't find anywhere else? Data-driven articles can help highlight the unique data that your platform brings to the table for both leads and existing customers. And show them how they can use the data in new ways.
One example of this approach is from the Exploding Topics blog. Many of their posts are traditional content that discusses trends, data, etc. But several posts are lists of startups in different verticals.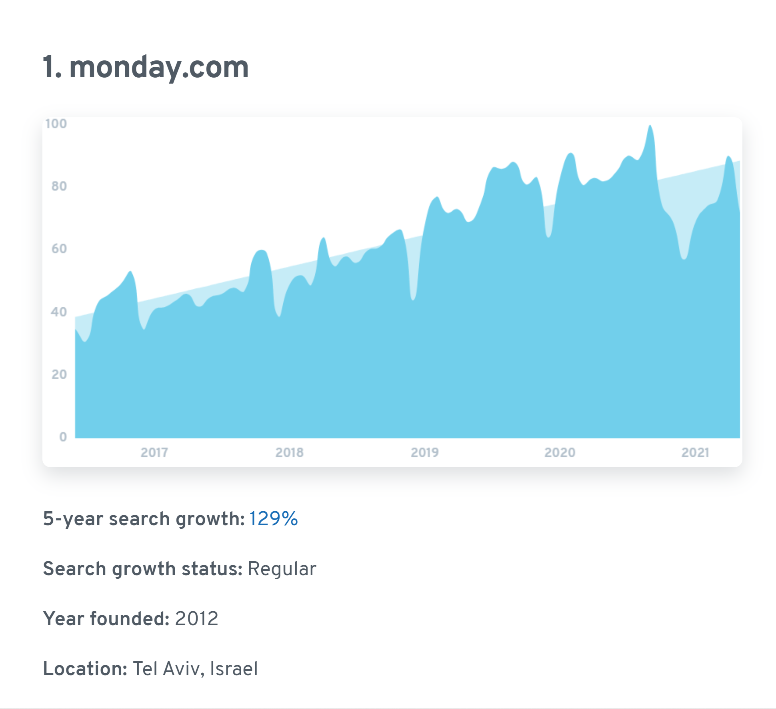 What's interesting about these posts is the startups are listed not based on traditional metrics (like VC funding or revenue numbers). Instead, they're ranked based largely on the search data from Exploding Topics. 
Like with Ahrefs, this is a subtle-yet-powerful way to remind readers about how your features (or in this case data), can be used.
More "pro tips" to make this strategy super effective 💡
Think of how you can use your data to rank or sort entities in unique ways. For example, ranking yoga apps based on their yoga logos (instead of app downloads).

Distribute this content directly to customers. This can help them see your software's data in a new light.

Be subtle. A brief mention of where the data came from should be more than enough. Any more than that, and the content may seem overly promotional. 
4. Include clear benefits in product announcements and feature updates #
So far we've talked about approaches that indirectly discuss your product. But sometimes you want to publish content that announces a major product update, product roadmap, or new feature. This content isn't so much designed to appeal to non-customers. But it's something that is of real interest to existing users.
That is if the announcement is done right. In fact, this is something that the folks here on the Chameleon blog do super well. For example, take this post on Chameleon's new HubSpot integration feature.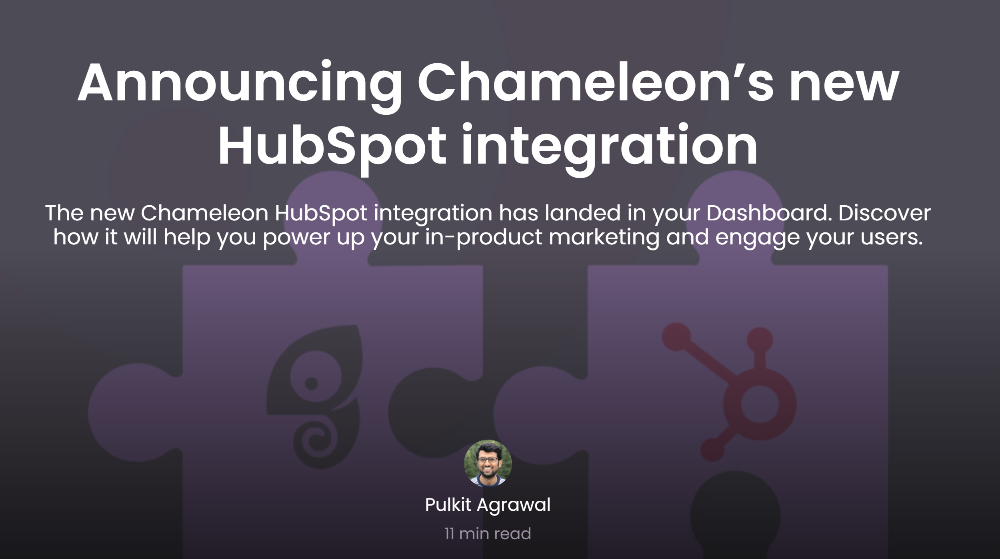 This post could easily be dry. Boring. And lack an answer to "What's in it for me?". Fortunately, this piece of content is fun and upbeat. But most important of all, it lists out why the new integration matters. Specifically, Pulkit outlines "Why this matters". Along with five ways customers can use the new feature right away. 
More "pro tips" to make this strategy super effective 💡
Highlight the tangible benefits users get from the new feature (and ideally, include a customer story highlighting the feature)

Include clear steps to guide users to the new feature. You can do this with interactive formats such as digital flipbooks or videos.

End with a call to action to try the feature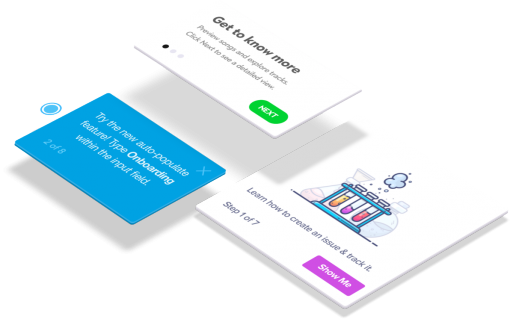 Show users the right content, at the right time
Use Chameleon's product tours, slide-outs, and modals to show users engaging content throughout their journey
---
This article was written by SEO expert Brian Dean, founder of Backlinko. Besides running his business, Brian is trying to improve his forehand and find time to read fiction.