If you're a fellow SaaS user yourself, chances are that you've seen a user onboarding checklist. They are in-app, they often come in the form of a checklist (obviously), and they help you see what you've accomplished and show you what you've got left. They map out the user journey and make it easier as well as faster for users to discover value in your product.
But like everything, in-app user onboarding checklists need to be well thought out and be a part of an integrated strategy for your overall user onboarding program. So let's dive into more details on this. We'll go over what in-product onboarding checklists are, what they are best used for, and how to craft great in-app widgets that result in user success. 
Most SaaS companies nowadays have an onboarding process that introduces new users to the product. However, even with the best-written series of in-app messages users may find themselves confused and lost. That's where onboarding checklists come in. 
User onboarding checklists are essentially made of the following two core components:
A list of tasks a user is recommended to complete 

A progress tracking system that shows how many tasks have been completed and how many are left 
To see an example, here's what an onboarding checklist built with Chameleon could look like 👇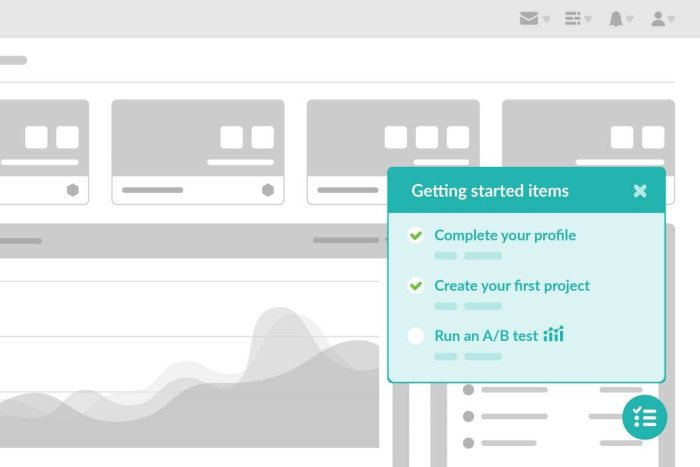 Using this, you can lead users to core actions that you want them to perform. For instance, if you believe that a certain action within the product will lead to higher user activation and thereby better conversion, then you can create a step-by-step checklist that will ensure that a new user will complete that action. 
In short, they can be a critical part of your user onboarding process and drive increased feature adoption by giving customized guidance to your users.
Here are reasons why an onboarding checklist should be an essential part of your user onboarding strategy.
It's easy for users to lose interest during the onboarding process, and the user could simply exit without ever fully understanding how the product works. Research by Wyzowl, a video marketing firm, has shown that 8 in 10 people have deleted an app because they didn't know how to use it. 
But a clear set of instructions can prevent this from happening. By knowing where they are at all times, new users can navigate smoothly through the product and learn without frustration. 
Your product has certain key features that drive product adoption more than others. By including those action points within an onboarding checklist, you can highlight them to new users and make sure that users complete those actions.
A key to a successful onboarding process is for new users to see immediate value in your product. In other words, you need to lead your users to the "aha!" moment as quickly as possible as this is the point when new users first recognize and internalize the value of your product. 
Leading more users to the "aha!" moment has many positives like:
Increasing customer retention

Raising customer lifetime value

Growing customer satisfaction

Decreasing churn from the onboarding process
All of this can facilitate your sales process and make conversion much easier because your users already see how valuable your product is. 
Now you know that in-app user onboarding checklists are incredibly beneficial to your user onboarding flows, let's take a look at a few best practices on how to make the checklists as effective as possible. 
A user onboarding program should be a nurturing process, in which you take your users from one task to another with minimal friction.
But when you create onboarding tasks that are convoluted and filled with multiple action items, it can cause more blockage than actually move them along. So make sure to divide up your tasks into single instances.
For example, instead of saying 'Fill out your profile', try splitting them into three: 'Enter your name', 'Enter your position', and 'Upload your profile picture'. 
Make sure to keep your copy simple and actionable. This way, you can give your users quick wins and get them to move to the next task quickly, instead of having them labor over a task for a longer period of time.
Think about it from the users' point of view. They are looking to your checklist to provide clear expectations and achievable tasks. Have user-centric activation milestones as your checklist items.
🤓 Want to learn more about activation milestones?  
Read our guide on user activation to learn how to map, measure, and improve your user activation flow. 
SaaS onboarding can be a very dull exercise and simply showing how far the user has gone with a progress bar is not enough to motivate them. But what if you could reward them, and make it interesting for them to continue? This is where onboarding gamification comes in.
Gamification is a scientifically supported method for raising user engagement and keeping up 'reuse intention', which measures how likely customers will use a company's product or service.
According to a study done by German scholars at the University of Siegan, gamification achieves reuse intention by fulfilling three psychological needs: competence (feelings of success), autonomy (feelings of volition and freedom of choice), and social relatedness (feelings of belonging and connectedness to others).
The study implies that if the user finds satisfaction related to those needs from the feedback they get, they'll want more of the same positive experience, and be more motivated to continue using the product.
For instance, you can give badges to users who complete certain tasks. Or give titles to users that differentiate them from other users. This provides a sense of competency as well as a feeling that their actions matter in relation to others.
In addition, you can reward your users by creating a delightful onboarding experience. Celebration effects like confetti after a successful Tour completed from a checklist can pleasantly surprise the user and give them a positive feeling which they will associate with completing tasks. 
Here's an example of what it could look like when built with Chameleon.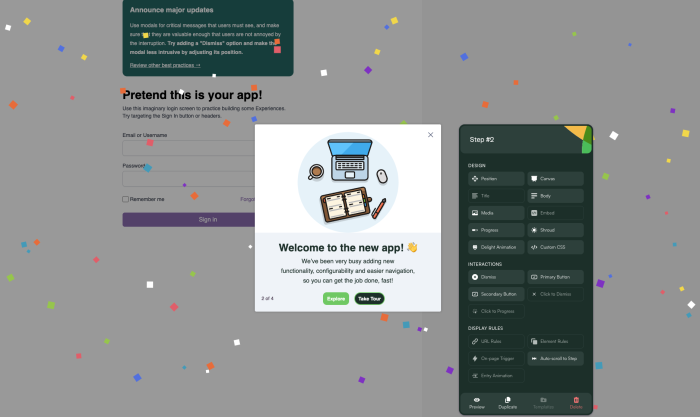 Build your own in minutes
Sign up for free and enter Chameleon's Playground. It's a sandbox environment where you can try out the features and build your onboarding checklist in just a few clicks.
Here's an essential design tip. When you're creating the widget to access the onboarding checklist, make sure that users can easily find and trigger it. However, ensure that it's not too distracting from the user experience. 
For instance, keep the list under an easily recognizable icon in the corner of the page, where it can be readily triggered by a hover or a click.
And do make sure to keep it looking on-brand so that your onboarding checklist doesn't stick out unnaturally on the page. Let it blend in.
Just because there is a checklist, it doesn't guarantee your users will actually complete them. They might just ignore it, or even forget about it. At worst, they might not even click on it ever. So feel free to give a little nudge to your users. 
For instance, here, Zendesk makes the checklist a part of the onboarding flow in the form of a tooltip. This way users will definitely see that there is an onboarding checklist to complete.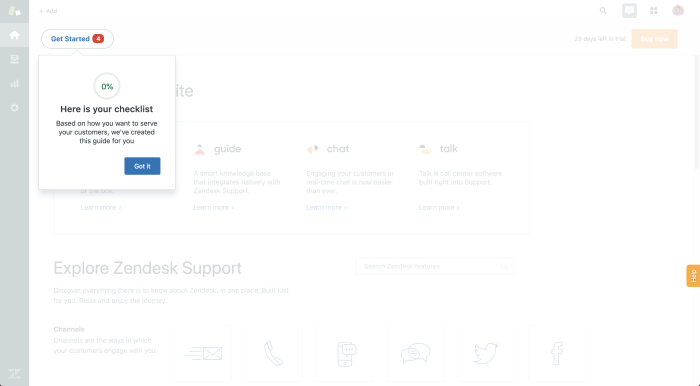 Every time a new user kicks off the onboarding process, there's an objective behind why they are interested in using your product. Perhaps it's to relieve pain points, achieve business growth through product adoption, or capture more value from their existing customers. Whatever it is, it helps to remind your users why they're going through the onboarding process in the first place.
A great example is how Airbnb does its user onboarding process for hosts. They show how much money hosts are earning from properties, reminding users of the value of going through the setup process.
Learn how to create effective checklists
Every user onboarding checklist should be personalized and customized to each unique user journey. In our guide, learn how to create user journey maps to better understand the path different user segments are taking within your product.
In closing, always remember that your checklist should feature user-centric goals. You might be tempted to dump everything you want your users to do on the checklist, but approach the checklist from their point of view. Identify friction points they may run into and define success from your users' perspective. That is the true path to user onboarding success.
Ready to build your own checklists that will guide users through their onboarding experiences and result in happy customers? Chameleon has all the features you need to create an onboarding checklist for your product. You can try it now for free and play in our sandbox environment or book a personalized call with our product experts to learn how it can help you accomplish your user onboarding goals.