It's easy to understand why people are drawn towards digital tools and services that provide value. At the end of the day, most internet users are searching for solutions to their problems. If your company has successfully found a way to provide solutions for people — congratulations, you're on the right path.
Let's take it a step further now. Do you know what people enjoy more than a quality product or service that provides value?
A free, quality product or service that provides value.
Don't worry. This isn't an article about convincing you to start offering all of your products and services for free.
Instead, we'll discuss how you can use a bit of creativity and a little engineering management to create powerful personalization software and tools that will help your company gain a marketing advantage over your competitors.
What is Engineering as Marketing?
Simply put, engineering as marketing (sometimes written engineering-as-marketing) is the concept of building and sharing tools with your users with that they will find useful. These can either be made specifically for an engineering-as-marketing strategy, or by repurposing existing tools you've built to solve internal problems in your business.
In other words, engineering as marketing is building and using tools to reach more people and gain traction by providing value to users. It's designed to provide value at little to no cost to both current and potential customers alike in order to promote your main product or service.
Check out this video for a great overview of engineering as marketing.
The combination of marketing and engineering is a match made in heaven for any digital marketing team.
Why is Engineering as Marketing Important?
We find ourselves in a unique time period in human history where everyone comes to the same place in order to find solutions to their problems. That place? The Internet.
Unfortunately for businesses trying to stand out, the Internet is now flooded with competing companies jockeying for position as the head authority figure in specific markets.
Now, the challenge for a business looking to drive growth is to find a way to rise above the competition. Engineering as marketing is a great way to take on that challenge.
To be quite honest, Engineering as marketing is hard. Let's consider your benchmark digital marketing tactics such as email campaigns, search engine marketing, and social media advertisements for example.
Although they're all vital to the success of digital marketing efforts, they don't necessarily require much heavy lifting. Engineering as marketing requires you to conjure up a new and useful tool out of thin air.
Like we discussed, the digital marketing world is noisy and crowded. The companies that stand out are the companies that are willing to go the extra mile. They're willing to take on the challenge of developing tools that provide users with real value.
By doing so, they're able to cut through all the noise.
Engineering as marketing is a sure-fire way to generate qualified leads, promote brand awareness, build customer love, and ultimately establish your website as an online authority figure.
How Can I Benefit from Engineering as Marketing?
The first step is to identify an issue that consumers in your target market share. Once you've found the issue, the next step is to develop a useful website or tool that provides a solution to the problem.
From here, you'll want to give your new product a name and it's own domain.
Remember, you want to offer this service for free. If the service succeeds in providing value, consumers will naturally be inclined to use it.
If you can successfully reach this point, you should be receiving website traffic from both current and potential customers. Therefore, it's important for users to understand your main business' affiliation with the new tool. This is usually done by stating something along the lines of "powered by [your business]".
It's also a great opportunity to collect email addresses and encourage people to sign up with a free trial (however, people are generally more willing to hand over their email addresses than they are to hand over their credit card information).
Engineering as Marketing: Examples in the Wild
Let's take a look at some of the best real-world examples of engineering as marketing.
Example 1: Website Grader
Perhaps the most successful use of engineering as marketing out there is HubSpot's Website Grader. HubSpot, an extremely successful marketing automation software company, understood that most of its users were actively looking for ways to improve their websites.
They already had their own method of determining how their web pages were performing, so they decided to let others in on it as well and next thing you know, Website Grader was born.
Instead of charging the public to use Website Grader, HubSpot registered "www.websitegrader.com" and made it available for no cost. In order to use the grader, all people have to do is provide an email address.
They began to collect these email addresses and used them to generate an email list full of extremely qualified leads.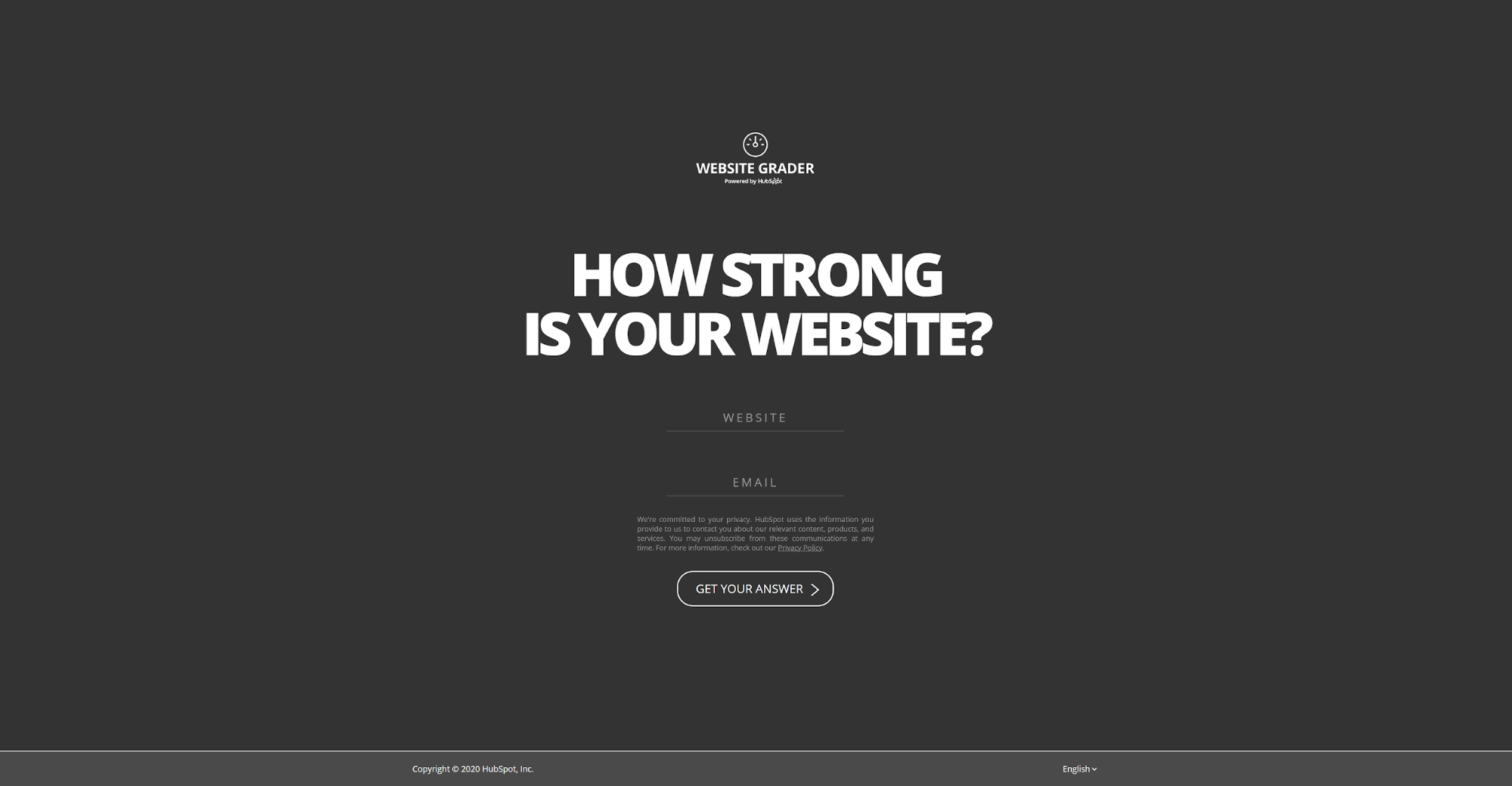 Millions of people have used Website Grader to improve their websites. Website Grader has a few different measures for how they rate websites including performance, mobile optimization, and SEO.
As you review the test results, HubSpot offers in-depth feedback on the areas where your website needs work. There are four times throughout where you'll see a message stating:

"Personalize your web experience. HubSpot gives you the tools you need to tailor content and improve conversions."
The statement is followed by a button prompting you to start a free trial. While these messages are clearly ads for HubSpot's services, they don't feel spammy at all.
In fact, they come off as helpful since the people who are viewing them are obviously looking for ways to improve their website.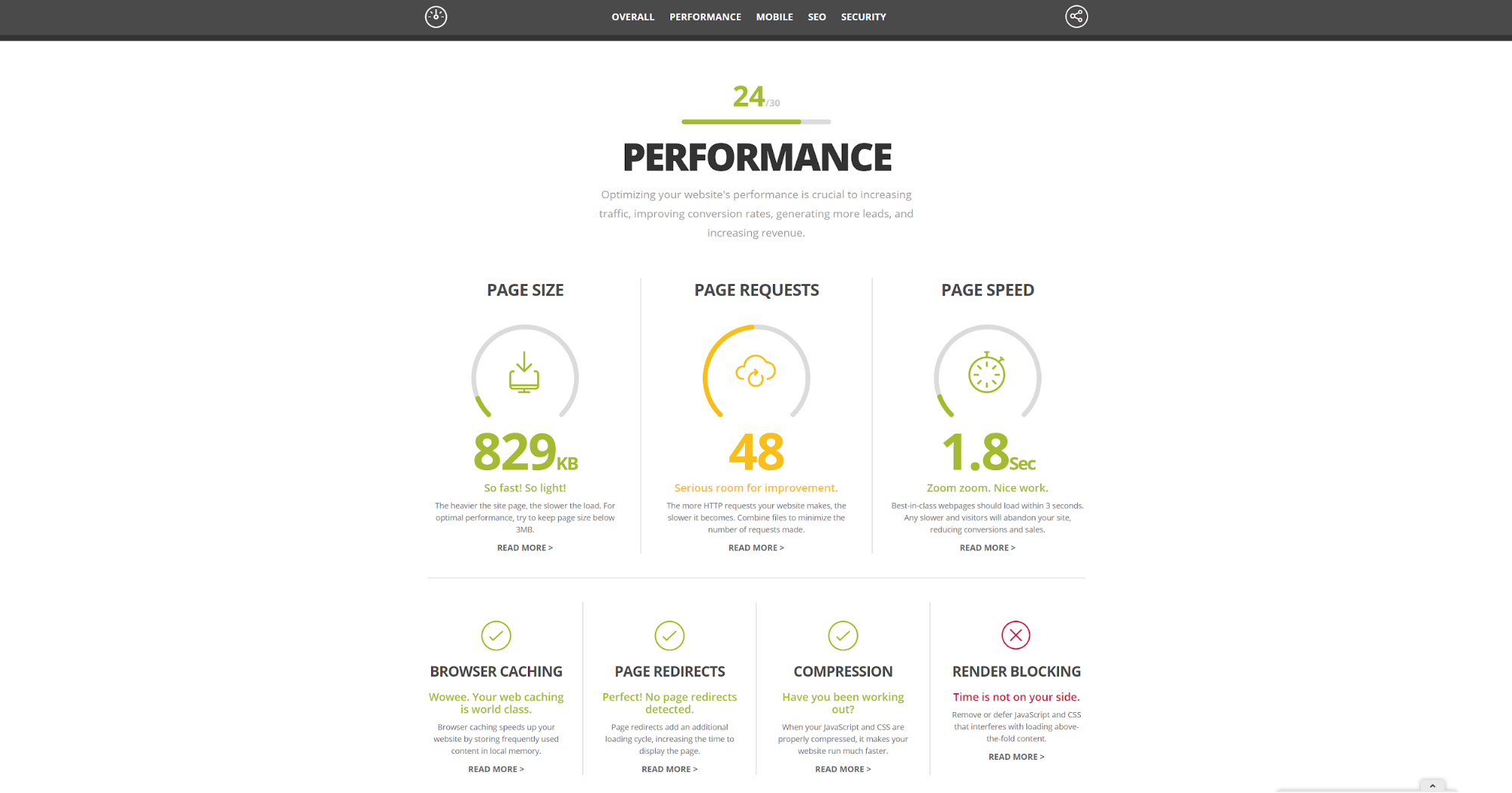 At the very end of the test results, there is a section titled, "What Should I Do Next" where the user is shown a summary of the results along with final recommendations for improvement.
After that, HubSpot offers up one last call to action.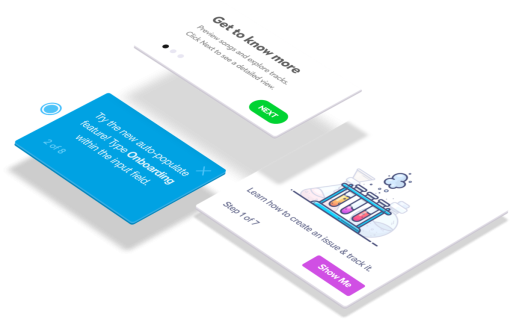 Create in-app experiences that retain and convert users
Chameleon makes it easy for product marketers to create tooltips, modals, and product tours without code
How Engineering as Marketing Can Increase Your Website's Authority
Example 2: Carculator
Another great example of engineering as marketing is Turo's Carculator. Turo is a peer-to-peer car sharing company that allows people to rent out their vehicles via an online and mobile interface.
Before we discuss how Carculator works, let's talk about how Turo has found success lately.
People have several different options when it comes to transportation these days. They can buy a car, lease a car, rent a car, take Ubers, use public transportation, ride a bike, etc. The problem that people have is determining which of these options is the best move financially. Turo's target market has a broad scope because they can offer value to both people who own a vehicle and to people who are looking to rent one.
Take for instance a family of seven who flew into Los Angeles from Minnesota for a weekend vacation at Disneyland. Instead of heading over to the car rental desk at the airport, they could simply use the Turo app to rent a minivan from a regular person for the weekend. At the same time, the family of seven can use Turo to rent their minivan back home in Minnesota to a different family of seven who is in need of a vehicle.
Turo is unique because they're essentially solving two different problems at once. On one hand, they give consumers the option of renting a car at a lower cost than most car rental places. On the other hand, they give people who own vehicles the opportunity to earn passive income.
Pretty neat right? Let's take it a step further.
Turo's presence adds a new dimension to the transportation decision-making process. People who were on the fence about purchasing a car may be enticed by the opportunity to earn some extra money on the days where they won't be driving.
The question is, exactly how much extra money? Turo built the Carculator to help people get answers.
To use Carculator, all you need to do is enter the year, make, and model of your vehicle along with the location of where your vehicle is located.
Carculator will then show you your vehicle's estimated value along with the daily listing price. It will also show you the average number of days booked per month, the estimated earnings per month, and the estimated earnings per day.

From there, you have the option to explore other cars' earnings. This is a nice call to action aimed at users who were just curious about how much money they could make renting out their car.
Now, they're interested in how much money their family and friends could make renting out their cars. It's a clever way Turo to seamlessly convert potential customers into advocates for their brand.
Take note of those social media and email share icons. Although they're subtle, they play a vital role in helping to spread the news about Carculator.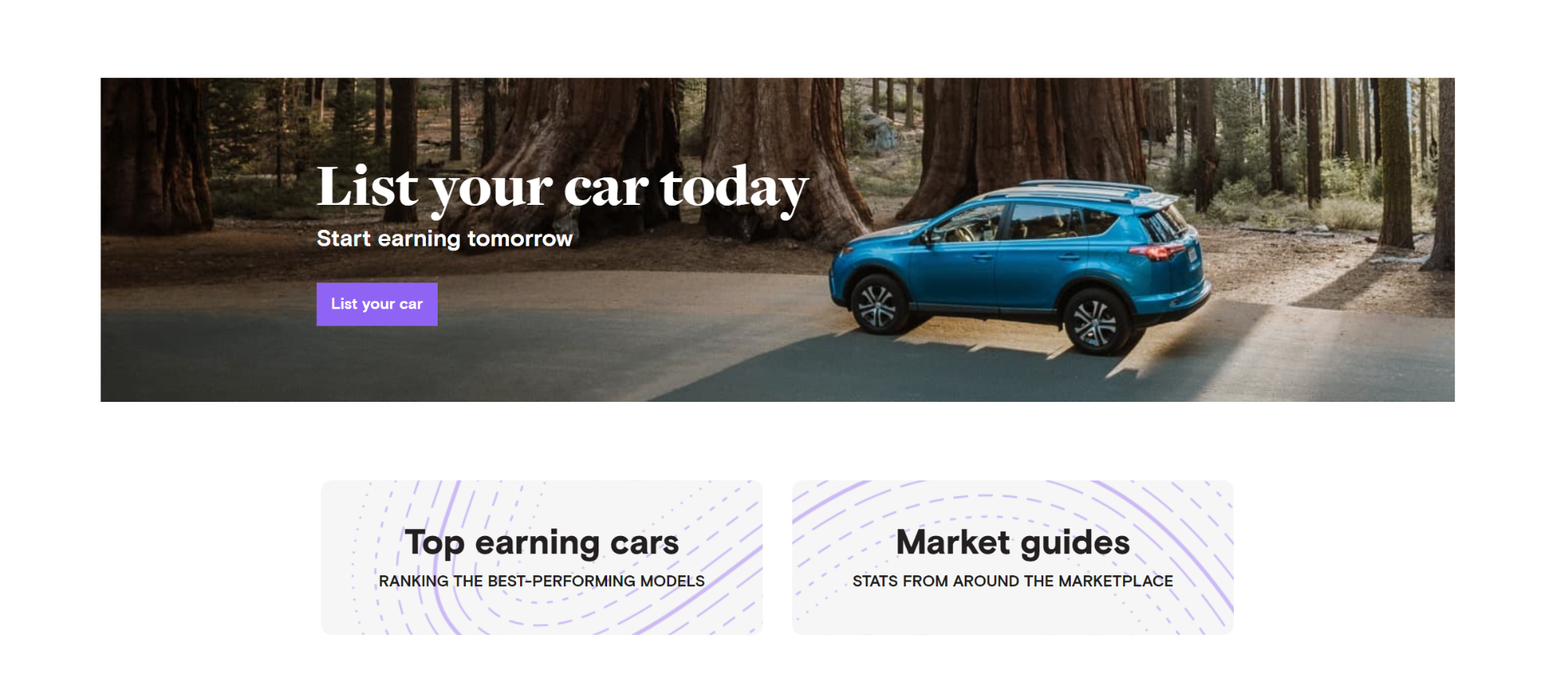 This final call to action is great because it links back to the main website via the "list your car" button and to two separate blog posts.
If you're looking for a blueprint on how to employ Engineering as marketing tactics, definitely follow Turo's lead.
Example 3: SoapCalc
Botanie Soap is another company that developed a calculator as a means of Engineering as marketing. SoapCalc is a calculator for making your own soap at home. Botanie Soap is centered on providing custom label bar and liquid soap products for other businesses online.
They also sell organic household/commercial cleaning products in bulk and soap making supplies and tools. Botanie Soap caters to consumers who are conscious of what goes into their soap and cleaning supplies. They decided to create SoapCalc to help people go as far as making their own soap from scratch.
SoapCalc has established itself as the go-to source for soapmaking calculations and recipes because of the vital information it provides to online soapmaking communities such as r/soapmaking (26.5k members strong!).
Although it receives enough traffic to host ads, SoapCalc's main purpose is to funnel users over to Botanie's main website to purchase all the soap and supplies they'll need.
SoapCalc is a bit of an unconventional example of effective Engineering as marketing because it's not initially clear who the mastermind behind the website is. The only way to know for sure that Botanie Soap runs the website is by scrolling down to the bottom of the page and reading the copyright information.
Otherwise, the only time you'll see Botanie Soap is when you look over to the side of the page where the SoapCalc sponsors are listed. There are two Botanie Soap ads amongst two other soap making supply sellers.
However, when you click the link to buy raw ingredients at the top of the page, you're taken to Botanie's website to get your order started.
Essentially, Botanie Soap hides on SoapCalc in plain sight.
Engineering as Marketing Tactics: Key Takeaways
If you build it, they will come. That's true as anywhere as it is in SaaS; implementing strategic engineering as marketing tactics will help you to increase your website's authority and leverage unique value by exploiting the unique complexity of your product and offering niche, expert-based content.
Not only do people love having access to useful tools for free, but they also love it when a company takes on the burden of developing a solution for their problems.
If you're looking to stand out in the world of digital marketing, consider putting in some extra effort towards developing a tool that people will thank you for.
This is true as well for in-product marketing. Your customers will love you for improving their in-app experience with interactive guidance, and helping them achieve product success by discovering and utilizing everything you're offering them.
Sign up for a free trial today!