Our team has been hard at work getting the HelpBar ready for launch and we have two new exciting updates for you to help power your PLG efforts.
📌 Pinned Content
It's the moment you've been waiting for, pinned content is now available for your HelpBar AND this content can be segmented by audience so each user can be shown specific content that suits them best.
Pin content within your HelpBar
But to make your pinned content easier to organize and show to specific users, you can create Page Collections and determine where your content shows using URL rules. This makes it easier for you to pin your resources across multiple pages, or very specific ones.
In the example below, we've created a Page Collection called "Learning" and pinned three resources under it. This content will appear when the HelpBar is triggered on specific pages determined by Learning's URL rules. In addition, each pinned content can still have a separate audience, which makes this feature very powerful for personalization by user data such as plan, company, or role.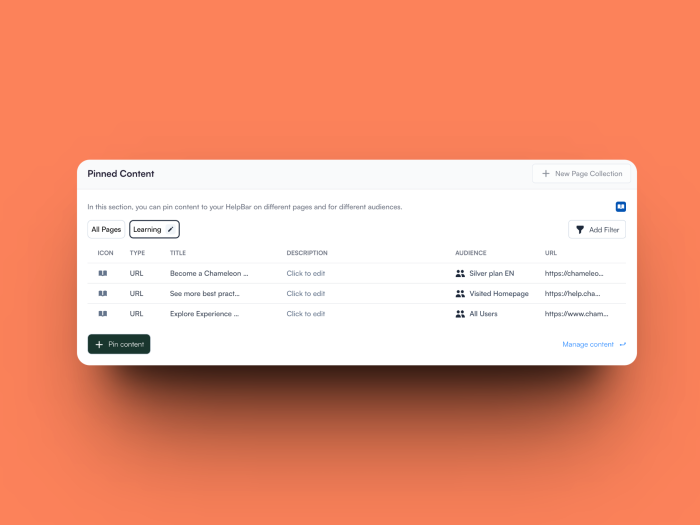 Organize your pinned content with Page Collection
🎉 Slack Integration
If you've used our Slack integration for Microsurvey responses, you'll love that you can now receive HelpBar queries and answers directly into your Slack channels as well. This way, you can easily understand where users are hitting a snag (or what they're curious about!) and make your help documentation more visible, and accessible for them.
To get started, set up the Slack integration inside of Chameleon and add a new feed!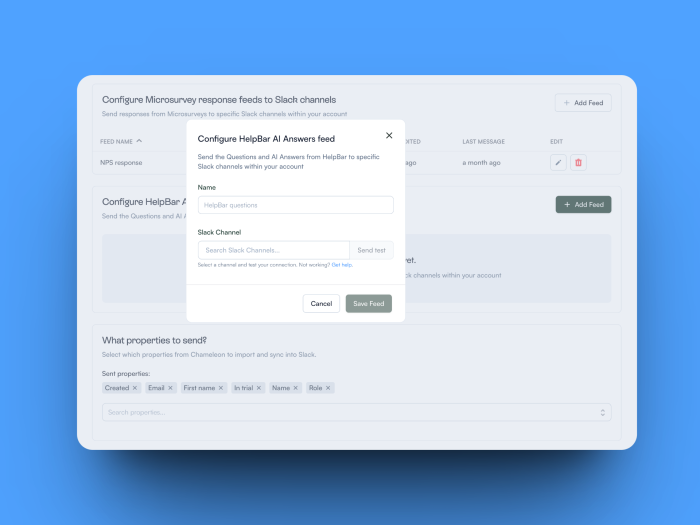 Add a new Slack feed for HelpBar questions and answers
✨ Small Improvement: You can now use Shift-click through the Dashboard and select multiple items at once (For example, selecting Tours, Segments, and data entries are easier manage your account and you can quickly perform bulk actions) 
🐛 Bug Fix: We fixed an error with our API GET requests, and ensured all users are identified for your Tours to show.
HelpBar Onboarding Inspiration
Create Page Collections with pinned content to supplement your onboarding flows with content that answers common questions or specific training guides. What's more, you can level up even further by specifying pinned content to only show for specific audiences based on plan type, role, and more!