Everyone is talking about "product marketing" these days; as one of the most recent and exciting trends in software marketing, there is high demand for PMMs (Product Marketing Managers). 
For this article, we've spoken to some award-winning PMMs and picked the top advice for anyone interested in a strategic and tactical understanding of product marketing. 
Let's set course with a simple introduction to Product Marketing.
What is Product Marketing?
Product Marketing is responsible for both understanding how the design of a product relates to market demand, as well as communicating that product to the market.
At Chameleon we believe that Product Marketing is not just a one-way vector taking products TO market; it should also be influenced by taking insights BACK from the market to inform the product team.
Here's a more concise definition:
Product Marketing connects the dots between the product and the market, in both directions.
We can see two key responsibilities of Product Marketing here, with associated activities:

🔁 Relaying market insight back to Product team to shape product design
Customer and competitor research (to help identify unmet needs)

Persona development and segmentation (to better define the target audience)

Pricing updates (to better match value between product and market)
📣 Communicating product to market
Content and collateral creation (to enable sales, success, support teams)

Promoting the product / feature (to educate the market)

Launch management (coordinating the whole team in the delivery process)
Below you can see a visualization of the Product Marketing role.
Product Marketing KPIs
At Chameleon we've collected data on Product Marketers, including feedback from PMMs about what they consider to be key metrics of the PMM role:
% of Product Marketing Managers that indicated this as a key metric for their role
According to our surveys, feature adoption and new revenue are the most important KPIs for Product Marketers. This fits nicely in-line with product-first thinking, because feature adoption should result in greater value for users, in turn driving willingness to pay.
Product-market fit is hugely important for startup success, and in this capacity we recommend that a PMM should be one of your first growth hires.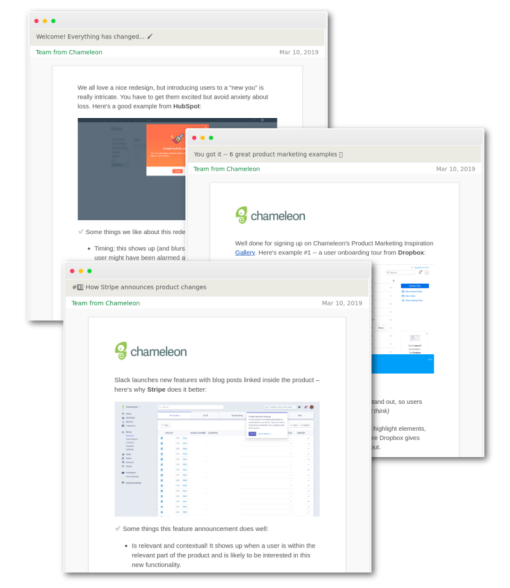 Free in-product marketing mini-course
Learn feature launches, upsells, and onboarding from products like Stripe and Dropbox. Get lesson #1 now 👇
What is the role of a PMM (Product Marketing Manager)?
One of the key functions of a Product Marketing Manager is to aid in finding the Product-Market fit, and ultimately helping the product succeed in bringing value to customers (product success).
You might consider whether the responsibilities of a PMM could (or should) be taken on by the Product Manager; we wouldn't recommend it. Despite sounding similar, the roles are very different, and both demand a significant investment of time.
That being said, PMMs have a close relationship with Product and Marketing, so much so that the Product Manager and PMM should be considered a team.
PMMs are in high demand
Lots of companies are hiring right now; just look at this Product Marketing Alliance board:
Advice from award-winning PMMs
We're excited to share with you the results of a recent Sharebird research survey on award-winning Product Marketing Managers, with advice for those aspiring to gain insights into the position.
Here are our select quotes from the survey, with additional advice on how to take action.
"Product marketers are the connectors inside an organization"
Sarah Din, Director of Product Marketing at SurveyMonkey told us, "PMMs sit at the center of product, marketing, sales, customer success, strategy, and multiple other functions and help connect the dots between them".
The human element of marketing is probably the most important.
To be a successful PMM, Sarah says, you have to do two things really well:
Build great relationships with other teams internally. Nothing we work on is done in a vacuum and collaboration is at the core of every project - so make friends! 

Think people, not features. Whether you sell B2C or B2B is irrelevant - you sell to people. Listen to them, understand them, speak their language.
Tips on applying this: 
1. Create a recurring coffee schedule with all the key team leaders you work with
Have an informal catch-up once per week with at least one person on your team; making this regular helps to build company culture and develop strong relationships with the people you work with the most.
2. Be a communications sponge
Make sure you are passively absorbing what's happening with product, user research, and marketing by being part of all the relevant Slack channels (even ones that are not directly related to your current workstream).
3. Always be trying to connect people to others
Your strength is being known as a connector; so if you discover a problem that someone is having then look to find who could solve that within the org and try to connect them, as a habit.
"Product Marketing is all about storytelling"
Jeff Beckham, Director of Product & Content Marketing at Mixpanel argues that the general skill of getting buy-in on an idea is one of the most crucial. "If you want to get into the field, first ask yourself, is that something you enjoy? And if so, practice writing, speaking, and even convincing others to follow your ideas as much as you can. The beauty, and challenge, of the field is that most of your day is spent earning the right to be heard, whether that's by your customers, potential customers, or sales team"
Tips on applying this: 
1. Learn to tell better stories
I'd recommend these excellent resources on storytelling:
2. Try writing the press release for a new feature before it gets built

Amazon is famous for doing this. The underlying principle here is the technique of starting important projects or changes with announcements. Writing an early press release as one of your first tasks forces you to think in terms of the complete narrative, which results in more clarity in your ideas, as well as being able to communicate and converse around them.
When John Rossman joined Amazon in 2002, he was required to write a press release for Amazon Marketplace - 6 months before it launched. The press release wasn't intended for the public - rather, it was for Rossman's internal team to align, engage, and motivate them.
Here are some tips for grappling with a future press release from Rossman's 2019 book Think Like Amazon:
Envision a release in the future (as if the product has already launched)

It all starts with the customer (the press release should focus on the value of your product, what it does better than the competition, and why your customers will love it)

Set your goals high - and make sure to clearly communicate them (According to Rossman, a future release must contain "clear, measurable results you've achieved, including financial, operating, and market share results.")

Describe obstacles you've overcome (of course, these will actually be the obstacles you still need to overcome; the point here, according to Rossman, is to give your team a sense of direction as well as accomplishment)
3. Show your product to lay-people and assess their feedback

Try creating an explainer video for a feature and share it with lay people (not part of your audience and people that don't necessarily understand your product) to assess how much they understand and what value they get
"Practice the fundamentals"
Jeffrey Vocell, Sr Manager of Product Marketing at HubSpot told us "to be a great product marketer, you need to be a good storyteller, writer, be capable of influencing others, deeply know your product and market, and be able to combine these things into a campaign or launch. No matter whether you're just starting out or 10+ years into your career, these fundamentals will take you a long way and it's important to practice and refine them. Read content from some of the top product marketers around, reach out to some of them with questions, and constantly be learning. Some of them are:
April Dunford - Recently wrote a book on positioning/product marketing titled Obviously Awesome which is a great resource.

Meghan Keaney Anderson - VP, Marketing at HubSpot. She hired me originally at HubSpot and to this day is still the best product marketer I know". (check her HubSpot blog posts)
Tips on applying this: 
2. Subscribe to these newsletters
3. Here is our list of top books for PMMs

Talk to your customers often
"When I think about telling stories, a fundamental basic is telling it through the eyes of a protagonist. The same goes for product marketing. Yes, you are bringing your products to life in the external market, but a good product marketer puts their customers first and aligns their product's benefits to the protagonist's (or buyer's) struggles and/or pain points. Product marketers must tell their product's story in a way that speaks directly to their buyers and what they want to hear."
Bri Gust Gubosh, Product Marketing Manager at Brandfolder, advises PMMs to leverage storytelling alongside a deep, evidence-backed profile of your buyers.
"I learned early on that in order to effectively position a product and enter into the fast lane of a buyer's journey, you must talk to your customers often and understand what really makes them tick. Confidently communicate your findings broadly across your internal departments so everyone is aligned and on the same page".
Tips on applying this:
1. Consistently interact with your customers
Try to do at least some customer interaction every week; ask to join a sales call, or help with some support, or participate in user research,
2. Leverage customer profiles within your organization
If your buyer persona works at your company (e.g. you sell to sales teams and you have an inside sales team) then shadow that colleague for a day per month; see how they operate, what they read, how they make decisions etc. 
3. Go the extra mile to truly understand your competitors
Write down the main alternatives your customer has to using your product or new feature and go through that as a user to fully experience the friction and challenges.
Deliver a compelling message
"Day-to-day, you will be working with product managers, marketing creatives, and sales people -- these are all professionals who will look to you for clear written communication. If you can deliver a compelling message that is longer than a few paragraphs, you will always have a role to play in your organization.
The most enduring skill that sets apart great B2B product marketers is the ability to write well.
1. Take a writing course
Like one of the following:
2. Use writing tools to improve copy & writing efficiency
Tools like:
3. Create clear standards for quality management

Create and write down what your company's or your personal writing principles are and check these as part of your proofing process; here's an example from Amazon:
Product Marketing in a nutshell
In conclusion:
Product Marketing relies on an understanding of your customers, and a solid framework for communication within your organization. 

To convey your message, you need to write well and learn how to tell compelling stories.

Continuous user feedback and engagement is crucial to understand Product-Market fit.
Chameleon is software to help product marketers drive feature adoption and user onboarding, and we've written more about product marketing:
If you'd like to become a better Product Marketer, then take our short course on in-product marketing 👇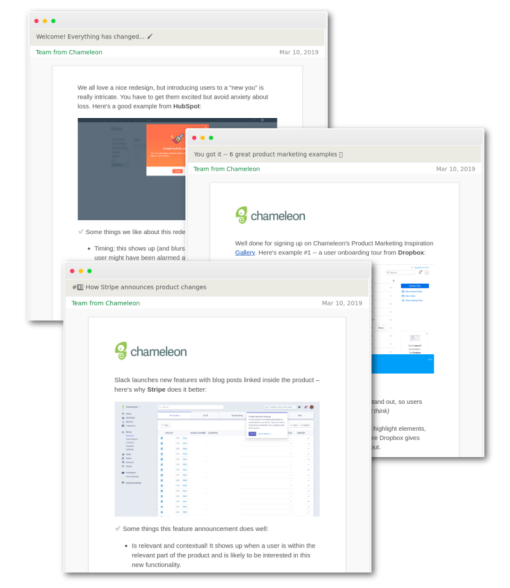 Free in-product marketing mini-course
Learn feature launches, upsells, and onboarding from products like Stripe and Dropbox. Get lesson #1 now 👇
Do you have any tips for aspiring PMMs? We'd love to hear from you in the comments below - you might even get featured in an upcoming article or newsletter!