While in-app modals are highly effective for upgrading users in the moments while they are using the product, use Customer.io to trigger outbound messages that nudge users to upgrade when they are not in your product.
Create a segment to capture upgrade intent
First, define a Data-Driven Segment in Customer.io to capture users who've shown upgrade intent. Like your modal in Chameleon, you may want to hone in on one high-intent behavior, like a click on a Premium feature. You could also layer on other intent behaviors, as seen in the graphic below, like hitting a free plan limit (projects_created) or viewing an upgrade page (URL).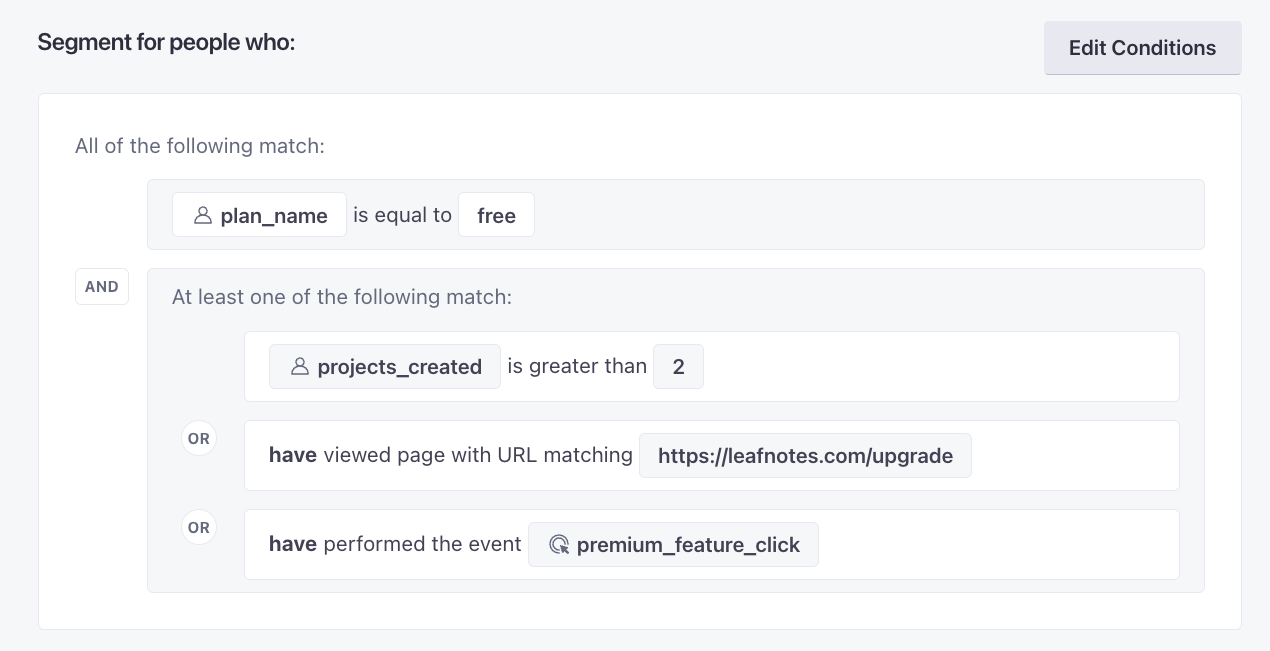 Trigger campaign aligned with Chameleon Modal
Double your chances of upgrading a user by landing an upgrade message in their inbox at the same time as you trigger your Chameleon in-app Modal. 
Users are less likely to upgrade if the message arrives in their inbox in the middle of the night, and is buried by other messages by the time they check their phone in the morning. Use Customer.io's Time Window feature to ensure the message is delivered at an appropriate time in a user's timezone. 
Instead of guessing which channel works best for driving upgrades, use Customer.io's Random Cohort Branch to learn whether email, SMS, or push notifications convert revenue at the hightest rate. This may differ based on your industry or whether you are B2B or B2C. But don't make assumptions! When in doubt, test it out.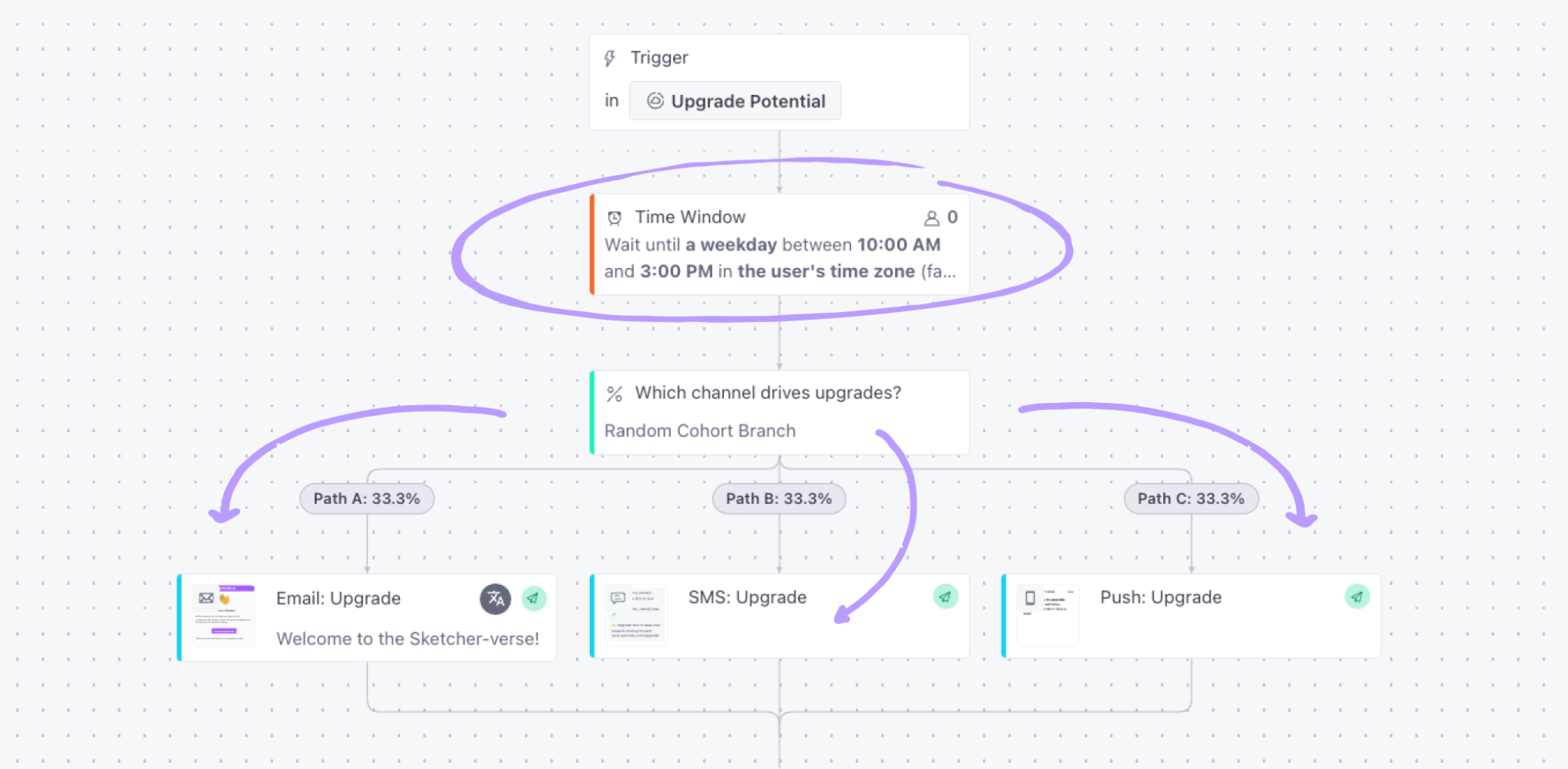 Personalize message with Liquid
Bring personalized customer attributes and event data into your email, SMS, and push notifications to make the message more relevant, and increase the likelihood a user will convert.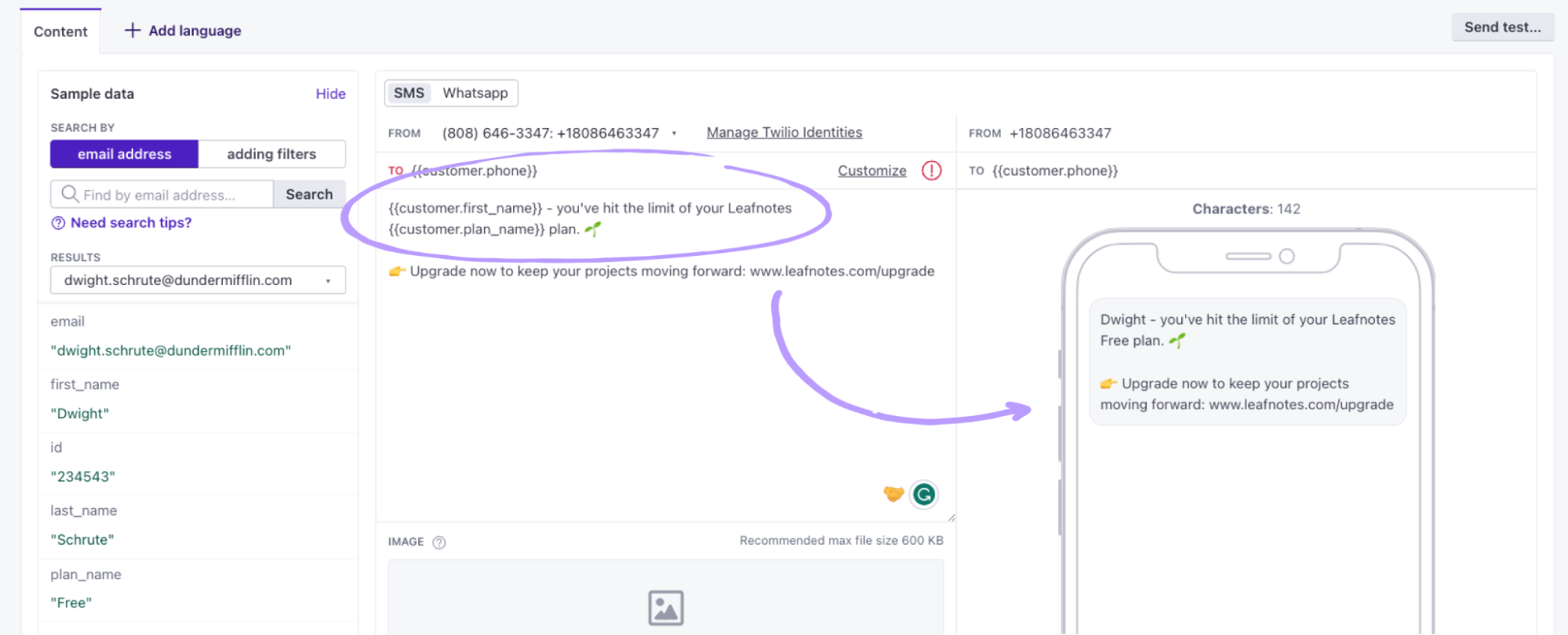 Add human touch to high-value leads
While the primary value of this recipe is to automate upgrades at scale, there may be instances where it is worthwhile to bring a more "white glove" approach to leads that are potentially high-value to your business, or may require a more complex sales conversion.
Use Customer.io's True/False branch to send high-value users down a different path than self-service users. Then use Customer.io Slack Message and Webhooks to alert sales or customer success reps on your team when a high-value lead is ready to upgrade.