When a user first signs up for a complex app or SaaS product, a good user onboarding experience is invaluable. Onboarding tools may consist of modals, in-line help, and interactive tutorials. They are critical for conveying value and retaining new users. But there is a bigger use case for onboarding: to keep converting users throughout their lifecycle.
Convincing a user that they should convert from a virtual passerby into using a product is a delicate process. A ton of emphasis is placed on the first experience, as it should be.
"Done right, onboarding can help convert prospects into repeat customers." — Alex Fedorov
Some products are notoriously great at it. Slack has become the "golden child" for how to create an awesome signup flow. Dropbox also does a great job. As soon as a user signs up from the landing page, Dropbox immediately starts installing without the user having to take additional action.
Onboarding flows can be built to be intelligent, identifying specific user types within an application and presenting functionality that's most relevant to them. Canva asks its users what they plan to use their product for. This information can be used to adapt what they show to each particular user going forward.
Lumosity applies a similar technique. Before a user even enters an email address, they're asked to answer a few questions. Lumosity creates a personalized training program, showing users exercises and games that apply specifically to what the user said they wanted to see. Over time, products like Lumosity and Canva can use this data to show specific tools and features to different user groups.
When a prospect is converted to a user, it's certainly a milestone to be happy about. That's where the traditional sales funnel (and where most user onboarding) ends. Then, there's the customer engagement funnel, which is especially relevant for SaaS companies. As the relationship continues, the funnel is mirrored. The customer needs regular nurturing after they are converted. Onboarding users to new parts of the product can play a role in nurturing to encourage upgrades, retention, and advocacy of a product. We should be thinking of onboarding as something that is ongoing; it shouldn't end after a user is first converted.
Image source: Kissmetrics
After a user's first experience with a product, the job of user onboarding is not done.
In the SaaS world, the second half of the customer engagement funnel holds the majority of revenue potential. Renewals and upgrades are where 70–95% of revenues come from. Therefore, a huge focus should be placed on retention and upgrades.
Once a user has signed up and had a basic introduction, there is still much learning that needs to take place. Showing users everything at once about your product is a terrible way to teach them — you can't expect them to internalize and prioritize everything all at once. A user can be guided through the deeper functionality of a product upon returning for a second or third time. When a new feature is released, guide a user to actually try out that feature, rather than just notifying them. Use modals, tooltips, or other in-app help to let users learn an action when it is contextual and relevant.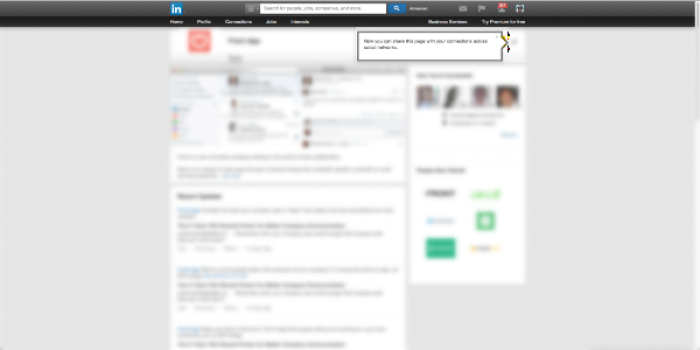 [Click to zoom] LinkedIn and Facebook use tooltips to onboard users to new product features.
As a user becomes more familiar with a product, they find out new things — and find more value.
"If a customer is stuck, getting them unstuck in a way that not only satisfies them, but makes them excited to keep using the product is one of the most powerful things you can do to increase retention." - Alex Turnbull
As users gain more knowledge behind a product, they will become increasingly more embedded. Image credit: Kathy Sierra
To get users to upgrade, the same great onboarding tactics you used to get them to sign up in the first place should be used similarly. As described by Gregory Ciotti of Help Scout, "Customers won't see the need for investment in a product if they don't have the experience. Education helps them achieve this expertise" Use modals, product tours, in-app messages, or any other personalized techniques that worked to show value with customers early on. A simple modal can let users know about different features available with each plan and how to get more value."
Examples of in-app notifications used to continue the user onboarding journey.
Image sources: Dribble
User onboarding is about more than the first user experience, and it's about more than upgrades and retention. It's about approaching your product with a philosophy that the more users learn and discover, the more value they will get from a product. This value is repaid not only in the amount a user is willing to pay but also in a level of customer adoption where they love a product so much, they'll tell everyone else they need it too.
User onboarding is a secret weapon in the customer journey — use it from the early stages of marketing and all through customer success.
Thanks to Pulkit Agrawal.