Companies are understandably excited to tell the world when they push new features.
New developments can take months of work and gallons of coffee—and teams dream for more users, greater engagement, and achieving milestones towards success.
So how do you communicate these feature announcements to users?
A blog post, an unread notification, an email, and then... tumbleweed?
You sit back and wait for impact, but end up disappointed if the anticipated uptick in usage doesn't arrive.
Standard feature announcements are missing the mark—but they don't have to be.
We're going to walk you through how to create and distribute a release note that helps drive new feature adoption amongst your users and gets some buzz going.
Why should you care about release notes?
Remember when you'd download software on your desktop PC back in the day? And when you put the CD in, you'd have a file with all the instructions and notes—sometimes even in a huge booklet.
Release notes are the 21st-century version of this but without the information overload.
Companies who adopt a product-led growth strategy use release notes to "top up" their users' knowledge. Their products are easy to get started with and release notes complement that self-service learning.
By using release notes, you can easily inform your customers about updates they've been waiting for, new features they've been requesting, or bug fixes. They help keep your customers excited and informed about your product—as well as reducing the pressure on your support and customer success teams.
What should you write in a release note?
The information you include needs to be concise and informative. Users want to know:
What changes have been made to the product—and why
What impact this will have for them
If they need to do anything differently
Apart from those three key pieces of information, there aren't any real rules to follow—but there are a few best practices.
Release notes best practices
How do you make release notes that people will engage with? There are a few best practices to follow here to increase your chances of user adoption.
Don't be too technical
Not everyone using your product has an MA in Computer Science. Ditch the jargon and write your release notes in the language your customers speak.
If you had a bug or some downtime, let people know that happened—and reassure them that it's all fixed.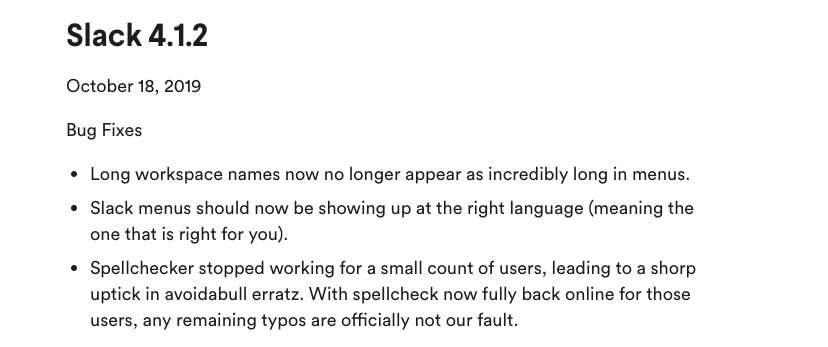 Engage your customers...
Release notes can be boring—not every one of them is about a huge new feature. So how do you make them catch users' eyes?
Try to maintain your brand's tone in them. If you're usually quite playful in your copy, roll with that. Similarly, if your tone is suit-and-tie, don't crack jokes in the release notes.
Need some help doing this? Reach out to your company's copywriter, they'll gladly help you find the right tone.
...but don't make it a stand-up comedy
Case in point, Tumblr in 2015. They released an update about version 4.3.1. It was funny and was shared on Reddit like wildfire.
The one thing missing?
Describing what version 4.3.1. actually was about... eek.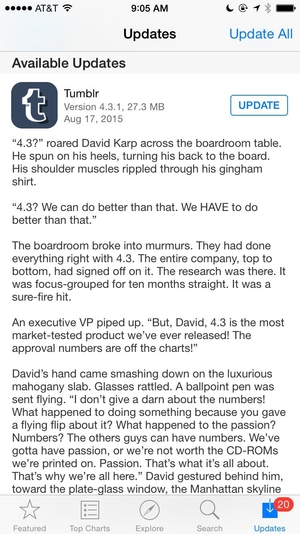 (Source)
Be honest about your updates
So many release notes give you hardly any information about what changed.
It took a few seconds of searching on my phone to see a multitude of vague updates—like this one from Audible.
Sure, it's great to see that there are improvements. But what are they?
Instead of saying "we fixed a bug"—expand on this, for instance, "we fixed a bug that was causing X feature to lag when Y happened".
Your users who were experiencing issues this will be glad to know its fixed.
Put the user at the center of it all
Who are you writing the release note for?
Your customers of course, so talk directly to them.
Instead of saying "The site now supports multi-language input" (talking to no one), switch up your update and say "You can now write in different languages".
The user should be the one you're always talking to—it's them who you want to use the new features after all.
The pros and cons of different types of release notes
When trying to change user behavior to adopt a new feature, the release note serves as the "trigger" for the change.
However, there are three problems with conventional release notes for new features:
Users miss them or forget about them because those channels are noisy and are out-of-context.
Announcements focus on HOW to use the feature (discover why email isn't the best channel for announcements)
Announcements don't actually help a user adopt the new behavior, because they don't improve a user's ability (they don't make the new feature "easy to do").
💡 Want to learn more about triggers and user motivation? Read about how they can help you grow your product
So which channel do you pick to tell your users about feature updates?
Blog and email release announcements
Blog and email messaging can help motivate users, but they don't help them adopt any new behavior. What's more, when a user is going through their inbox or reading a blog, they are away from the context of the app.
Even if they see information about a new feature, it is difficult for them to internalize the new actions just through reading.
Automation tool Zapier has a whole section of their blog devoted to product updates: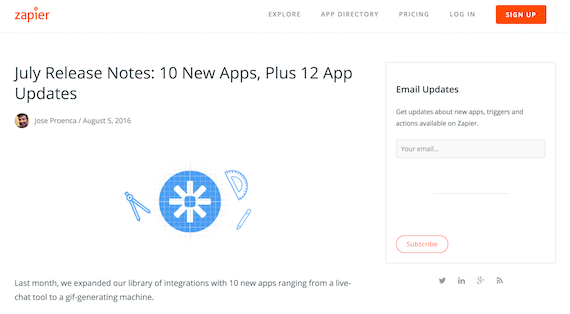 They post once a month about new updates to their product. This is great information for new and current customers alike, but it isn't actionable.
They are in the wrong place and the wrong frame of mind, so don't have the ability to make any behavioral changes.
They are just reading a blog, not thinking about using the product.
Following this up with an email highlighting the feature is also common. This is an email from email marketing tool Mailchimp announcing improvements to their A/B testing tool:

(Source: Really Good Emails)
This email does tell you all you need to know about the new features. These type of update emails are great for maximum reach as you can send the update to the thousands of users on your email list. If any currently aren't finding good use for your product, this might be enough to bring them back.
But this doesn't help the user actually use the product. The call-to-action at the end of the email is to read more, even though they have just read a very long email about the product.
Reading doesn't help the customer internalize the idea of the new feature. Though they might be giving use cases for the new features, the only way people can really learn is by using the product.
Mailchimp missed the opportunity here to direct the user into the product and to a tour of the new features.
In-app notifications
Ability is slightly higher with in-app announcements. In this case, the user is in the product and they are familiar with how it works.
But they are still way below the threshold needed to get the new user invested in the product. They are often delivered at the wrong time to the wrong user. Also, they just give the user more to read, instead of guiding the user through actions they need to take to get value from the new feature.
Most in-app notifications have this fatal flaw. For instance, if you've ever used project management tool Trello, then you will be familiar with Taco the Husky and his announcements:

(Source: Quora)
If you were to click on that link though you would be taken away from the product and to their blog: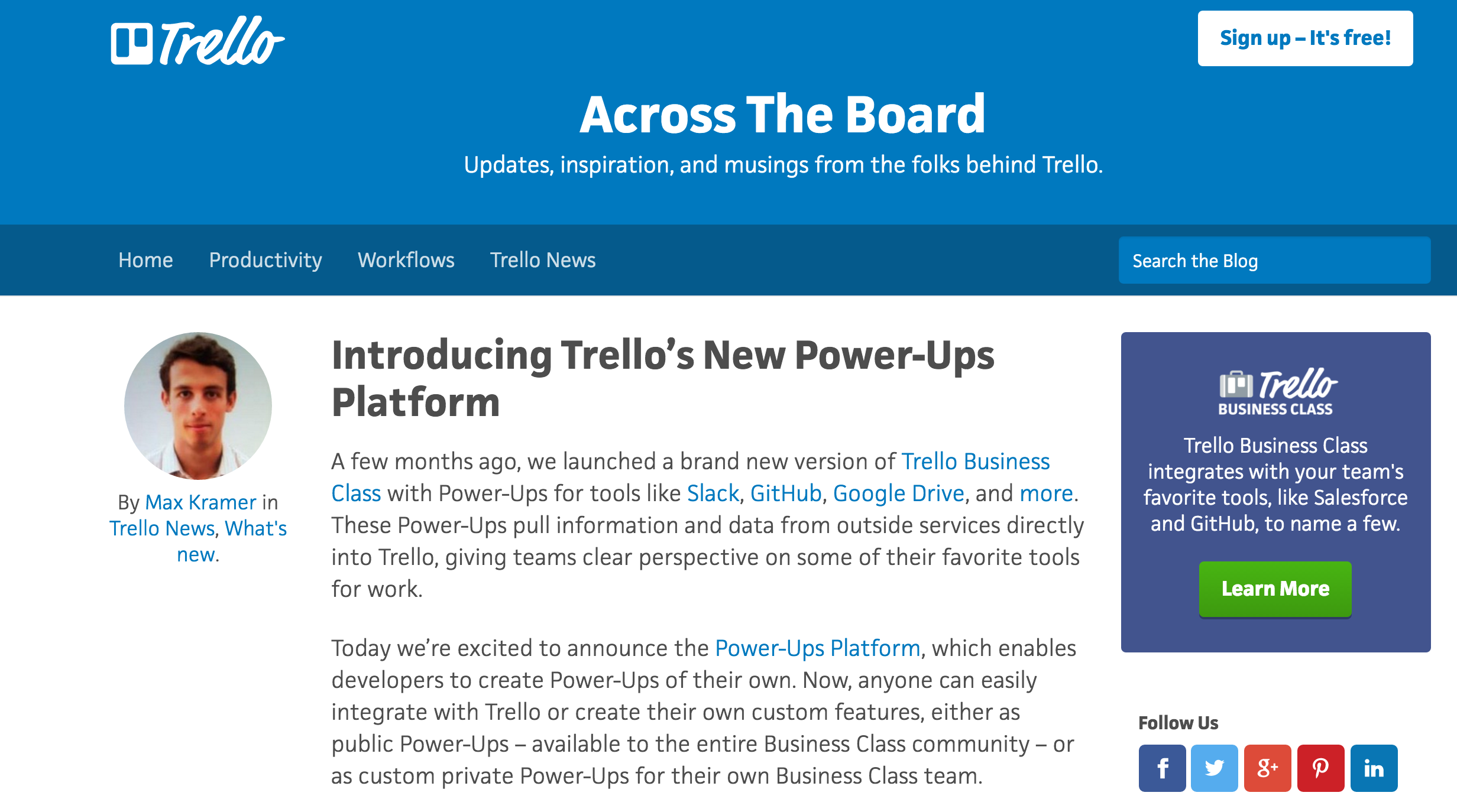 This is the opposite of what you want. Users have been moved to a detailed description of your product, possibly raising their motivation, but lowering their ability.
Plus, there's no guarantee users will come back once you send them away from your app.
How many times have you clicked through a link thinking you'd just read one blog post or article and get back to what you were doing, only to disappear into an hours-long timesink? This is the fate Trello is tempting with this kind of feature announcement.
Instead, showing them what to do in bitesized chunks through tooltips, product tours, and in-app self-serve help is a more effective strategy to allow the user to understand the key new concepts and start using the features.
Examples of great release notes
Feeling inspired to create engaging release notes? We've put together the best ones we've seen.
Mailgun's release notes for their new design
Release notes can be used at any time you make a change in your product.
Mailgun used a redesign as an opportunity to show users around, rather than just telling them.
Slack's in-product "What's New"
All Slack users have clicked that little giftbox icon when it lights up. It's packed full of important updates that you can dive into.
Users can then go onto the blog to get the whole rundown—this is usually combined with an email and a social update to make sure everyone sees the news.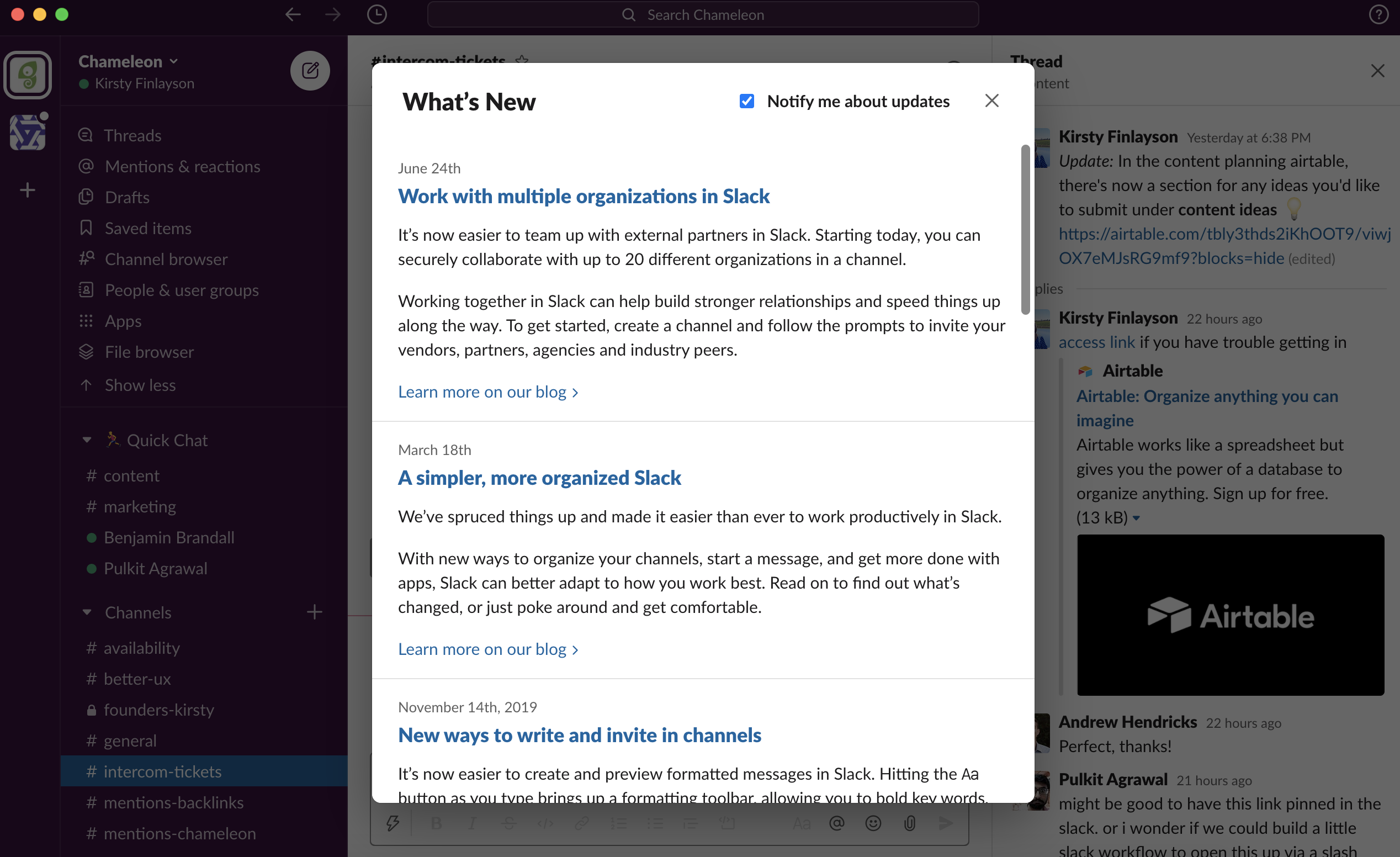 Typeform's story reel of release notes
This is a great example of "dogfooding" with your own product.
Typeform uses a typeform to showcase all of their product updates—and they look beautiful.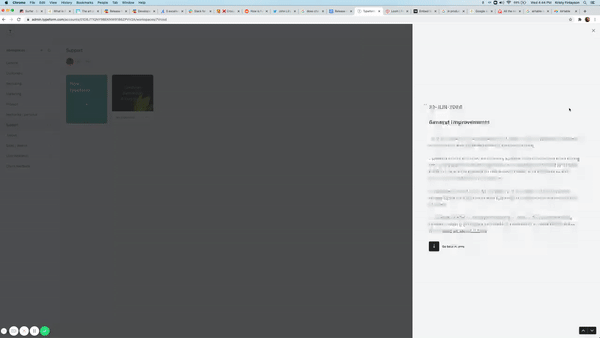 Medium's own blog of release notes
Medium is known for having fun with their release notes, and it works because they still provide value to the reader.
Expect haikus, stories, and puns—all while you learn about their updates.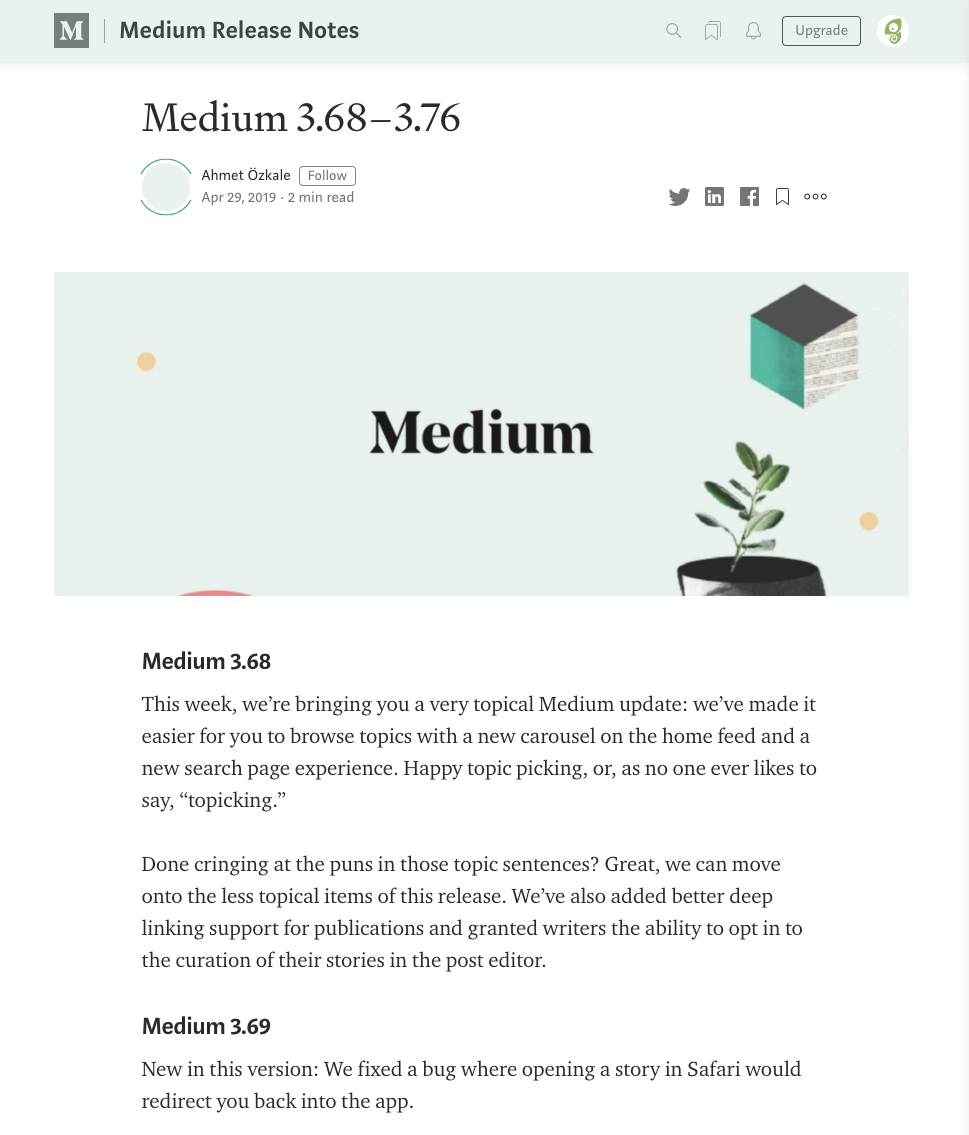 Final thoughts on release notes
Release notes should be a key part of your product strategy so your customers are always in the loops with everything they can do with your product.
A recent survey conducted by James Scott from Google found that 83% of users are actually reading your release notes and updates—so keep going with it.
If you find you're not getting much traction with them, look into using in-product launchers so that people can learn and adopt features at the right time. Then use email and blogs to make a bigger splash with your audience.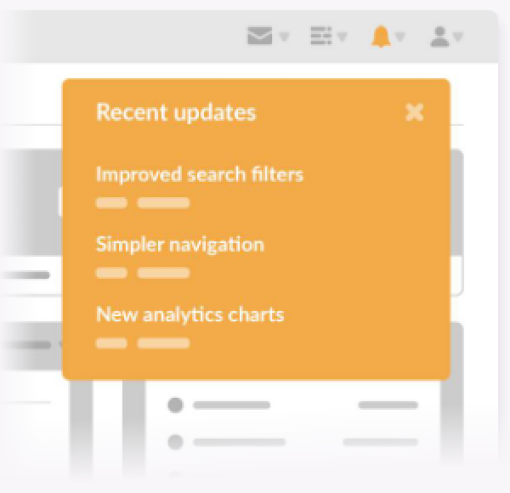 Drive Feature Adoption 🚀
Attach a release log to a widget or any native button in your app with Chameleon, and announce features in context