Applying this agile methodology to recruiting can save time and energy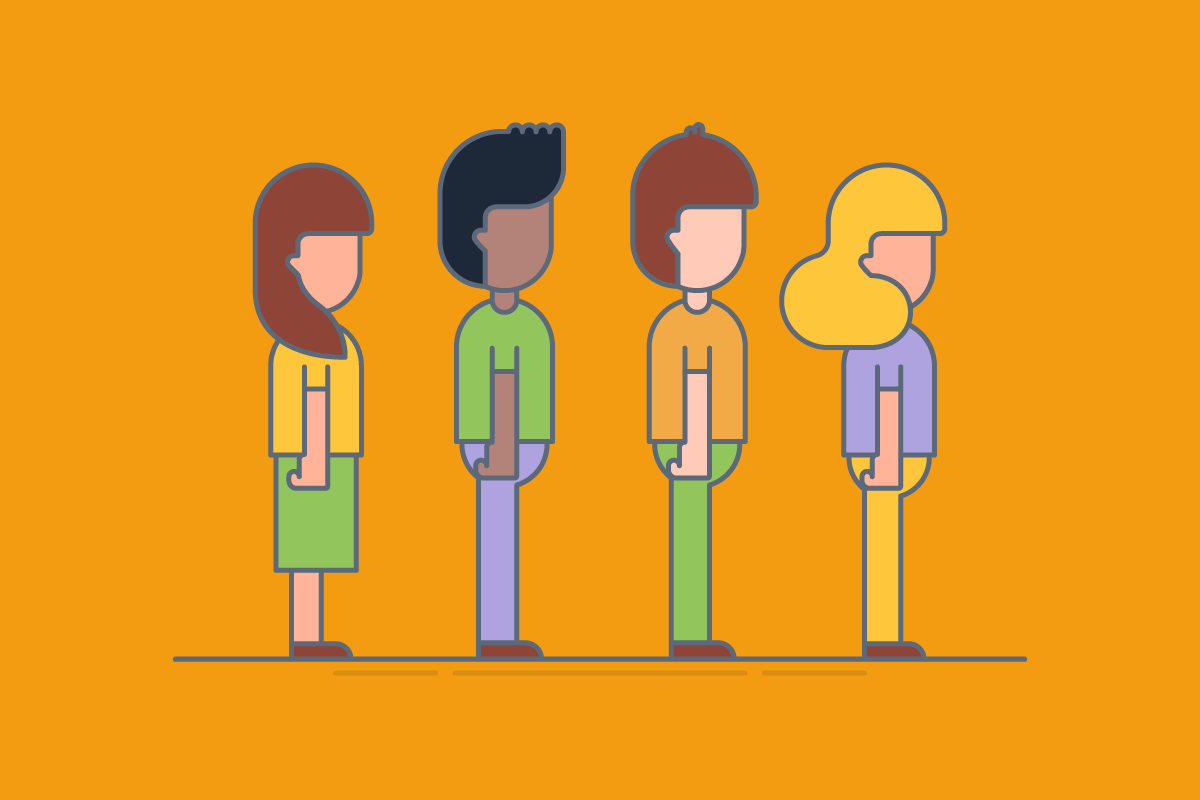 Learning from our fundraising approach
When in the middle of fundraising, it's easy to start thinking ahead. The schedule can be gruelling and at times demoralizing, and it's much easier to focus on product and customers.
However after you (hopefully) close your funding, the opportunity and challenge of recruiting awaits. Closing a seed round is hard, but growing your team is even harder.
At Chameleon, we found it hard to hire early on. We tried to wait for the perfect candidate, which made it harder to decide on giving an offer. We also found it consuming a large part of our time, over multiple weeks, as we went through the process with different candidates.
It all changed when we did something that only seems obvious in retrospect. We decided to treat recruiting as we did fundraising and engineering: like a sprint. The tactics and techniques we learnt from closing our seed round in 4 weeks we applied to hiring an awesome candidate.
How To Hire the Ideal Candidate in One Month
One of the most critical aspects of a fundraising round is momentum. One of the most important facets of an engineering sprint is focus. We combined these together to create an effective recruiting process, that helped us close two candidates within a month of starting.
To help you do the same, follow these key principles:
Focus on hiring full time: Spend 75%-80% of your time on hiring, the inverse of the typically quoted 20%-25%.
Move quickly, in a burst: Get all of your candidates at once to make it easier to compare and hire with conviction.
Build a funnel: Know the clear stages of the funnel and then track these to ensure you're getting enough volume at each step so that you can predictably hire.
By treating recruiting like fundraising, you avoid the same pitfalls with job candidates as you do with investors. By following these steps, you'll close your hiring round in just a matter of weeks.
Week 1: Fill the Pipeline
If you fundraise by talking to one investor at a time in series, you'll fail. You need to run a competitive process in which you're talking to a number of investors simultaneously in parallel.
To get those few investors that are a great fit, you have to start by filling the top of funnel with hundreds of potential investors. When fundraising for Chameleon, we started out by contacting ~150 angels and early-stage investors.
Hiring needs the same — to hire that one special person, you need to talk to many times that number of people. In order to do so, you have to reverse your funnel to estimate how wide a net you need to cast.
First you have to figure out the stages your funnel will contain. Ours were:
Get leads
Do a quick validation call
Conduct a project
Review project
Final round
Reference checks + decision
Accordingly we could estimate roughly how many candidates we would need to start off with. This may not be completely accurate initially, because the drop-off rates may not be obvious, but you can adapt this as you learn more.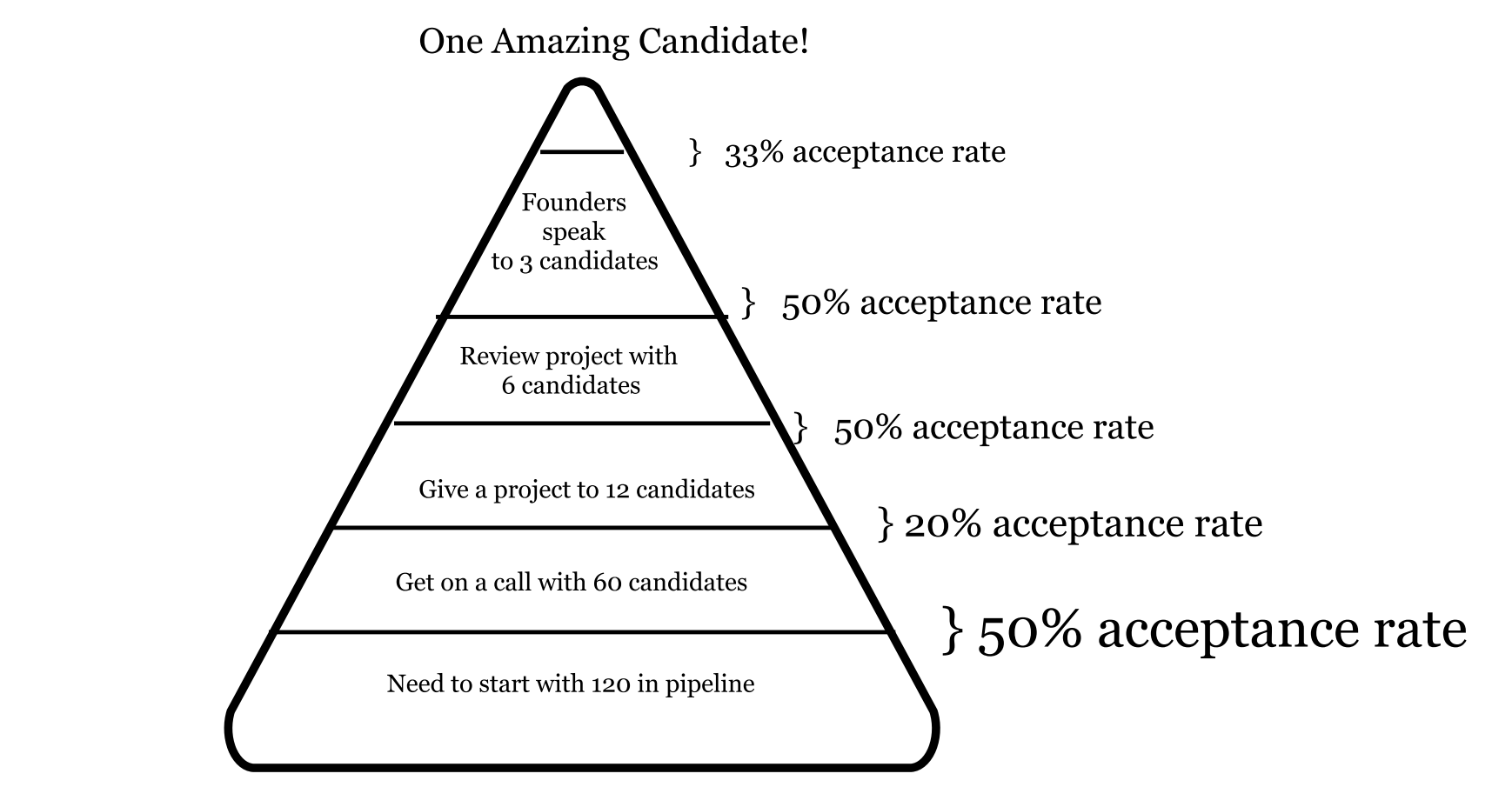 How to get more leads
Throwing up Jobs page on your website is unlikely to result in a high enough volume of leads, unless you've recently got some press or are at the top of Product Hunt.
It's important to post on multiple mediums and channels to strategically attract the best candidates with an inbound campaign. Here are the ones we tried:
AngelList: AngelList attracts candidates who are interested in startups. As a small, remote team, it's been a great way for us to find talent, and look at people's profiles to quickly assess their quality.
LinkedIn: There are lots of ways to hire on LinkedIn, from promoting a job ad to adding a "We're hiring!" tag to your bio. We found that both were effective ways of getting the word out that Chameleon was looking for talent.
Facebook: One of the best places to look for great talent can be in your own backyard, which is why sharing to your personal Facebook is also effective.
Network-specific sites: If you're hiring designers, you might want to post on DesignerNews. If you're looking for an inbound marketer, Inbound.org might be the way to go. For engineers posting to the Hacker News Who Is Hiring thread on the 1st of every month is great!
Blog/company website: Listing the job on your company website helps people contextualize the listing, and a blog post that gets a lot of traction helps get the word out. We also provide the option for visitors to refer a candidate as only a small fraction of our visitors will actually be seeking jobs. We also added a notification on the home page to highlight we were hiring.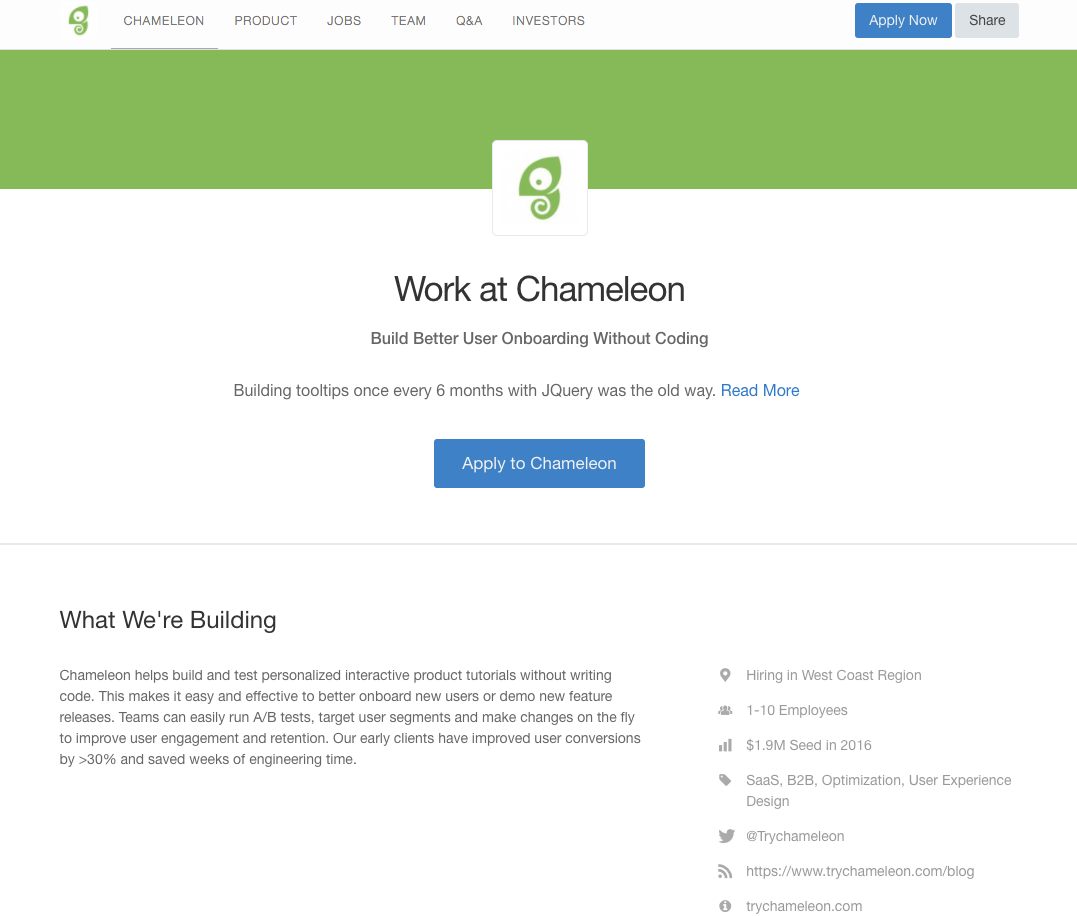 We hosted our Jobs page on AngelList
However, inbound is not the only way: we sourced a lot of candidates with an outbound approach too. We did this primarily on AngelList by searching through all the possible candidates, narrowed down by our filters, and then proactively messaging them. In fact AngelList released a new product, A-List to make this easier.
We also did a lot of prospecting on LinkedIn, although this was less successful, because it's harder to identify interested and active job-seekers. However we did get a couple of referrals from there.
Weeks 2-3: Get to (really) know your candidates
If your top of the funnel efforts were successful, you should have a lot of candidates to look at. Depending on the source of the candidate, the signal-to-noise ratio could vary wildly.
You need to efficiently pare down your candidates. One of the most powerful ways to do this is to get your candidates to self-select into the process based on their level of interest.
We did this in two steps:
Set up brief screening calls with your leads: I did 15-minute calls with all candidates who were interested, as a simple, low-commitment way to vet their suitability. I found this much more effective than scouri[ng CVs or LinkedIn profiles to assess fit. I mainly checked whether they understood the role, were specifically interested in an early-stage startup, were smart enough to hold a simple conversation. I blocked off entire days for these, doing 15-20 calls a day. (Tip: Calendly makes it super simple to schedule these.)

Have candidates complete a few-hours-long project: We designed a short project for the candidate based on the job description. Since this was high-commitment for the candidate, only the most-interested candidates self-selected into the project. Because it was high-commitment on our end too in evaluating the projects, that forced us to think carefully about it.
Because we moved into a project very quickly, only the especially committed candidates would continue on. Bringing things to a decision point faster than we previously would've meant that there was less time for both sides to waste each others' time with partial interest and indecision. Candidates who weren't would take themselves out of the process and we could move forward with those who were.
By the project stage, we were working closely with 10% of the candidates that we started with. That meant that we could get personal with them and get to know them well.
How to design your project
It's important to design a project that's doable, challenging, and still teaches your team about that candidate. Designing an assignment that hits all those criteria is tricky.
Your project is going to be specific to what kind of role you're hiring for. But whether your sprint is looking for an engineer or a product manager, you have to design your project around three core principles, for your sake and the interviewee's:
Make the project asynchronous. This allows you to get a number of people doing the project simultaneously, so the candidate can do it on their own time.

Have it resemble real work they'll do on the job. You need to know what their work product will be like once you actually start working with them, qand this is your best opportunity to gauge that.

Respect the candidate's time. You want people who are committed to spending some time on their application, but if you demand too much of applicants, you'll scare some away. The project shouldn't take more than a few hours.
Here's how we pulled those together in our project for a potential customer success rep:

Week 4: Evaluate the Candidates
After doing a project with them, we had some real basis to discuss and debate applicants. We manage candidates via our Trello, moving them along from one column of the pipeline to the other.

We add comments to discuss each candidate internally, and attach their work products to each Trello card, as well as their references. It keeps everything in one place, and allows us to keep our focus narrow. We review their project, and discuss how they performed in Trello.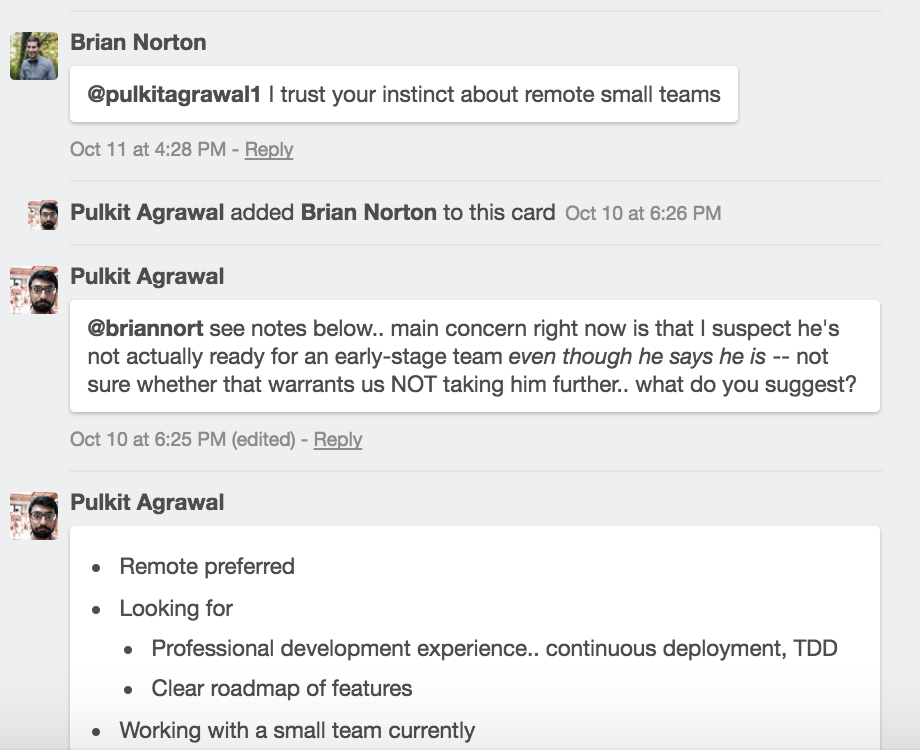 How to Ask the Right Eval Questions
In order to make the right decision, you need conviction about your candidates. This means asking the right questions of them (and their references) so that you can have a knowledgable conversation with your team about them, and you're not just making guesses about what it will be like to have them on the team.
Here are the three most important categories to evaluate in questions:
If they're a good culture fit: This will depend on your company culture. Chameleon is a small, distributed team, so we ask questions about those, such as:

How do you feel about remote work?
Have you ever worked on a small team before?
What does work/life balance look like to you?

Whether they are open-minded and willing to learn: You have a good sense of what their work product is like, from the project, but you need to know whether this person can grow with you. This is where it's important to ask references some questions, like:

Give me an example of when this person listened to feedback.
What new skill did this person pick up in a short space of time?
Where did this person go beyond what was expected of them?

What their career goals are: When you hire a team member, you're asking them to do a job. But they're also hoping to get something out of working with you. In order to evaluate if it's a good fit, you need to understand why they want to work with you, and what they'll get out of it (besides a salary).

Why do you want to work at a small startup?
Why is our product / mission relevant to you?
What's a skill you want to learn/improve on in the next year?
By having this kind of information in each Trello card, we're able to better evaluate candidates. We need enough conviction to hire them, and this means:
Never sacrifice quality in your recruiting sprint
Moving quickly with our hiring pipeline made all the difference in the world for Chameleon. It allowed us to hit the ground running after closing our seed round. But that's only because we were focused intensely on the quality of applicants and candidate experience.
Making a bad hire, especially at the early stage of your startup, can be surprisingly costly.
It's okay to end up with 0 candidates at the end; you'll have to adjust you expectations of drop-off and try again with a new round. However one key thing we did was to keep track of candidates that might be a good fit in future, or those that said No to us for some reason.
A year later, we went back to this list and pinged all the candidates that we liked but weren't suitable previously to check-in with them, and we ended up hiring someone from that list! 🎰
Don't waste all the time you spend meeting and interacting with candidates; they can become part of your network and you may find an opportunity to work with them, either on the same team, or as a customer or vendor.
Good luck! And please share any lessons from your recruiting processes in the comments below.👇