🎁 New features
✨ Product improvements
🐛 Bug fixes
🧪 In beta
👀 Coming soon


Feb 28th, 2023
🎁 Templatize a Step: You can now turn any Step into a Template from the Dashboard, or the Builder. Enable others on your team to leverage your work (and specific configurations) for a quicker flow, and on-brand Tours.
✨ Filters beat scrolling: Narrow down your Microsurvey responses with filters from the Dashboard. You can leverage properties and events (default or imported) and export specific responses to make your job easier anytime you review feedback or users' input.
🦎 And the bugs we ate 🦎
🐛 Media in your Tours uploads with no issues.
🐛 Update your account-wide custom CSS from the Dashboard anytime.
🐛 Launchers are labeled as edited when they should be.
Branches we are climbing 🌱
👀 Coming soon: You'll be able to use company properties in your Segments.


Feb 22nd, 2023
✨ Amplitude EU: To enable you to leverage your data efficiently our Amplitude integration is now compatible with the European Instance. We'll help configure it for you, and you can focus on the right targeting.
✨ Better compression: We started supporting Android Webview for Cordova apps recently, so we upgraded to brotli compression for improved performance.
✨ Security is our priority: We improved how we handle email fields and OAuth logins so your work and data stay safe. The work is never done when it comes to secure products.
🦎 And the bugs we ate 🦎
🐛 The Activity feed loads as it should and displays unscheduling events in the Dashboard.
🐛 The Analytics tab shows correctly for the Microsurvey you are using.
🐛 Adding a parenthesis in a Segment's name will display it in the Dashboard.
🐛 Dropdowns in Segments filters work just fine.
🐛 Tooltip icons remain in place next to the right element.
🐛 No issues with installing Chameleon on primary or non-primary domains.
🐛 Microsurveys don't come with a timed delay on their first Step.
🐛 CSV Tagging will Tag just the users you want to.
Branches we are climbing 🌱
👀 Coming soon: Engage your users easier with AI suggestions for your Experience content.


Feb 3rd, 2023
✨ Smooth Segmentation: To make it effortless to view, manage, or create new Segments we've updated our UI in the Dashboard to match this. Go in, review, sort, or refine who should see your Experiences with more clarity.
✨Slideouts pack a lot more: On the same easier-to-manage subjects, we've made improvements to all our slideouts in the Dashboard. Review and better understand your user data in Chameleon with a few clicks.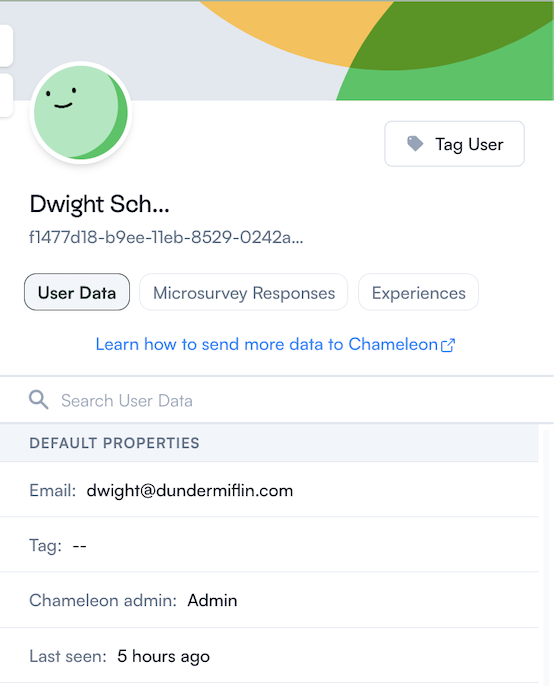 🦎 And the bugs we ate 🦎
🐛 Tour analytics displays your Goals correctly.
🐛 Triggers appear and work as expected for sequenced Steps in Tours.
🐛 Null values work as you'd want them to in your Segments.
🐛 The Builder displays just your Tags via the additional 'Tag user' Action.
🐛 Your Launcher's colors stay as you set them in the Default state.
🐛 Used to be Growth, now a Startup account? You can manage Rate Limits just fine.
🐛 Launcher Items display for the Segments that should see them.
Branches we are climbing 🌱
👀 Coming soon: Templatize a Step to make your needs easy to replicate and follow for native Experiences.
Jan 20th, 2023
🎁 Live Activity feed: switch to the Activity tab in the Dashboard to see a time-stamped log of major Experience updates and their author. On every Experience you create with Chameleon. Use the notes option across the board for better transparency over what's changed and why.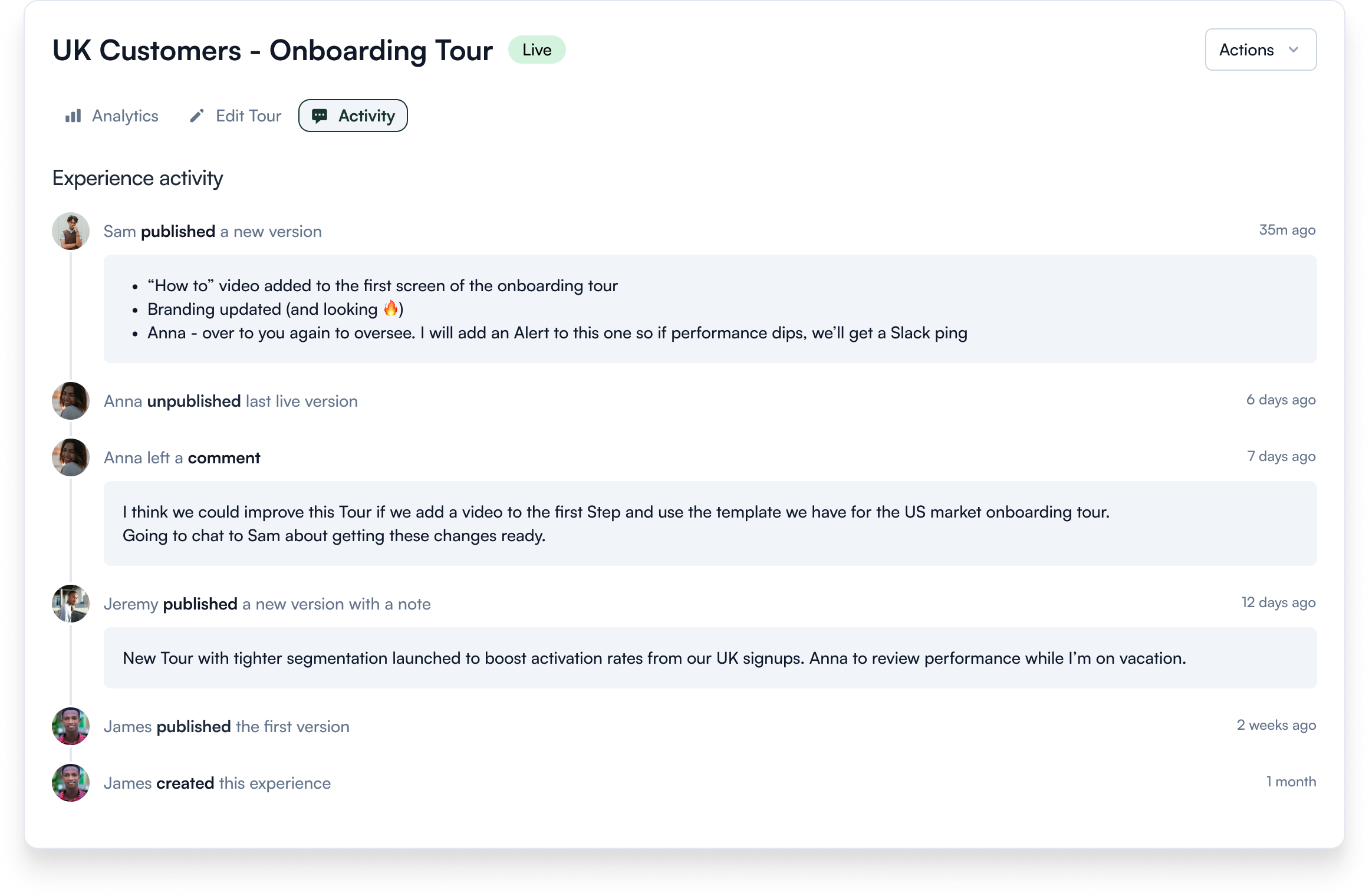 ✨ Better Personalization: The more personal and unique the Experience, the better engagement you'll reap. You can now leverage content logic to create dynamic and complex Experiences, that cater to multiple user needs.
✨ HelpBar is almost in your Dashboard: While we're working to improve it with some useful features, our "Spotlight search" is moving closer to a Dashboard configuration. You can still join the waitlist and help shape it if you want. Or keep an eye open to see when it's here.
🦎 And the bugs we ate 🦎
🐛 Filtering by Timezone & Tag filters work just fine in your Segments.
🐛 Scheduling controls the display life of your Experiences as expected.
🐛 Our Slack integration allows you to manage your feeds with no issues.
🐛 Element selection identifies elements accurately and does not interfere with any Trigger placement.
🐛 Creating a new Environment works smoothly, as it should.
🐛 Launcher and Microsurvey analytics are stored correctly in the Dashboard.
🐛 You can easily copy the correct Census & Hightouch Webhooks Endpoints.
Branches we are climbing 🌱
👀 Styling and segmentation improvements coming your way.
Jan 4th, 2023
🎁 New Intercom Action: Connect your users to essential resources or helpful teammates from any button click, with the new Intercom integration. Activate from the Dashboard and use it for a seamless experience.
🎁 New Zendesk Action: Drop your knowledge anywhere a user needs help with the new Zendesk integration. Allow users to learn more by launching a help doc, or connecting with someone on your team for delight and efficient guidance.
✨ Teammate Avatars: Easily identify who owns adoption efforts with Avatars. Find them throughout the Dashboard, next to Experiences, Segments, Alerts, or Rate Limits for easier account management. A good internal policy is to update your profile every time you sign up for a new company account, but you can also leverage Gravatar. 😉
🦎 And the bugs we ate 🦎
🐛 Localization works on all Launcher States to connect users with your content.
🐛 Easily close any Typeform popover launched from Experiences.
🐛 Localization fallbacks detect browser languages correctly.
🐛 No problem if you delete an Experience in the Playground. Play around!
🐛 Updating properties through button Actions will sync straight to your HubSpot account.
Branches we are climbing 🌱
👀 Media Localization: make your users' journey personal to the last detail with specific visuals to match your content.
Dec 15th, 2022
🎁 New Chili Piper Action: Enable users to reach your team when they need answers or help. Connect to Chili Piper and allow users to trigger scheduling modals from Experience buttons. Don't leave questions go unanswered.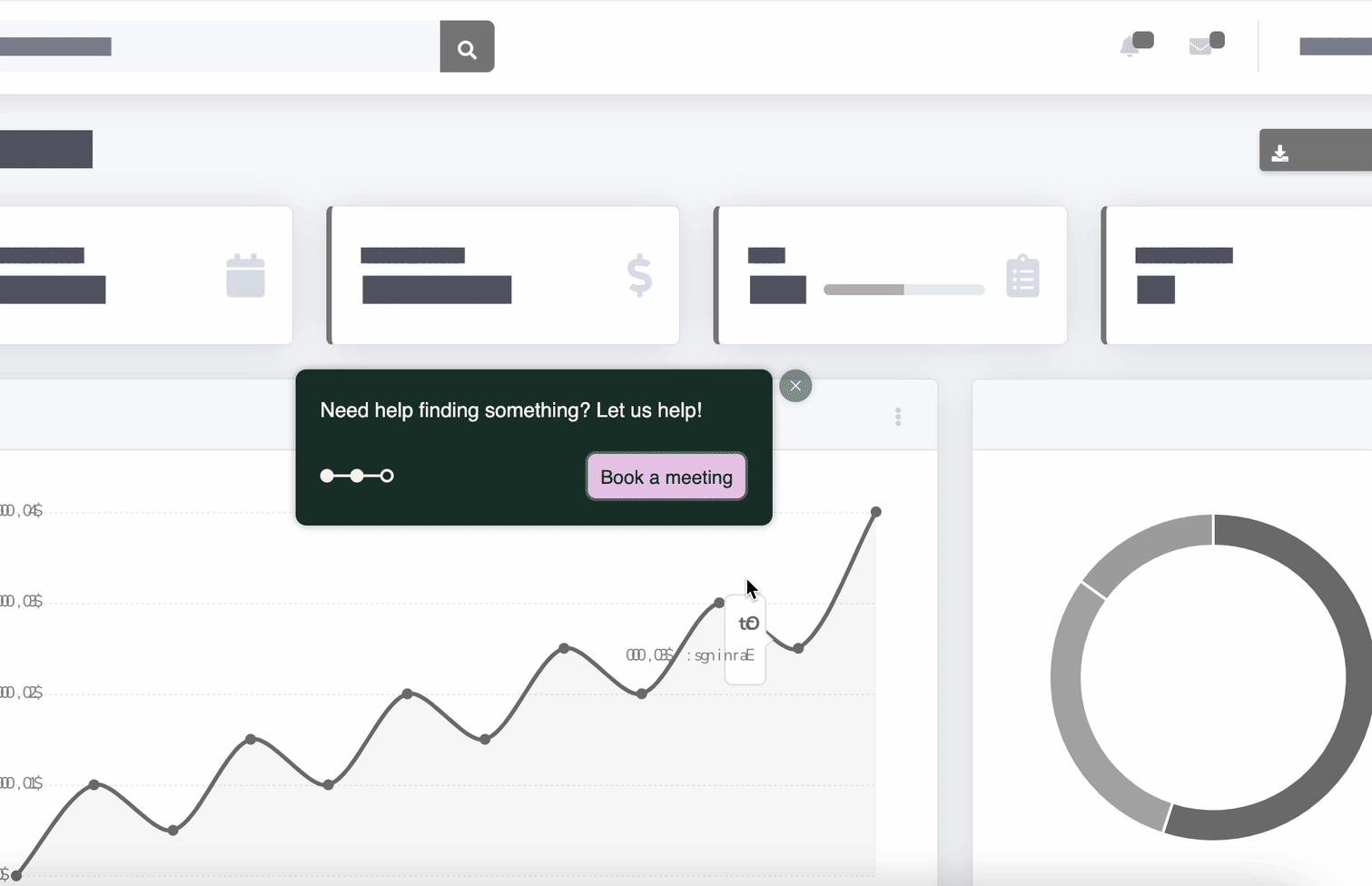 ✨ Bulk tagging & deleting users: Easily manage your audiences in Chameleon and control who should see your guidance. You can now delete users or bulk-Tag them for precise Experience targeting from the Dashboard.
✨ 1-click Step management: We've made it easier and clearer to manage Experience Steps in the Builder. You'll find another useful option next to Preview - duplicate any Steps, or entire Launchers and Surveys while building them. Done with the Builder? Go to the Dashboard to publish!
✨ Media in your Launchers: Leverage your branding and personality with visuals in your Launchers. Add a warm welcome to your Help menu, as this sits comfortably above or below your Title. Ah, it's also easier to work on your Welcome or Empty States, as they show up clearly in the Dashboard building flow.
🦎 And the bugs we ate 🦎
🐛 Dismiss is working as expected on all Tours and Microsurveys.
🐛 Tour Goals show the right analytics in your Dashboard.
🐛 Chameleon Tags work just fine in your Segments, no matter their origin.
🐛 "Just me" Segment is here to help you test Experiences efficiently.
🐛 Amplitude cohorts sync into your Chameleon account as usual.
🐛 Progress bars show up neatly centered in all Tours.
Branches we are climbing 🌱
👀 Coming soon: We want to bring more personalization in the Dashboard with updates to teammates' avatars, easy personalization and clarity across the board.
Nov 29th, 2022
🎁 HubSpot Additional Action: Allow users to schedule a meeting with you straight from your app when they need it most. Leverage the new HubSpot Additional Action to connect with users as they engage with your Experiences.
✨ Improved Styling all around: From padding, spacing, and corners, to color distribution and text height, any Experience you create will look smoother, leaner, and sleeker. Styling was never as easy as now; on brand and beautiful designs? Always! 🤩
✨ Experience Tags: They're essential in keeping your efforts organized and your team aligned. So we focused to improve how Tagging works and looks throughout the Dashboard. Use them to separate styles, priorities, or teams with ease.
✨ Clearer Tour & Microsurvey types: When building a Tour or a Microsurvey from the Dashboard you can choose one type and.. better stick with it. For each Experience type, the configurations and analytics can be slightly different, so we want to keep your data nice and clean.
✨ Support for Android Webview: Want to load Chameleon Experiences on Android Webview through a Cordova Capacitor? No problem; we now support gzipped content for Chameleon Experiences.
🦎 And the bugs we ate 🦎
🐛 Set your Brand Basics and go straight to the Playground.
🐛 Microsurvey element rules are checking infinitely for element presence.
🐛 Launcher Titles show up as expected in your YAMLs.
🐛 Easily configure any buttons from the Builder.
🐛 Additional Actions show your Experiences as they should.
🐛 You can delete any Environment whenever you need to.
🐛 Selecting an anchor element for Tours works alright if you don't want to do it right away.
🐛 Recurrence for Microsurveys works as expected.
Branches we are climbing 🌱
👀 Coming soon: integrations revamp in the Dashboard - easier to configure, sync, and leverage all your tool stack with Chameleon.
Nov 16th, 2022
🎁 Launcher notifications: These are finally here to let your users know of any new Items you add to your Launchers; plus improvements to Titles, to help you frame your content better. Now your users won't say 'I didn't know you added that'. 🤔
✨ New Templates Gallery: Pick different Tour Templates from a Gallery and add them to your account with your brand styling. They'll be ready to use for product announcements, onboarding Tours, or marketing events. This way, it makes it easier to keep everything in place and organized for coordinated guidance.
✨ Easier to test Experiences locally: If you've installed Chameleon on your local machine you can now open any Experience in the Builder with a simple keyboard command and the Experience ID. Enjoy the no-strings-attached experience. 😉
✨The Sandbox leverages your style: Test out your look and feel in the Sandbox while exploring Chameleon's capabilities. Set your Brand Basics and then explore the lessons to picture how your product Experiences would look in a demo environment.
🦎 And the bugs we ate 🦎
🐛Character limits work the same when naming your Segments.
🐛Your Embed HTML text displays correctly when using the Builder.
🐛You can use "Launcher events" in your Segments comfortably.
🐛The Alerts page displays just right for all accounts now.
Branches we are climbing 🌱
👀 A Gallery to govern all Templates: We're working to expand the Templates Gallery to all Experiences and add more types to inspire your adoption journey.
Nov 2nd, 2022
🎁 Census integration: Use Census webhooks to send your tool stack data to Chameleon and enjoy precise targeting, on-point personalization, and better analytics. Ah, all the possibilities!
🎁 New merge tag: You can now display personalized content in the local time zone of your users when guiding them in your product. Don't let timing stand in the way of reaching your users.
✨ Improved element positioning: For all those moments when page or menu scrolling could interfere with your product guidance, we're making sure your Experiences show up where they need to. Precise element positioning for scrolling cases- a match made in Chameleon!
✨ MTU chart is loading faster: Staying on top of your monthly tracked users is not always easy when you have to deal with large numbers. Now, you'll spend less time waiting for data to load and more time waiting for a coffee refill.
✨ Better CSV data updates: You can now use "email-only" to update multiple users with the same email, or remove the email altogether with nil values in CSV imports. We also updated booleans to not be uppercase-sensitive.
✨ Update your Segments easily: When you build out an Experience, picking an audience isn't always enough. You can jump to edit any chosen Segment then and there, instead of going back into your Segments page. Fewer clicks 😌 - yes, we are counting.
✨ Translations available at a glance: With a sleek table view to govern all Experiences and specific languages you're using Localization with, speaking your users' language while delivering on-point product guidance was never easier.
🦎 And the bugs we ate 🦎
🐛 'Report an issue' fields are working correctly to receive your input.
🐛 No more crashes when inputting a different value than expected in a segmentation filter.
🐛 The Media height slider works correctly to ensure a picture perfect Experience.
🐛 You can create new user Tags using Additional Actions with no issues.
Branches we are climbing 🌱
👀 More Additional Actions: Cili Piper and Intercom will have launchable actions from Chameleon Experiences too! 🙌
Oct 21st, 2022
🎁 Hightouch integration: Send your enriched tool data to Chameleon through Webhooks and leverage it for better Experiences. Get your tool stack to empower your product adoption efforts!
🧪 A Zap for two actions: The Zapier Integration is now in Beta, and you can use it to send Chameleon data to Zapier, as well as trigger user attribute updates for those who trigger them. You can join the Beta, here.
✨ More control on Brand Basics: To start with the right style, you can now select a button type, adjust the canvas corners and add an accent color while setting your Brand Basics. You can't copy impeccable style, but you can reproduce it for always on-point Experiences!
✨ Improved Localization: Speaking your users' language while guiding them in your product got easier. Localization supports non-breaking spaces and the translation of the Progress indicator "of".
✨ A sharper Chrome Extension: Highlighting the user and Environment you are in, our dynamic entryway to Experience building is better equipped to do the job. You'll also see more accurate error messages in case of issues for quicker resolutions.
✨ Finer Domains control: This essential feature got a lot of attention in the past weeks. Enjoy finer management in the Dashboard and better visibility over impacted Experiences whenever you're making changes.
✨ Wildcards and user variables: If you see a new message in the Builder, it's just there to prevent possible issues. As a reminder, use wildcards to match URLs out of multiple pages and user variables in redirect URLs.
✨ Data out of Chameleon: select the properties you want to add to the events you send out of Chameleon. Use this option from the Dashboard's Integrations page. Better data filtration, better use of your time.
✨ Always know where to Enter the Builder: to help you deliver your guidance in the right place, you'll always get a list of previous links where the Builder was opened and you can pick the right one. Enter the Builder with confidence!
🦎 And the bugs we ate 🦎
🐛 Custom color picker works correctly when styling Experiences.
🐛 Hovering over pop-out or in-menu elements will trigger Launchers.
🐛 No more errors when tagging Tours in the Dashboard.
🐛 'Save as new' for Segments will save and display them with the correct updates.
🐛 Snooze shows the right units when setting up a Dismiss option.
🐛 The UID coming from Salesforce is treated as a string for no errors.
🐛 The Chameleon Extension won't be disrupted by a lack of user data.
Branches we are climbing 🌱
👀 New Additional Actions: HubSpot will be a dynamic component of your product guidance, and your users will be able to connect with you from your Experiences. Bring all your tools to the yard!
Sep 30th, 2022
🎁 Launcher improvements extravaganza: We've added a progress bar component for Launchers and a Welcome state. Both are here to make guidance easier and keep your users happy with clear expectations.
🎁 Submit for review: Now every teammate can contribute to your efforts without disrupting your usual flow or your users' experience. 'Submit for review' option for Members is available to help your team get the job done faster.

🎁 Tag the right users You can now manage Tags for every user from the Dashboard - add, create, or remove user Tags. Always make sure the right users fall into the right category.
✨ Bye bye Sidebar: All Sidebar configurations are now fully in the Dashboard, be it adding new Steps, Tags, or picking a Segment. See here a breakdown of the main differences, and check out this video of the HelpBar to see how to work a whole lot faster in Chameleon.
✨ Query method instead of short links: Tour sharing now uses query parameters instead of shortlinks, to ensure your Walkthrough Tours will always start remotely. Cookies aren't always a hit right?
✨ Slack communicates more: You can now configure our Slack integration to send up to 10 properties to your active channels. Keep a full picture of the users who interact with your product and know how to re-engage them.
✨ Titles to Chameleon tabs: Working with multiple tabs is never easy, so to help you minimize your effort and boost your focus you're now seeing specific titles on each Chameleon tab. From 'Onboarding Tour' to 'Referral Segment' now, it's clearer to know what you're working on.
✨ Launcher preview mode: All Items show up in Preview mode, regardless of the Launcher type and audience you set. And with checklists, you'll always see the first Item as completed to test it out.
✨ The Builder keeps up with you: As you work on your Experiences in the Dashboard or Builder, Chameleon will keep up with the edits you make, or let you know when you need to refresh the Builder for updates to show up. The only exceptions? When you delete Steps.
🦎 And the bugs we ate 🦎
🐛 Environments selection is saving correctly for all Experiences.
🐛 The Builder px and % sizes work to help you find the right fit.
🐛 Tagged used show up in your filters correctly.
🐛 Emoji responses show up the right way in your Dashboard.
🐛 Email Item titles in Launchers don't add anything extra.
🐛 When no elements match on your page, you can proceed to confirm your selection.
🐛 The user preview panel will not show unpublished Experiences.
Branches we are climbing 🌱
👀 Activity feed: We're working to enable teams communicate and collaborate better in Chameleon. You'll be able to publish Experiences and announce your changes to the rest of the team.
Sep 2nd, 2022
✨ Creating Segments got cleaner, smoother, and faster: Accurate user segmentation is an essential part of successful product adoption. We gave our Segments an update, with easier-to-set conditions, improved ways to edit and save your Segments, and better filter results.
✨ Better notifications for busy accounts: With more and more uses, we want to help out manage account limits, explain errors, or alert you when something needs your attention in the Dashboard. Now, it's easier to deliver product guidance and oversee how Chameleon blends with your team. 🙌
✨ Enter the Builder wherever you want to: When you want to edit or customize an Experience, you can enter the Builder on the last page that it was open, or your new path right then and there. Never worry about your destination again.
✨ How Experience Additional Actions work: A general logic to rule them all - when launching Experiences with Additional Actions know that they ignore any triggers, element, or URL rules set for the first Step. Knowing is power. 😉
🦎 And the bugs we ate 🦎
🐛 Tooltips open with ease via the HelpBar.
🐛 Segments filters bring up company, as well as user Tags.
🐛 Templates apply smoothly to new Steps added, no matter where you add them.
🐛 Preview mode allows you to smoothly start Experiences from Launchers.
🐛 Tooltips grouped by Tag can be opened in the Dashboard.
🐛 Tours display in the correct order, no matter how many Steps or triggers you set.
🐛 The Builder Top bar pushes down page content the right way.
Branches we are climbing 🌱
👀 A better Chrome Extension: This component keeps it all together, and we want to make sure you get the most value out of it. Efficiently integrated with the new Dashboard flow, clear notifications, and quick use.
August 19th, 2022
🎉 New skin, the same powerful blending abilities: We are really excited to reveal our new styling everywhere in our product. This new visual energy matches our efforts and values and represents our flexibility, nuanced control, and powerful capabilities. We can't hold in our excitement! 🙌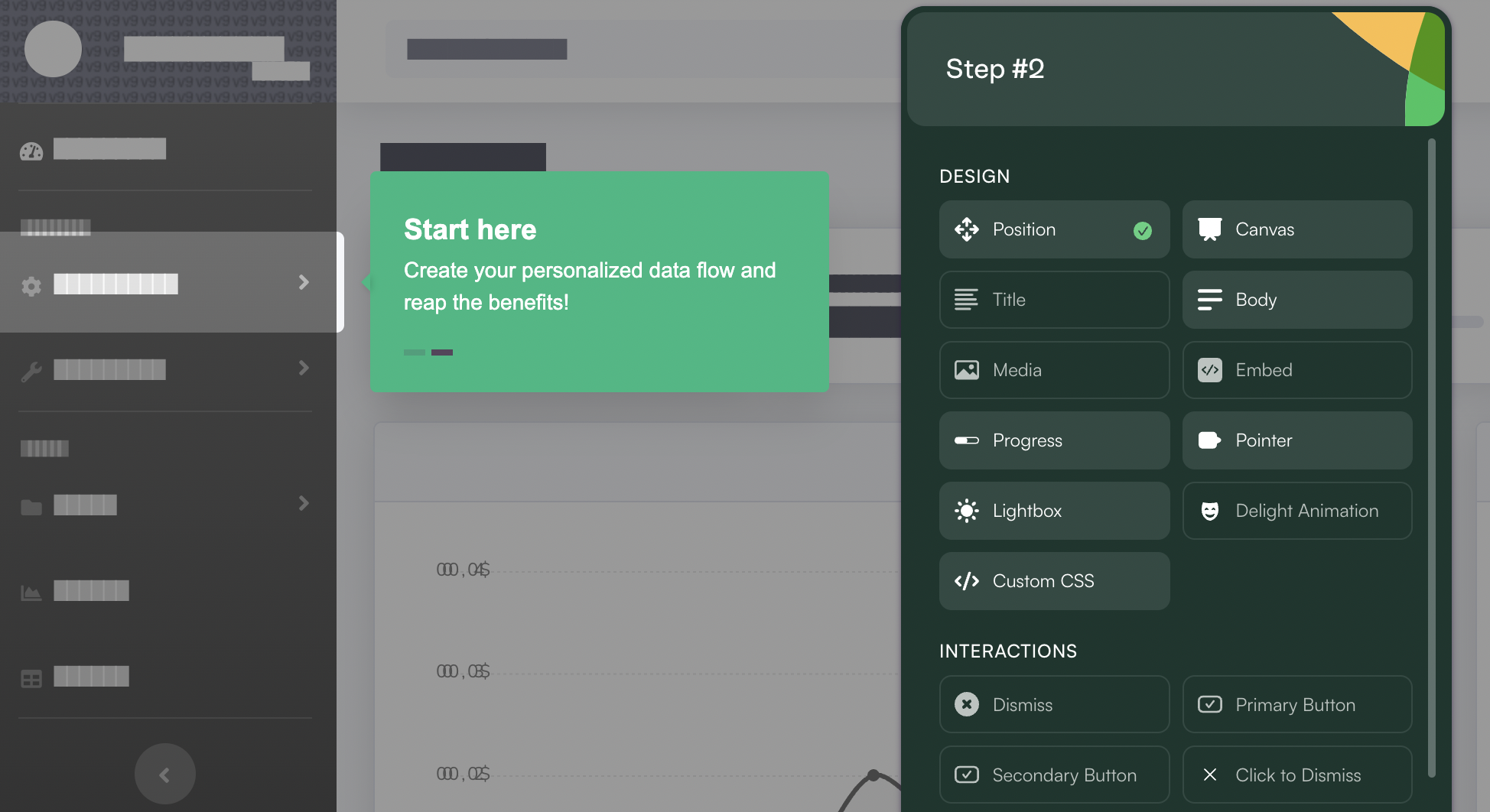 🎁 Clearer Alerts so you know what's going on: When something isn't working as expected it is good to have the full picture. Your Alerts now include the Tags and Environments that your Experiences are linked to. 🤓
✨ Data management page loads more rows: when you're working with data you don't want to be bounded by space or time. To get a good overview and to manage your Chameleon data easier, you get more rows of user events and properties.
✨ Easier to set up Rate Limiting: Keeping critical Experiences in the limelight allows more control now, with multi-selection to control exclusions when adding a Rate Limit on your account.
✨ Tags got a cleanup: Experience and User Tags sort more cleanly, have more concise options, and "Used for" does not support negative values, to solve possible Experience issues.
✨ Better Dashboard notifications: when deleting, duplication, or downloading Experience data you'll see clear messages when it can't be done, and why. This way you can solve, or email us to say what you'd like improved in the Dashboard. 😉
🦎 And the bugs we ate 🦎
🐛 Grouped filters for CSV exports work properly. Just as AND/OR filter logics do
🐛 'Click to progress' works fine when used with element clicks.
🐛 You can edit or remove Tags from your duplicated Tours.
🐛 Element rules got a big round of improvements from display to interactions.
🐛 The Timed-delay Trigger for Tours is working correctly.
🐛 Dropdown Microsurvey labels appear just like they should.
🐛 No crashes on the Analytics tab no more.
Branches we are climbing 🌱
👀 Launchers are in the works: A cleaner configuration and new styling additions coming your way soon.
August 3rd, 2022
🎁 The new Dashboard is available all around: Every account has access to the improved Chameleon UI and features. You can build faster, configure more precisely, and save precious time. Check out a summary of these changes if you're not up to speed yet. 😉
🎁 No new tabs, no wasted time: Use CMD+K (on your Mac) or CTRL+K (on your Windows) keyboard to bring up the HelpBar in the Dashboard and Builder. Search through Experiences, resources, or configurations to navigate seamlessly within Chameleon. ☺️
🧪 The HelpBar is currently in Beta as a new Chameleon product. Get early access, share your feedback, and help us improve it before we roll it out to everyone.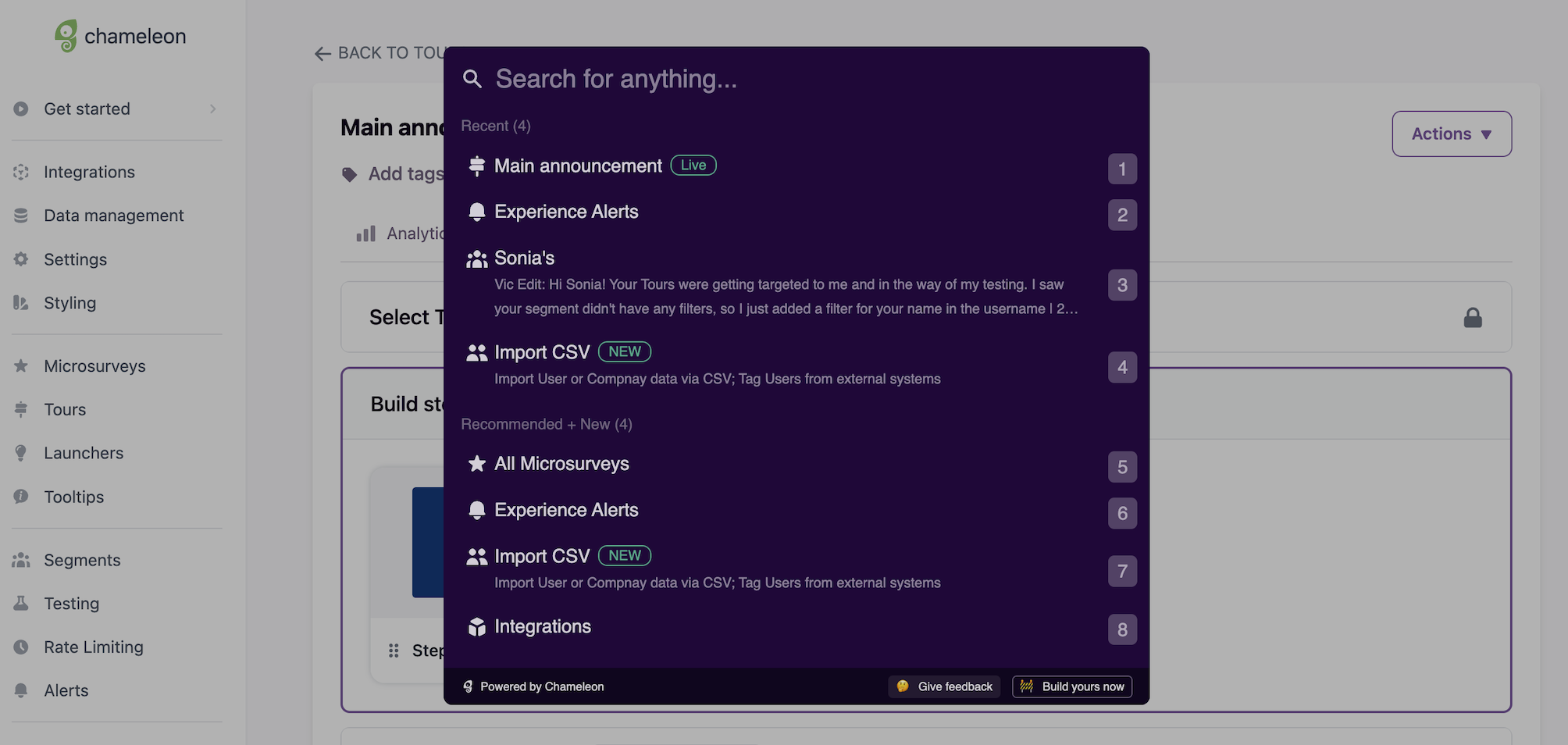 🎁 Troubleshoot Experiences straight from your browser: Use the Debugger console tool to see details about specific Experience settings and why it isn't showing up as expected. This way, you can solve issues from the comfort of your app. 🧑‍💻
✨ More Environments for more control: We increased the number of Environments for our Growth plan, from two to four. Exercise finer control over testing and deploying your features while controlling where Experiences show up. 👌
✨ Buttons got powerful new Additional Actions: Buttons can do a lot more than help users navigate your Experiences. Now, you can also Tag users and update users' properties all while they see about their day or start an Intercom conversation with you.
✨ Smoother multi-Experience navigation: When configuring several Experiences tied together, you will always find the breadcrumbs to get back to where you started in the Builder Top Bar.
✨ Selecting Elements got smoother: This essential part of delivering product guidance has been updated with easy-to-adjust element attributes and settings. You can read this article to learn how elements work in Chameleon.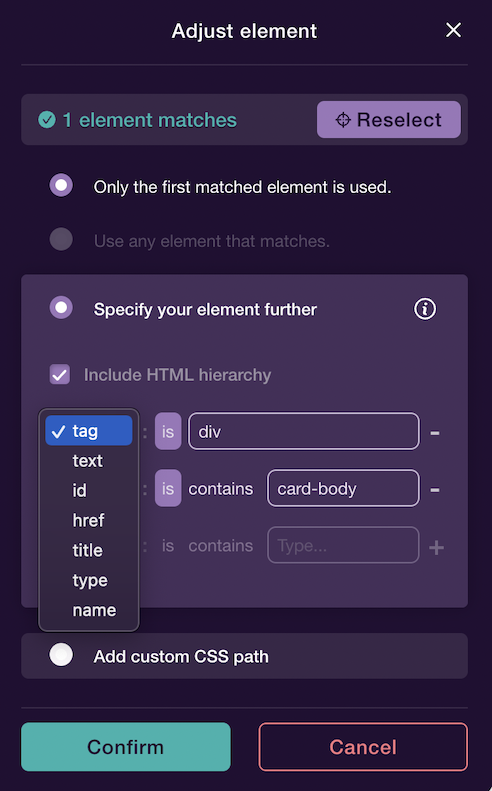 ✨ Our Slack Integration got upgraded: Now you can pick the user property you want to be sent to your Slack channel, not just the user email.
🦎 And the bugs we ate 🦎
🐛 Seamless all-around Launcher widgets on SPAs.
🐛 Tooltips can always be dismissed when launching Integrations.
🐛 No issues with merge tags for custom CSS.
🐛 Lightboxes and pointers go together like cookies and cream.
🐛 Microsurvey styling now applies to dropdowns for an on-brand look.
🐛 Trial accounts can publish Experiences with no difficulty.
🐛 "Thank you" Steps stay gone once dismissed.
Branches we are climbing 🌱
👀 A way to manage Experience edits? The Activity tab is in the works: You'll soon be able to see the changes made to your Experiences and find your way back to the original state if the changes don't work for you.
🦎 Chameleon's skin is shedding to let our product shine: We're constantly evolving, and we want our look to fit our mindset and values. Chameleon grew to be a robust, dynamic solution that enables you to guide your users directly to your product's value. And we're proud to share that we'll soon reveal our new style throughout Chameleon.
June 10th, 2022
🎉 Chameleon is now .io: Your one-stop shop for no-code product adoption is now on a new domain. To prevent any possible disruption to your flow, Chameleon is still being served from trychameleon.com for existing customers. 😎
🧪 Full Experience configuration from the Dashboard: Previously, you would use the Builder to fully configure your Experiences. To create more space for the upcoming features we are working on, and to ensure a faster workflow for you, all Experience configuration takes place from the Dashboard. Watch a short video of the new flow and sign up to get early access!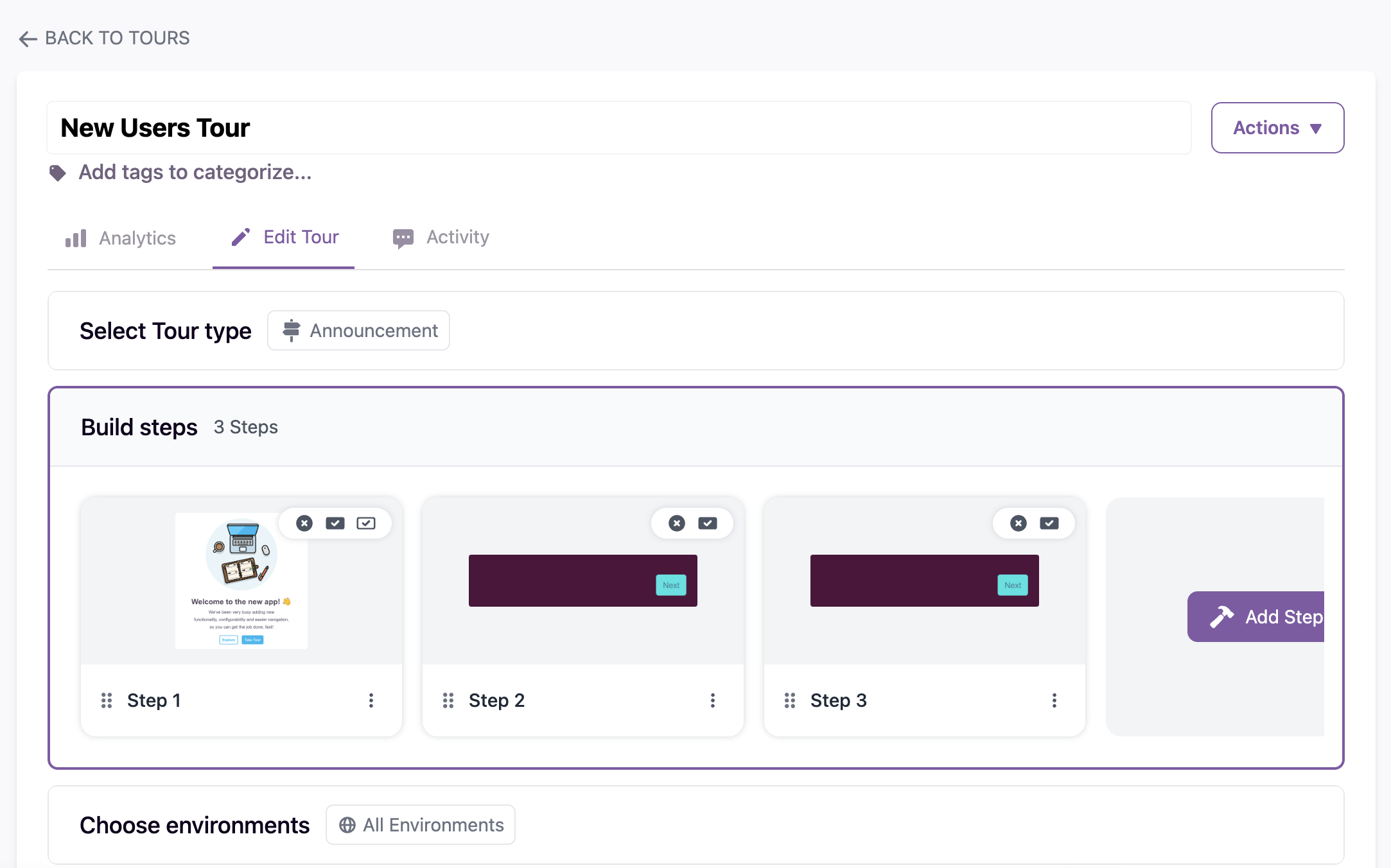 🧪 Schedule and focus on what matters: Experiences can now be published at a custom date in the future. Yay! Align your in-product Experiences with your brand efforts… effortlessly. 😌 The same goes for unpublishing Experiences, you can set up a custom time to stop being displayed. No more setting reminders to unpublish Experiences!
🧪 Custom audiences for Tooltips: You've asked for it. We've made it happen. You can now add your custom audiences to Tooltips as well! This is available with the new Experience configuration from the Dashboard. You can get early access here and it will be available to everyone soon.

🎁 CSV imports from your Dashboard: You can now update data properties and tag users to use within your Segments, all from the Dashboard. Use CSV imports to target specific audiences that you can't send data for, and create segmentation filters right away. With the Growth plan, you can add 50 tags to your account, while the Enterprise plan has unlimited tags. Try it now!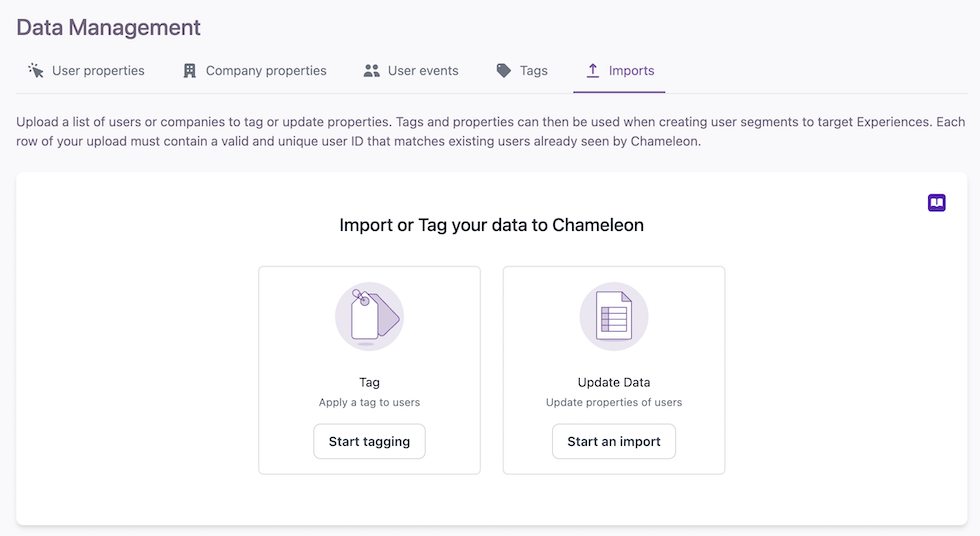 🎁 Environments management: Full control over the domains and subdomains where your Experiences are displayed. Group domains into different Environments and enable where Experiences will show up. To use this feature, you'll need to install the Chameleon code snippet on those pages.
🎁 Better Microsurvey analytics: Enjoy perusing through even more data, with the new options to extract event interactions from your Microsurveys. Using our API you can add five new Webhook topics. Set them to find out who started what, completed when, and what button they clicked.
🎁 Freshpaint installation: Go for the simple, fast, no-code installation with Freshpaint. Install Chameleon in just a few steps, with the Customer Data Platform that allows you to easily turn on the Chameleon code snippet and allow data to flow.
✨ The Chameleon Chrome Extension got better: This essential component of delivering in-product Experiences has also been updated, to show better error messages when something needs your attention.
✨ Faster performance: We refactored our JS logic into smaller packets to make sure you're only loading what you need at each moment. You can now create at the speed of li.. your internet provider. 😉
🦎 And the bugs we ate 🦎
🐛 Now, Launchers display an Empty state after the checklist is completed.
🐛 Manual Tours delivered through short-links are working perfectly.
🐛 The Launcher Completion Criteria can now be filtered.
🐛 Variables are saved, even if the input area is not edited after inserting them.
🐛 Secondary buttons are now always styled correctly.
Branches we are climbing 🌱
👀 Bye-bye to the Chameleon Sidebar: Soon the Chameleon Sidebar will leave and give in its usefulness to the Dashboard. The Builder will give you access to full Experience customization while every other configuration will be done in the Dashboard. This will roll out to everyone soon, but you can use this form to get early access. 🙌
🌱 Additional actions coming your way: These options go a long way, we know! And that's why we're working to add more integrations and some exciting new actions. Did someone say Zendesk or Help Scout? Why not both? 😉
🌱 Better Launchers? Also soon: With your users in mind, we are adding a Dismiss option and a Welcome state for Launchers.
🌱 Segments improvements: Yes, your favorite custom audience builder receives an upgrade as well. 🙌 We are adding more filter options for you to use with your Segmentation, to nail down audience-Experience fit!
April 11th, 2022
🎁 Alerts are out of beta and into your Dashboard: Get notifications via email and/or Slack when Experiences aren't seen or completed as you'd expect them to. Available now on all Growth and Enterprise plans. Try it now!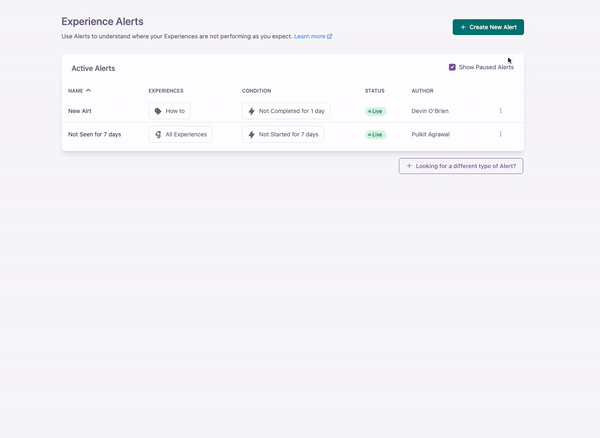 ✨ Images can now trigger an action: You can now add a link to your cover images; show a photo of a feature that leads directly to that page, or display a webinar invite that links to the registration LP. Learn more about image uploads.
✨ Microsurvey response improvements: Previously, it was one-size-fits-all when asking for feedback on a comments step, or on an input Microsurvey. Now, you can set whether you want users to leave an email, number, long/short comment, or URL on a comments step. Give it a go.
✨ More info in the Segments sidebar: A deeper understanding of users and the Experiences they see, their attributes, and Microsurvey response at a glance. Check out a user profile from your Segments tab.
✨ New Analytics event for "Launcher Seen": When a Launcher widget icon is displayed or when the on-page element is found on the page, you can now receive this as an event – it's automatically OFF, but we can toggle it on for you – email us if you'd like it.
🧪 Experience configuration in beta: Soon, you'll be able to create Experiences from the Dashboard – with precise control and targeting. We're looking for feedback on the prototype and beta testers, want to take part? Get involved in the beta.
🦎 And the bugs we ate 🦎
🐛 Fixed issue where date could not be selected in a segmentation filter
🐛 Fixed issue where images couldn't be uploaded to Microsurvey Steps
🐛 Fixed issue where Rate Limiting status was showing incorrectly on Tours in the Sidebar
🐛 Fixed issue where a Microsurvey Thank You Step was not disappearing in Preview mode
March 3rd, 2022
🧪 Schedule Tours: Experience configuration is moving to the Dashboard, and with that comes scheduling. Now you can edit Tour settings without entering the Builder, and set start and end dates for Tours to be published. Try it now! Note: You'll still use the Builder extension to configure your Tour steps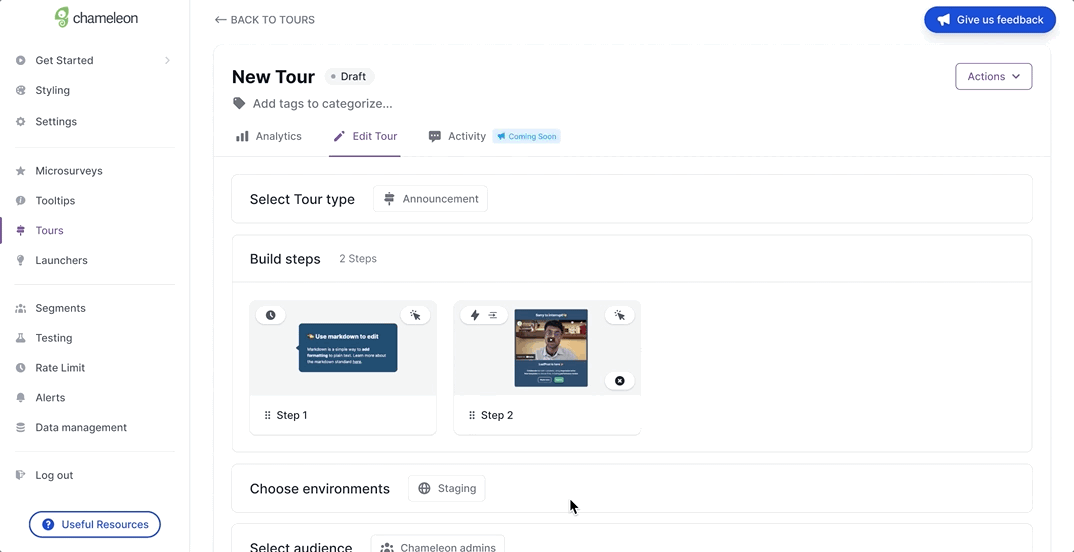 👀 Coming soon: Configure all Experiences - Microsurveys, Launchers, and Tooltips - in the Dashboard.
👀 Coming soon: A new domain management page that lets you publish Experiences on multiple domains in 1 click, with environments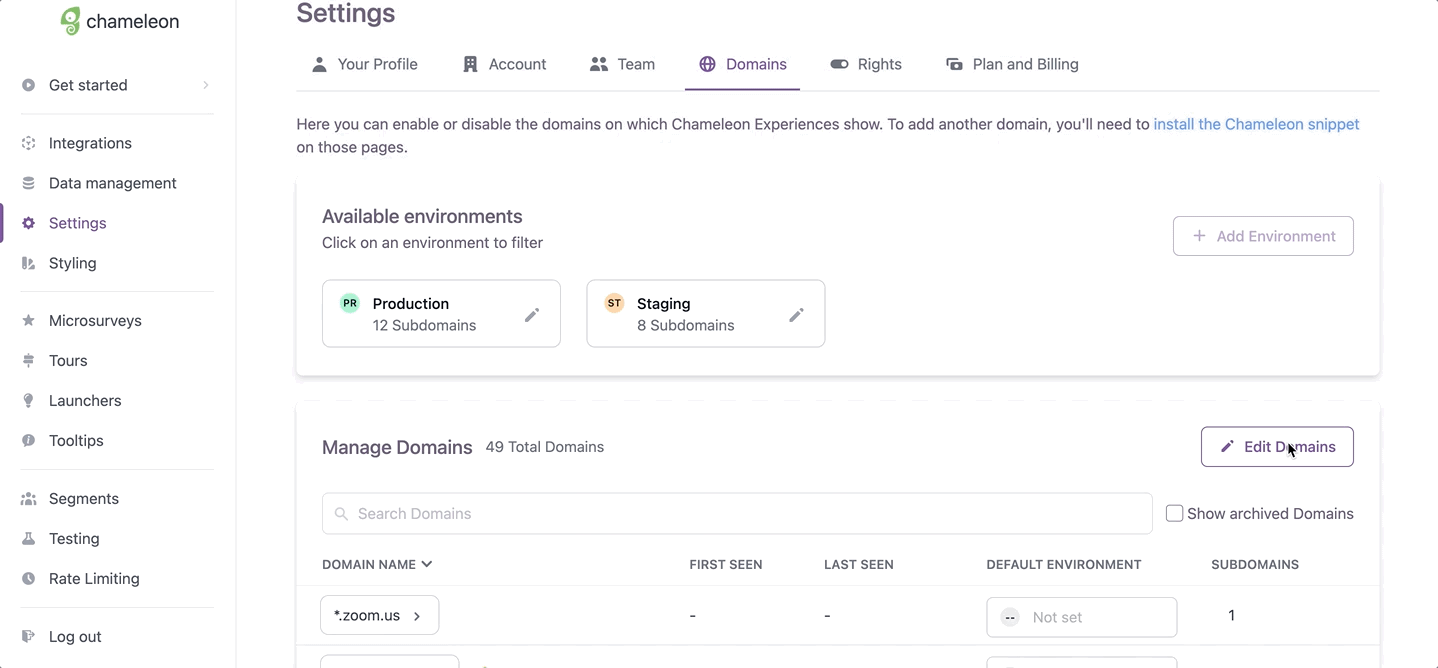 🐛 Copied Tours now retain the URL conditions ("Any" or "All") of the original Tour.
🐛 Templates now remain in the same order in the list after copying or deleting a template.
🐛 Experiences that are started from a Launcher correctly ignore URL and element rules that are configured for it. This ensures the launched Experience displays regardless of the page the user is on.
February 17th, 2022
🎁 New support for Ionic Capacitor: This allows Chameleon to work for mobile apps that are wrapped versions of a web app. It also allows support for React Native, Cordova, Xamarin, Flutter, etc. Discover how to optimize Experiences for mobile viewing.
✨ Refreshed Builder panels: With clear tips and explanations to help you create the best possible Experiences. 👀 Coming soon: links to help articles in Builder panels.

✨ Autoscroll now also works within iFrame components: When a Step is directed towards an element within an iFrame, the Autoscroll will scroll within the iFrame to display the element to the user.
🐛 The "Just Me" pre-defined audience segment can no longer be edited. The "Just Me" segment shows the Experience to the user who has most recently published it for testing purposes.
🐛 Progress indicator no longer missing from Steps that are added after configuring the indicator.
🐛 Improvements to look and consistency of the dismiss component. Positioning matches between the Builder and Preview, dismiss buttons with text are customizable as expected, and color will match the Step background by default.
February 4th, 2022
✨ Configure Styling for your Experiences from the Dashboard: We've added Styling to the Dashboard so that you can set your review and configure all custom CSS for all Experiences from one central location. Everything that was in the Styling menu of the Builder is now in the Dashboard, including Launcher templates. Choose to invite a designer to configure it for you, or set your brand identity yourself. Review your work in real-time with a live preview. A consistent brand presence throughout your Experiences is essential for creating a natural flow for your users through your product. Our CEO, Pulkit Agrawal, explains how to tackle this for Modals in this helpful video.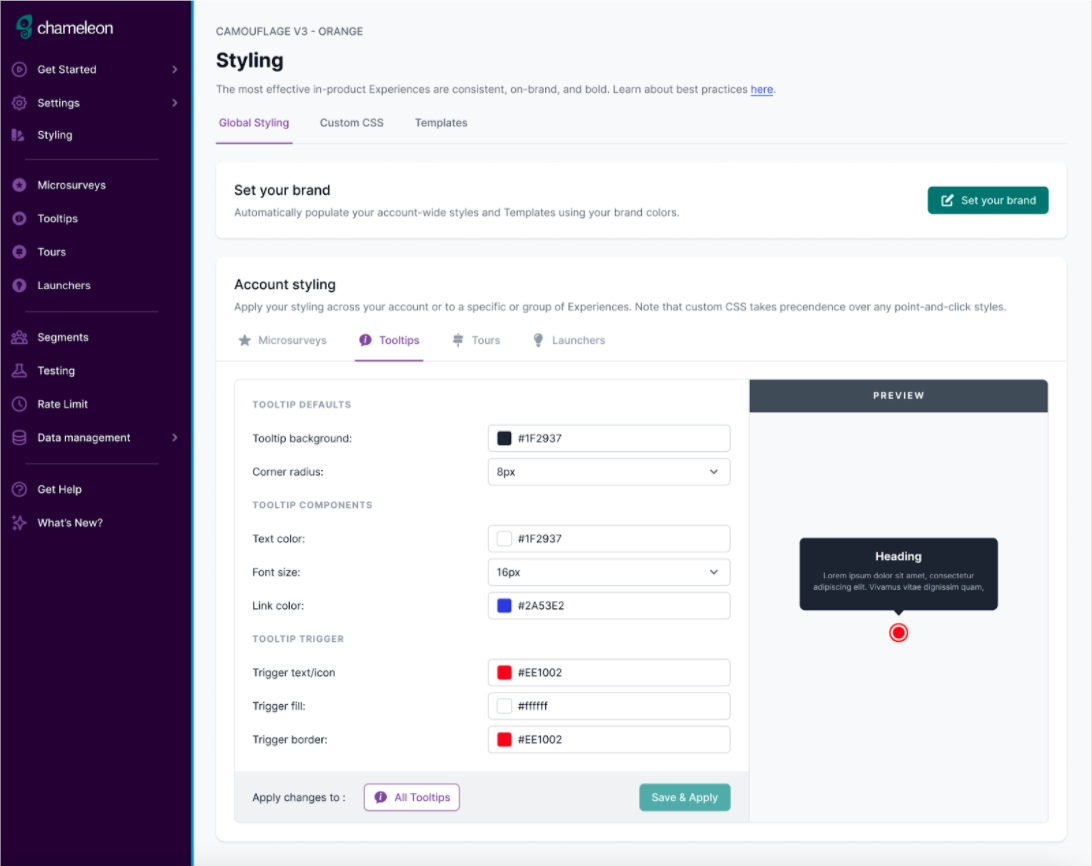 🧪 Internationalization (in beta): Make your Experiences mirror your underlying product more closely by uploading translations of Experiences into Chameleon. You can then target the different language versions of an Experience depending on the language your user has configured. Take a peek at how it will look – and how it will work – in this help article.
✍️ Let us know if you would like to participate in the beta!
✨ Autofill values when segmenting Experiences: We've made it easier to select the correct value of a property you are targeting – now when you input a value to a filter when segmenting your Experiences (such as contains, does not contain, is exactly, etc.), we autofill them as you type to help you find what you need.
✨ Improved Previews of Experiences in the Dashboard: Now when you view your Experiences as Cards, you will see a preview of the first Step (for Tours and Microsurveys), or the entirety of Launchers and Tooltips. Use this as a visual aid to recognize the Experience you're searching for.

🐛 Archiving properties now hides them when filtering in Segments.
🐛 The filter "Occurred fewer than 0 times" no longer displays extra users that do not match the filter.
🐛 No more unexpected double-clicking required to edit Launcher Items
🐛 Changes to Launchers maximum height are now shown in Preview mode
🐛 Launcher Search placeholder text is consistently modifiable
🐛 Fixed an issue where newly created Rate Limits that targeted all Microsurveys caused the Comments Step to hide.
🐛 When using a Progress Bar in a step, the Dismiss is no longer hidden when its position is set to outside the Step.
January 2022
We started the year with a lot of new features and improvements, and there are many more to come. Subscribe to our newsletter to stay up to date!
🎁 Color gradients and background images for Tour Steps: Now you can create even more engaging, on-brand Tours using images and color gradients. From the Canvas menu in the Tour Builder, upload your image or configure your colors. 💡 Great for professional-looking banners, and comments steps that entertain users to make them stick around.

🎁 New Rate Limiting by Experience and Segment: Set multiple Rate Limits to target different Segments with the Experience – or set of Experiences – that are most relevant to each of your user groups. Use this to ensure that you're maximizing product engagement from your users without overwhelming them.
Rate Limiting is only available for customers on Growth and Enterprise Plans. If you're a Startup customer who thinks your users would benefit from this advanced targeting, please get in touch!
🎁 Import lists of users via CSV with API: Use Chameleon's API to import and tag lists of users. You can then select this Tag when targeting users in a Segment for more detailed targeting of Experiences. Send us a message if you'd like to use the API today and would like help.
👀 Coming soon: UI for uploading CSV files from the Dashboard!
🧪 Configurable Alerts (in beta): Create notifications to give you the visibility you need when your most critical Experiences are not displaying correctly or are not being completed, enabling you to address UX issues as soon as they occur.
✍️ Let us know if you would like to participate in the beta!
🧪 Updated Heap integration (in beta): Sync Heap Segments to Chameleon to combine Chameleon Tour data and other product events for a holistic view of user engagement. With Heap Segments identifying the groups of your most - and least - engaged users, the immediate availability of this data in Chameleon allows you precisely target the perfect experience to every user.
✨ Hide Checklists when all Items are completed: Choose to hide a Launcher once all items are completed, while still showing completed items before the whole list is complete.
💡 Discover more ways to use Launchers here
✨ Improvements to search, filtering, and UX in Segments: Case sensitivity is now registered when filtering and searching, and an improved UI better indicates when a segment was last counted.
✨ Inputs in the "Other" field of a Microsurvey display in Slack: When a user inputs text in the "Other" option of a survey, their response will be included in the Slack message sent by our integration. If you don't have this integration set up, click here to find out how.
✨ Corner radius for Launchers: Customize your Launchers with the same corner style as Tours and Microsurveys for a consistent look and feel.
✨ Improved the auto scroll behavior of Experiences for apps built with Angular.
🐛 Removed 'focus' classes when targeting elements to prevent the incorrect definition of an element that resulted from a hover or focus while selecting it.
🐛 Fixed issues with not being able to skip Steps when some element rules are applied.
🐛 Fixed a situation where randomized dropdown Microsurvey responses were mislabeled.
🐛 An Experience's "last edited by" isn't updated when copying or duplicating the Experience.
🐛 Experiences will no longer display if a Comments Step for a Microsurvey is on screen.
🐛 Pointer adjustments and edits will now auto-save immediately.
December 10th, 2021
🎁 Set custom CSS for a Step directly from the Panel for that Step: With a new CSS field embedded in the Builder Panel, you can now completely customize individual Tour Steps while previewing your changes live.
🎁 New customizable "Other" option for Dropdown Microsurveys: Add an "Other" option to your Dropdown Microsurveys to enable users to enter their own text response. To learn more about how the top SaaS brands are using Microsurveys (and more!) to engage with their users, check out The 2022 Chameleon Benchmark Report.
✨ Improved Slack integration enables Slack messages to be easily used with other integrations: A new message format for our Slack integration enables greater precision and detail in the transfer and/or analysis of data when you connect it with other integrations such as Zapier. More advantages of using Slack as a Data Destination for Microsurveys can be found here.
✨ Updated navigation (and new Launcher!): A refreshed interface makes navigating more intuitive, and the new "Useful Resources" Launcher – that we built using Chameleon – enables you to access guidance without leaving the page you're on.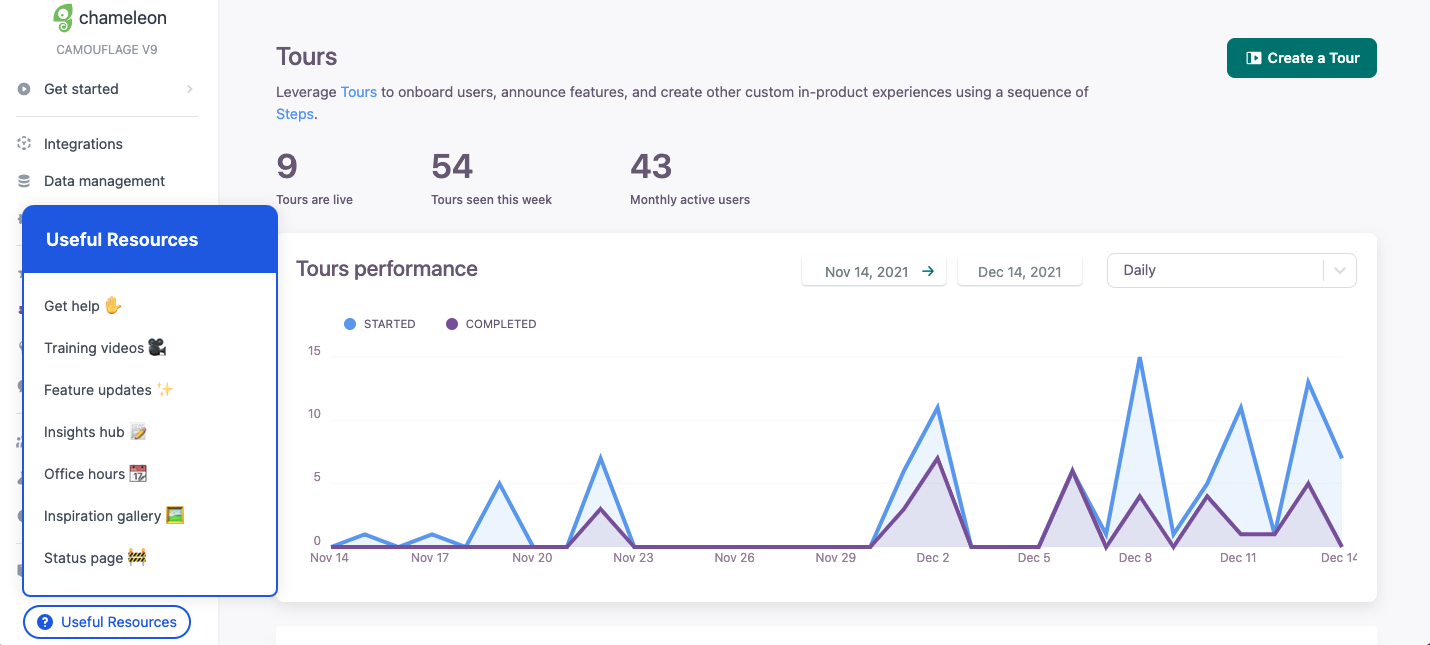 ✨ Subscribe to Chameleon system status notifications via the Help page in the Dashboard: Now easily subscribe to status notifications from directly within the Chameleon web app.
✨ Now clicking "Cancel" after selecting an element will return you to pre-selection mode: Rather than return a "No element selected" error when you cancel your element selection from a step, you will now be taken back to the element selection stage so that you can select the element you need.
✨ Now there is the option to set text or Dropdowns in Microsurveys to be right-aligned: If you need your Microsurvey text or Dropdowns to read right-to-left, for languages of that format for example, you can now set this using markdown.
🐛 Fixed issues around the Interaction configuration in the Builder Panel that occur when creating a new Tooltip, and when editing buttons from a blank Tour Step template.
November 25th, 2021
🎁 New progress indicator designs: In addition to breadcrumbs and text, you can now add a progress bar, progress "links", or chains. See why progress indicators are effective, and learn about other best practices for Tours here.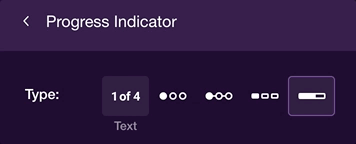 🎁 Installation improvements: You can now install Chameleon in your product using Segment, Google Tag Manager, npm, or Javascript before starting a trial. This enables you to see what Chameleon looks like inside your product – then when you're ready, start your free trial to show Experiences to your users. A redesigned UX clearly demonstrates how to correctly set up Chameleon for your stack.
✨ New overall Microsurveys performance chart added to the Dashboard: Conduct big-picture analysis of your Microsurveys at a glance with our updated performance chart. View total start and completion rates for all Microsurveys to ensure you're optimizing feedback collection.
✨ More filtering options available for Experiences in the Dashboard: Filter by Last seen, Last Edited, Create Date, and more to save time and stay focused while managing Experiences.
✨ Now use keyboard shortcuts (e.g. Return) within the Dashboard modals: Navigate naturally through Chameleon using common keyboard shortcuts.
🐛 Enter/Return now allowed within custom CSS input in the Builder.
🐛 Typeforms now load correctly in React apps.
🐛 A single URL rule that's added to Steps can now be removed.
November 11th, 2021
✨ Clearer UX for setting "success action" for any Launchers Item. This also includes new options to set success as "Tour Completed" alongside "Tour Started" as well as, "Microsurvey Completed" alongside "Microsurvey Seen". More on understanding Launcher items here.
✨ Non-published Tours can now be included when building a Launcher: This makes it so much easier to set up a Launcher before publishing the Tour(s) it contains.
✨ Element selection improvements: When selecting an element where multiple match, we'll automatically specifically select the one you choose instead of just the first from the list of matches.
✨ Deactivated or Deleted Tours immediately removed: Previously if a user had already started a Tour they would be able to complete this Tour (including at a later date) even if the Tour was subsequently de-activated or deleted. We've now improved our syncing so that if you deactivate a Tour it will immediately be disabled and unavailable to users, so you have the best control over what a user can and cannot see.
✨ More Segments improvements: In user preview, you can now see which Segments a user is a member of at a glance.
🐛 Fixed a bug that prevented Microsurveys Question Steps being skipped due to Element Rules.
🐛 Microsurvey responses were being sent twice to Slack – they now send as expected.
October 27th, 2021
🎁 Alternative progress indicator for Tours: Progress indicators for Tours, such as breadcrumbs or step numbering, have had a makeover 💖. Adjust the placement of the progress indicator within your step, and choose different designs between breadcrumbs, numbers, chain link (new!) and a progress bar (new!).
✨ More filtering options for Experience tables: There's more options to filter all of your Experiences. Filter by last seen, completion rate, and who was last to edit each Experience. Try it out in your Dashboard.
✨ Heaps of segmentation UX improvements: We've been working hard to create the best experience for your Segments. Head to the Dashboard to see a clearer error state when a segmentation filter is left incomplete, a more interactive experience in your tables, and easier to use filters that are quicker to create.
October 13th, 2021
🎁 Timed dismiss for Tours: Animated dismiss timers, previously available only for the final "thank you" step of Microsurveys, are now also available for Tour steps. Put the pressure on by adding an animated dismiss timer to your steps that will automatically close the step after a time limit of your choosing. Try it on your next Tour.
✨ Microsurvey recurrence now by user: Previously, a Microsurvey set to recur after a particular period (e.g. every quarter) would recur for all users each quarter. That could mean that if a user hadn't logged in for a quarter, they might see it twice (for the prior and the current quarter.) However, we've now revamped this so that recurrence is calculated for each individual user. This means that users will not see recurring Experiences back-to-back, as the recurrence interval will be followed for each person separately.
✨ Improved user summary views: You can now more easily view information about any specific user from within your Chameleon Dashboard. Updates include which Segments they are part of, which Experiences they've seen or will be seeing, and what their Microsurvey responses are. Try it out!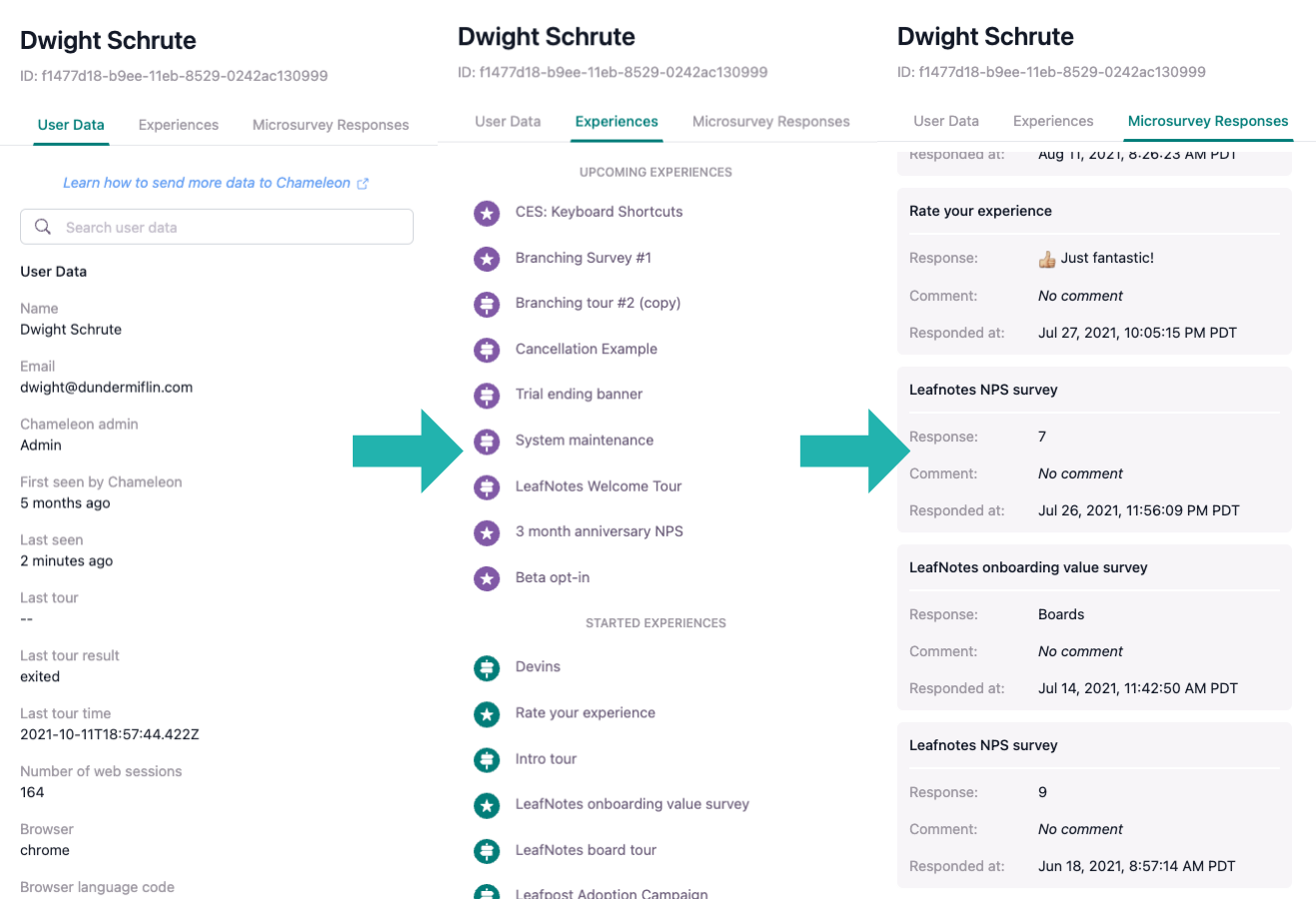 ✨ Segmentation UI improvements: We're continuing to improve how you can create and manage audiences: you can now hit "Enter" on your keyboard to complete a filter; cleaner visuals inside the table; and a clearer confirmation modal when deleting Microsurvey responses from within a user's summary view.
✨ Add corner radius adjuster to Tooltips: Smooth out the corners of your Tooltips with the corner radius adjuster!
🐛 "After" and "Before" filters not saving correctly: We discovered an issue where these filters were not saving correctly and fixed to ensure they now do save as intended!
September 29th, 2021
🎁 We're SOC 2 certified! We're proud to share that we received SOC 2 Type II certification; we've been audited across over ~190 controls over multiple months to verify our security systems and policies meet best-in-class standards, without exception. Discover what this means for you and your users going forward in this announcement.

🎁 Installation now available through npm: npm is basically an app store for applications using Node (most modern SaaS apps) and now Chameleon is available in it to download and install easily. You can view this directly on our Installation page where there is now a third option (in addition to our prior "JS" and "Segment.com" options).
✨ Automatic "marked as completed" for Launchers: Launchers with checklist items will now monitor if a user has already completed the success definition for a given item, and if so, already check it or mark it as "complete" even if the user doesn't click on the item.
✨ The Playground has had an update! We've made a very simple "app" with clear instructions for each Experience you can try, so you can get right to building and playing. Take it for a spin!
✨ Improving the Builder experience: We're continuously making the Builder faster and smoother to work with. Now, when toggling between Edit and Preview mode, the Builder will now remember the last panel you were using while editing.
🐛 Sorting tables in the Dashboard by columns that contain numeric values now works as expected e.g. with NPS survey responses.
🐛 Fixed an issue where, when in Preview mode, the Builder did not allow you to skip the timer when previewing a Tour step with a timed delay.
September 15th, 2021
🎁 Advanced filtering for Segments: Need to really fine-tune your Segments through complex filtering? Say no more! Grouped Filters are now available for building your Segments. Previously, you could create filters in an "A and B and C" or "A or B or C" format. Now, you can create "(A and B) or C" or "(A or B) and C" filters. The possibilities are endless!
🎁 More media for Microsurveys: You can now add media to the first step of Microsurveys. Give it a go and add a video, GIF, or image – make your Microsurveys pop!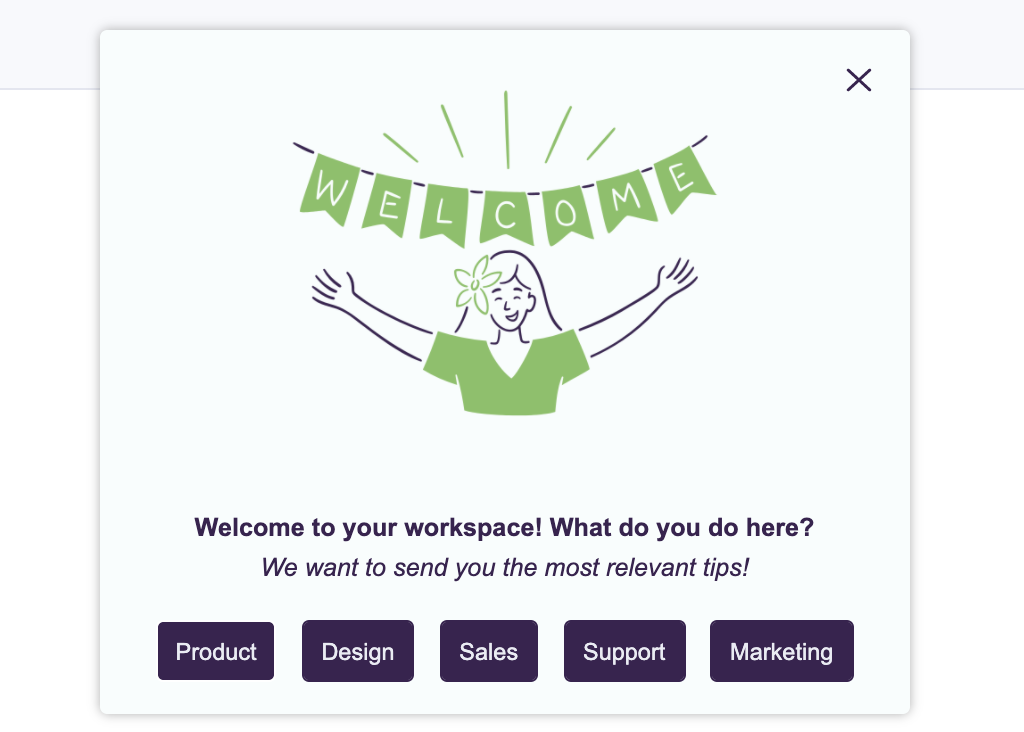 ✨ Slide-outs for Microsurvey responses: Want to see how individual users responded to all your different Microsurveys? Now you can! Click on any user in your Segments tabs to open the slide-out about them, where you will now be able to review their responses to Microsurveys.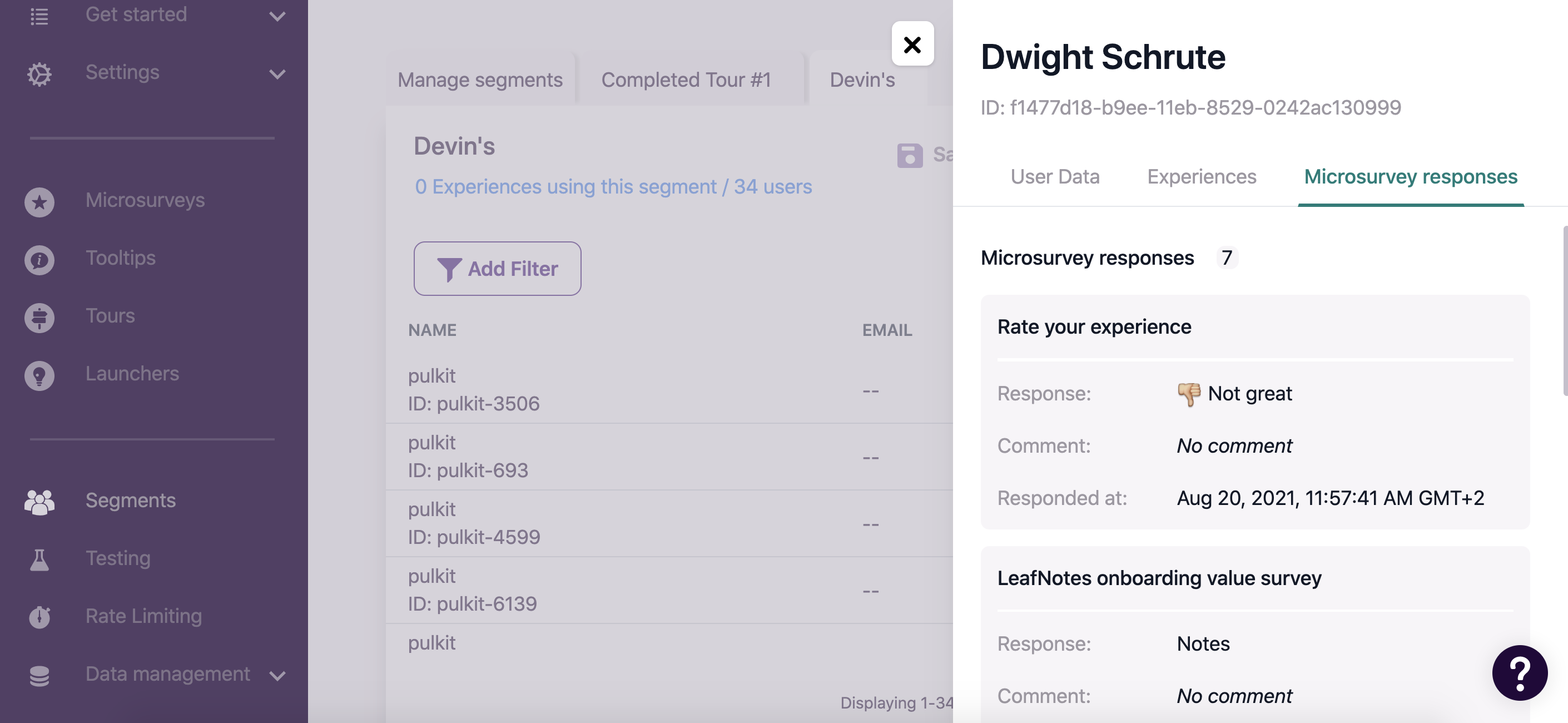 ✨ Allow Active Experiences to be archived: Even more improvements to organizing your Experiences! You can now archive active Experiences. Archiving an active Experience will also deactivate and unpublish it.
✨ Segmentation based on Dropdown Microsurvey responses: You can now create filters and build Segments based on how your users have responded to your Dropdown Microsurveys
✨ Restricted Segment deletion: When Roles are enabled in your account, Segments can now only be deleted by that Segment's author or any admin.
🐛 Accessibility for Microsurveys: Fixed an accessibility issue where Microsurveys were not able to be tabbed into and read by screen readers.
🐛 Tour "unpublish" bug: Fixed an issue where some Tours remained published even after being deactivated from the dashboard.
🐛 Fixed a few issues with auto-scroll behavior for Tours: If you set up an auto-scroll from one step to another (or back to a previous step) on the same page, there should now be a smooth scroll from one to the other.
🐛 Fixed an issue where the count of Experiences using a particular tag would be inaccurate after Experiences using that tag were deleted or duplicated.
August 31st, 2021
🎁 The new Builder is here: The Builder has had a major UI overhaul! All the ways to customize your Experiences are now on one menu called the Control Panel. This Control Panel also offers quick references to know if your Position, URL Rules, or Element Rules are matching (green) or not (red) based on your setup. Learn more about it here.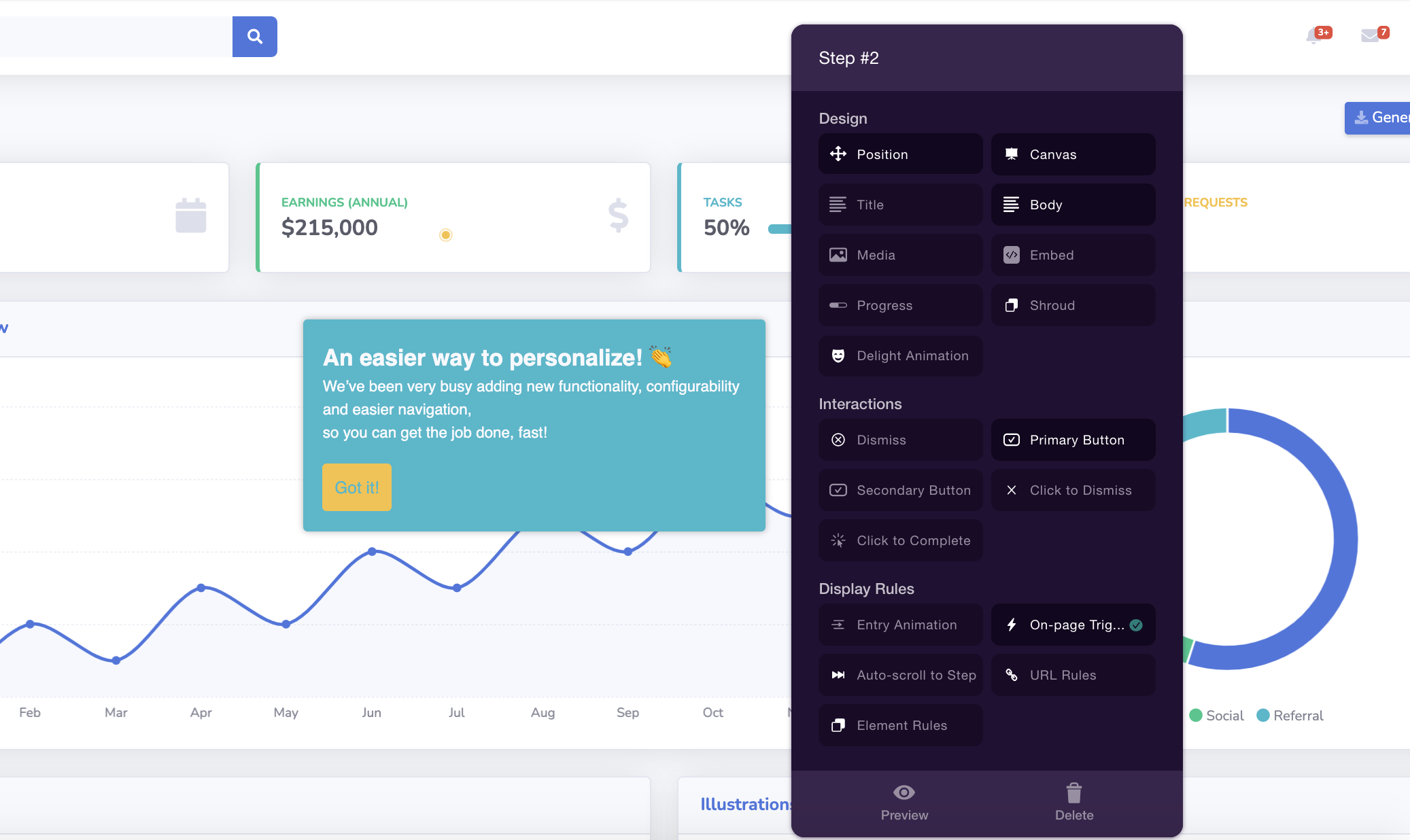 🎁 Updates for Segments:
When adding filters to define your Segments, change "and" to "or" between filters for more accurate audience targeting. Grouped filters are coming soon 👀
In any Segments tab, click on any user's name to learn more about them in a slide-out. You can review all of their Microsurvey responses, and soon review which Experiences they have or will be shown.
Quick actions to download a CSV of your Segment's data or to delete a Segment have been added to each Segment tab to the right of the top menu.
For customers with roles enabled, only Admins may delete Segments. A Member may delete a Segment they themselves created, but not others.
✨ Custom properties for integrations: Adding custom properties to your integrations events can now be found on your Integrations page under Settings: We've moved it here from the side panel of the Builder.
✨ UI improvements for data reporting: Your Dashboard data tables just got a lot roomier! Tables for Experiences, Segments and Data Management now take up more of your dashboard's width, giving you more space to review your data. We have more table improvements coming soon.
✨ Element selector improvements: Our element selector will now identify React apps and drop the dynamic parts of class names, allowing for more reliable element selection.
🐛 On-page trigger icons will stay put: Fixed an issue where an on-page trigger icon would not remain fixed to the element to which it is anchored.
🐛 Launchers font size: Fixed an issue where increasing a Launcher's title size would not also increase the padding around it.
August 18th, 2021
✨ Builder UI updates: The way you configure positioning, step design, element rules and more will have a new look in the next few days – meaning less clicks, more customization, and more precision. Learn more.
✨ Updates to the Playground: The Playground has a fresh splash of color! Revisit your personal sandbox and watch our best practices videos to get the most out of Chameleon Experiences. Get started free!
🎁 Slide-outs for Segments: Your Segments data is now in your Dashboard, and you have more visibility over your users' data by clicking on any user's name or ID to learn more about them. We've improved the language used in the filters on your Segments page, setting up filters to create a target audience is now more intuitive. Learn about creating a target audience here.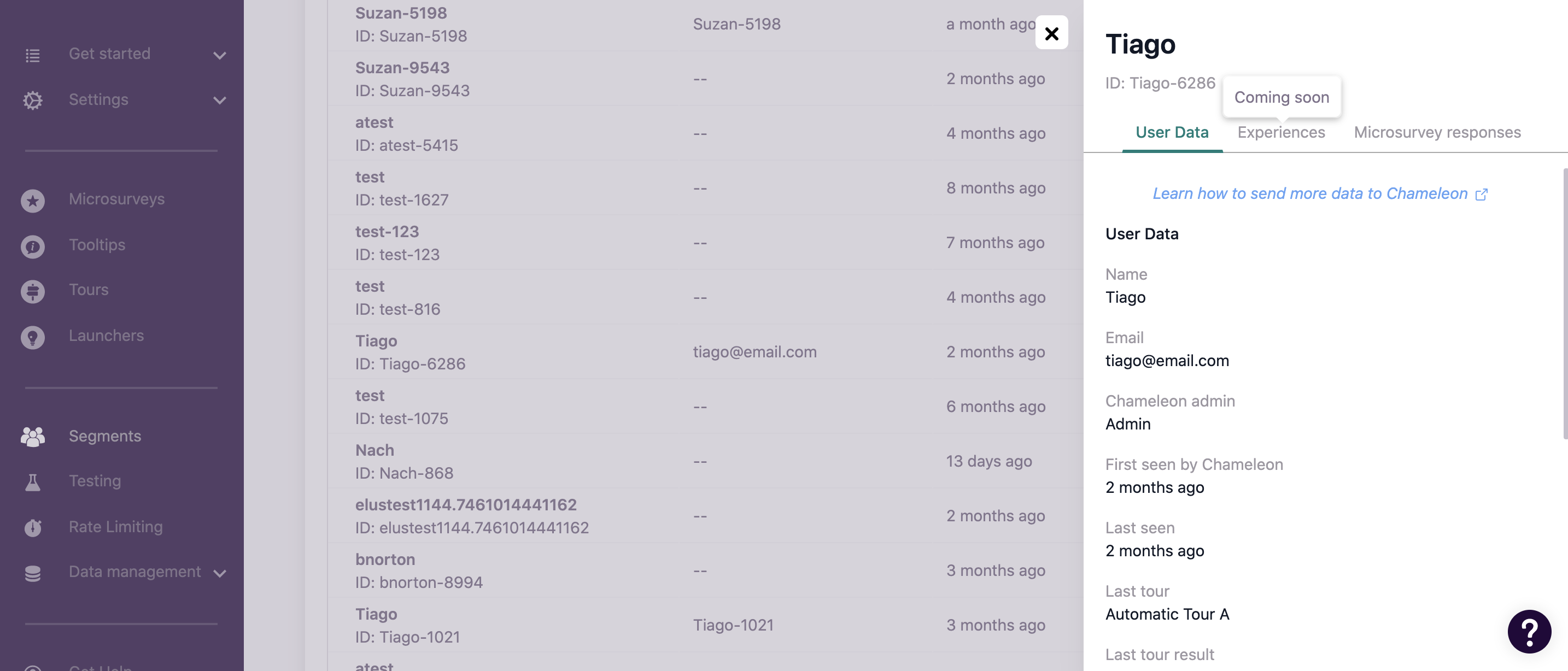 🎁 New "not seen in 7 days" instant filter: If you have Experiences that haven't been seen in over 7 days, you now get an alert on your Experience pages. We've now introduced an instant filter button that will show you exactly which Experiences might need your attention.
✨ Launchers positioning improvements: Your Launchers aren't limited to the bottom left or right of the screen anymore. You can now position any Launcher around any element in your app. We've also added more predefined icons for Launchers.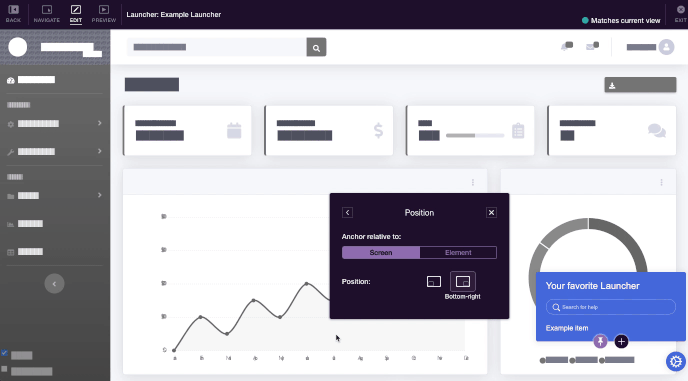 ✨ More control over integrations: When disconnecting an integration, you'll now see a confirmation modal with information about what effects this action might have to avoid any accidental clicks!
✨ New "relative to element" offset options: Tours and Tooltips now allow you to offset the positioning relative to the left, center, or right of the target element. This adds more ways to adjust the positioning of your Step, and better control over how the Step appears on mobile or responsive screens.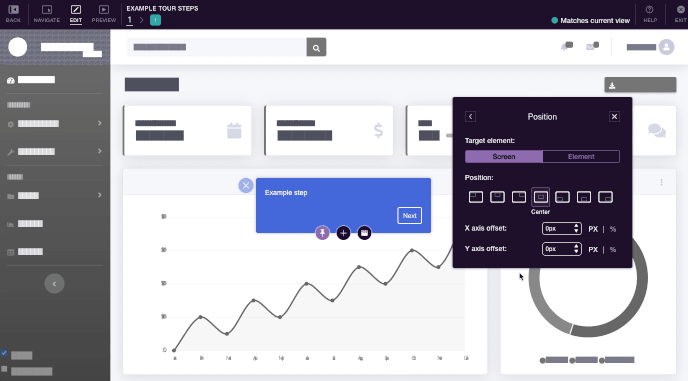 🐛 Fixed an issue where copying and pasting a list of emails from a spreadsheet into a Segment filter would not add comma separation between each email.
🐛 Fixed an issue where "enabled" and "disabled" buttons in the Auto-scroll to Step panel were actually reversed.
August 3rd, 2021
🎁 Segments have moved to the Dashboard: Now you can easily access Segments from the left-hand menu in the Dashboard. This helps you review your targeted audiences, filters, and users more efficiently.
🎁 Segments page takes a tabbed approach: Visit the "Manage Segments" tab and click on the "Show" icon of your favorite Segments to add them to your tab bar for easy access. You can also add descriptions to record the context of your Segments or how you're using them.
🎁 Filtering options in Segments, simplified: As you adjust your filters, you'll find much simpler filtering options with real-time updates of which users will be included. Now you can also change "and" to "or" between your filters to further narrow the segment (filter groups are coming soon!).
✨ New Segment instantly available in the Builder: Now, if you want to add a new Segment from the Builder, you'll be redirected to your Dashboard. Each new Segment you create in the Dashboard will instantly be available in the Builder.
✨ New way to navigate to Segments: Head to the "Manage Segments" tab on the Segments page in your Dashboard to find all of your user segments. Click on the "Show Tab" to add your favorite Segments to your tab bar. You can rearrange tabs as you see fit, or close the ones you no longer use. You can always re-add them by going back to "Manage Segments".
Next branches we're climbing 🌱
Soon, you'll be able to click on any user's name in your Segments to get more details about them
We're preparing a quick summary for Segments, too: By clicking on any Segment name throughout your Dashboard, you'll see a short summary, including applied filters and which Experiences use that Segment
The Builder is undergoing the first of many UI overhauls: Keep an eye out for an easier interface to access all your Experience config tools!
---
July 21st, 2021
🎁 Office Hours are back... and packed with more tips than ever! Our Technical Champion, Tiago, will host the first monthly event on Weds, Aug 4th. We'll cover best practices for mobile Experiences, your Chameleon questions, and the upcoming roadmap. Save your spot!
🎁 Tour templates move to the topbar: Building Tours with your templates is faster than ever. Now when adding a new step, you'll see a drop-down of your available step templates. Pick the one you want and get building!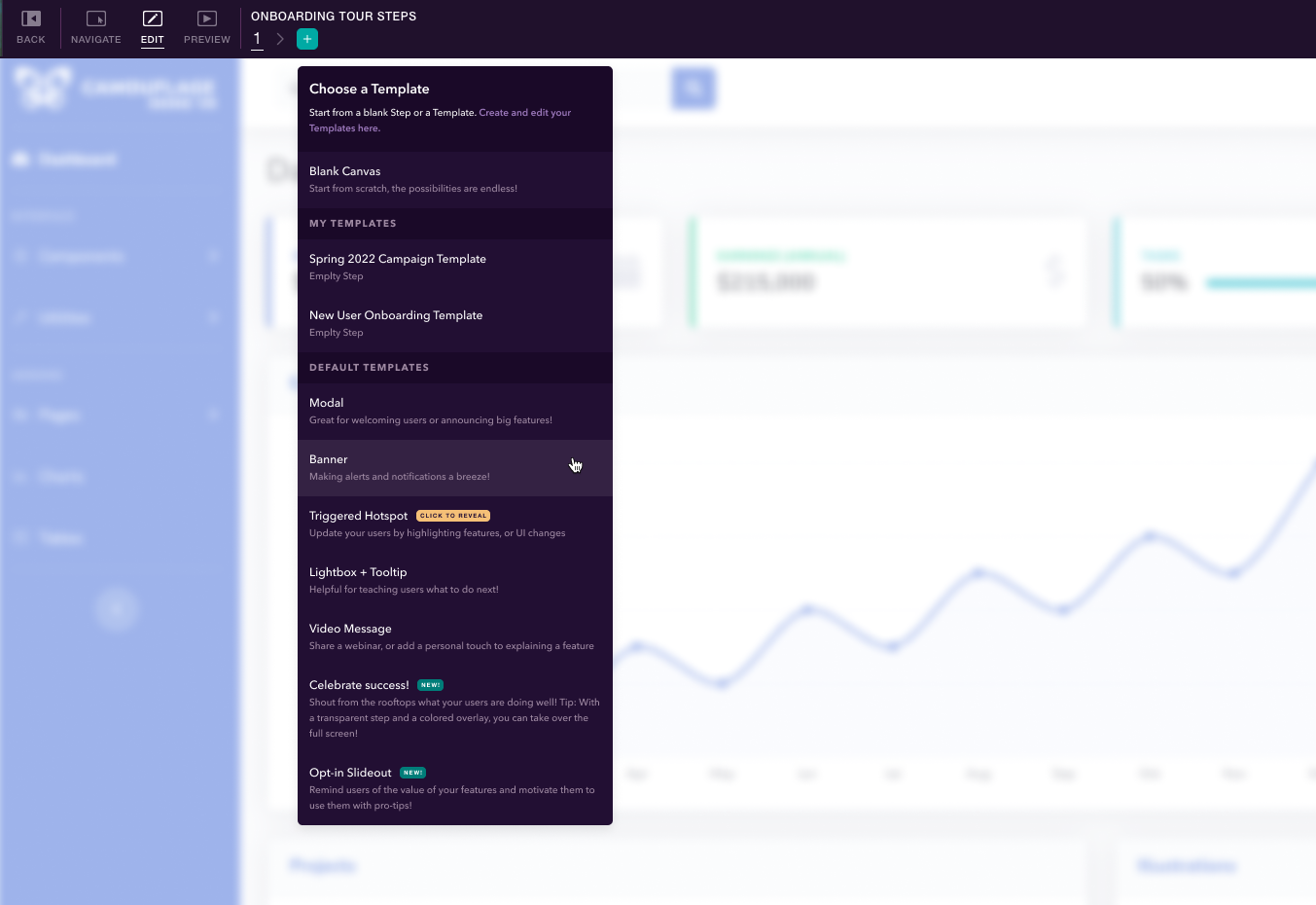 🎁 Element selection improvements: Our improved element selector allows you to fine-tune your selection with a clearer UI and new options to choose elements which "contain" an attribute rather than fit it exactly. You can also define which element within a hierarchy you'd like to select if manual selection isn't grabbing the exact one you want.
✨ Customize your CSV downloads: Choose to include all user data or just the default, responses or events, and a time range of data for Microsurvey and Tour CSV downloads. Now available in your Dashboard.
✨ New alert upon installation: We've added an alert in the Chameleon extension for times when no users can be identified on your current page, as this could signal a problem with your installation there. You can learn how to resolve installation issues here.
🐛 If you're editing an Experience which is anchored to an element that's not present on the current page, we now display a warning in the top bar with a link to resources on how to resolve.
Next branches we're climbing 🌱
The Builder is getting a major UI refresh: We're adding an all-in-one remote control for creating Experiences… coming your way very soon 🎮
Soon, Tooltip trigger icons will follow scrolling page elements butter smoothly
We're updating Launcher widgets: Place one anywhere you want and adjust your Launcher's positioning around it
Quickly review Experiences which aren't receiving expected activity with upcoming "instant filters"
---
July 6th, 2021
🎁 New help videos library: Chameleon newbie on your team? Need a referesher on button actions? Our growing collection of inspiration and tutorial videos is now easily accessible via your Dashboard. Click on "Get Help" and then look for our feature videos.
✨ Launchers widget improvements: We've made a number of improvements to using widgets with Launchers. It's now easier to upload a custom widget and start adjusting your settings straight away, and our pre-made widget choices are now easier to navigate – so you can pick the one that works for you.
✨ Microsurvey size improvements: We've reduced the minimum allowable width in Microsurveys, meaning that there's more customization options when you align your buttons vertically or want to adjust your Microsurvey size.
---
June 22nd, 2021
🎁 Launchers are changing: Items that are successfully completed will soon be marked as checked, even if not directly clicked on from the Launcher. Learn more here.
✨ Queue your CSV downloads: Your CSV downloads will now queue one after another and arrive in your inbox in a timely manner. Our alert message at the top of the screen will inform you if you have a queued download.
✨ Resolve your Experiences' outstanding edits faster: You can now filter out Live and Edited experiences separately. If you want to review all Live Experiences at once (including those that have pending edits), you can filter by "Live" status. If you only want to see Experiences with pending edits, filter by "Edited."
✨ Use markdown in dropdown Microsurvey items: You can now use bold, italic, and other markdown formatting in dropdown survey options.
✨ Show granular Event "last seen" times: Hover over any timestamp in any table to get its exact value down to the second. We now also update event properties more frequently (every 15 minutes).
🐛 Fixed an issue where Mixpanel was not receiving Chameleon events.
🐛 Launchers' "Last seen" value was not being populated – this is now resolved.
🐛 If your targeted element disappears, it will no longer take your Tour step with it. View and fix any broken element connections by reviewing your Tours and adjusting each step as needed.
🐛 Fixed an issue where Tour goals were not being tracked upon publication.
June 3rd, 2021
🎁 Buttons and media are now available for your Tooltips to help users succeed in advanced parts of your product. Display helpful GIFs, direct users to help articles, or just show off your colors – give it a go!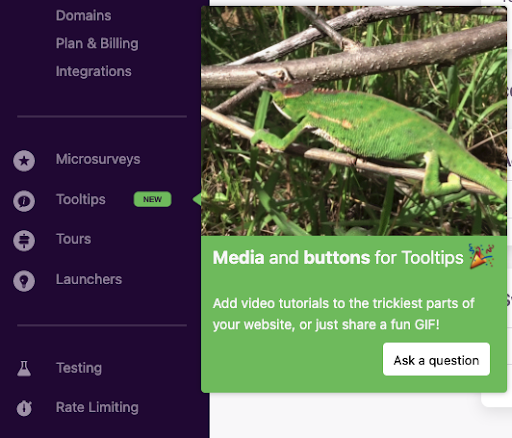 🎁 Want users to book a meeting through Calendly, visit another page, or see a GIF of your product team jumping for joy? You can now add buttons and media to Microsurvey Thank You Steps too. Make a Microsurvey.
🎁 Set the dismiss on the Thank You Step of Microsurveys to either be timed (with an optional timer animation), or manual (the survey will remain open until the user closes it themselves). This is ideal if you'd like to share a video, let users schedule a call, or visit a help article.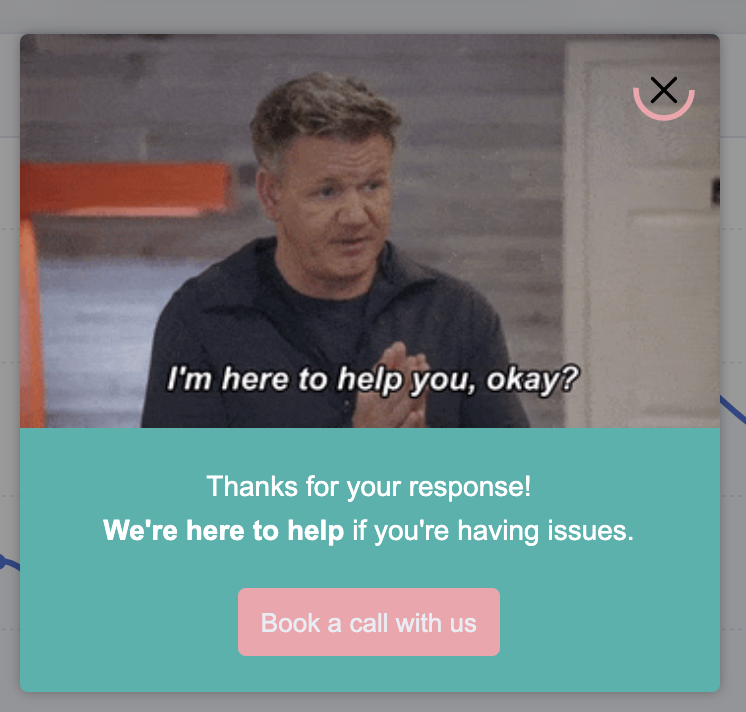 🎁 The same tools you use to filter, sort, view, and tag your Tours are now available for your other Experiences. It's never too late for a spring clean! See it in your Dashboard.
✨ The icons to choose button actions for the last step of a Tour are now easier to understand.
✨ You can now clearly define and edit an empty state for your Launchers when all items are completed. Choose to hide the Launcher entirely instead of showing an empty state.
May 20th, 2021
✨ Faster, smoother filters: Filtering Experiences in your Dashboard is now faster, more intuitive, and takes up less space on your screen.
✨ Consistent branding in Microsurveys: The color of the placeholder text in the comments step of your Microsurveys now matches the color of the rest of the survey, with a slightly lighter opacity. Similarly, the placeholder text (used in the comments step of your Microsurveys) now uses the same color as the body text, in a lowered opacity. This improves readability and keeps your Microsurveys looking on-brand.
✨ Improved positioning for Launchers: You can now fine-tune the positioning of Launcher widgets along X and Y axis.
✨ Updates to Microsurvey completions: Microsurveys which are answered but left incomplete by your users will still have their data sent through to any Webhooks or Zapier integrations, about 3 hours after the Microsurvey has been answered.
🐛 Fixed an issue where, when a divider line was added to a Launcher, the Launcher would not hide when all items were completed.
🐛 The custom icon for Launchers was not updating in real time. You should now instantly see a preview of your custom Launcher widget after uploading it.
🐛 Improved how accessibility keyboard commands interact with our Microsurveys; Hitting the esc key when focused on the input box should now first exit the input box before using esc again to fully close the survey.
🐛 The default styling of the Submit button on the Comments step of Microsurveys now matches that of the Survey step.
🐛 Fixed an issue where the color choices for dropdown Microsurveys could not be adjusted.
🐛 Any Dashboard alerts concerning Experiences which haven't been seen in more than 7 days should now have an accurate count of affected Experiences.
May 4th, 2021
✨ Fine-tune your Rate Limiting: Rate Limiting can now be adjusted in 1, 2, and 4 hourly increments, in addition to our previous settings of daily, weekly, monthly, quarterly, half-year, and yearly. For Growth plan accounts with Roles in place, now only admins will be able to adjust Rate Limiting controls. Learn more about Rate Limiting.
✨ Office hours with Pulkit: Starting May 12th, we'll be hosting a weekly Q&A session with our CEO and Co-founder, Pulkit – exclusively for Chameleon customers. It's your chance to discover the best ways to leverage our products, learn more about recent updates, discuss our roadmap, debate the best reptiles 🦎, or anything else. Add office hours to your calendar.
✨ NB - Segments are moving to the Dashboard: This will give you a wider view of all your users and more intuitive tools to quickly create and manage your segments. See what it will look like.
🐛 The font size of the title and body copy should now correctly change independently.
🐛 Corrected how Markdown should render in Launcher links. You can use headers, bold and italic to customize your Launcher links.
🐛 Dismissing a Microsurvey at the comments step should no longer trigger the "Thank you" step. 🐛 Removing a component (e.g. a shroud) from any survey step should now correctly remove it from all other steps in the Microsurvey.
🐛 Fixed an issue where data charts for NPS surveys would disappear when a custom date range was chosen.
🐛 Steps that have an entry animation should now reliably be positioned where intended.
🐛 Updated our Segment integration page to more clearly communicate how this integration functions and ensured that Tour data from Chameleon is sent to your Segment workspace.
April 22nd, 2021
Note: Rate limiting controls are now restricted to admins for those accounts which have permissions enabled. Manage your team here.
🎁 We launched a new menu UI in your Dashboard so you can organize the Tours you care about most and hide all the rest.
New menu UI on tables for condensed viewing, filtering and arranging options
You can drag and drop tag groups to customize their view
Arrange your Experiences by priority, and drag and drop to change priority order
Tours can be arranged by tag in list and card view
When arranged by tag, you can collapse tag groups
🎁 See instant previews of how your Experiences will look in your product when changing positioning. Element and URL rules have also been updated, making it easier to deeply target users based on pages and on-screen elements. Try it in the Builder.
🎁 Google Authenticator option added to all accounts. Admins can enforce this for their team in Settings.
✨ You can now adjust the size of the dismiss (text or icon) in your Experiences as well as setting a custom snooze timer for hours, days, or weeks.
🐛 We fixed a bug on date ranges when viewing Experiences, Chameleon now remembers your choices and updates the chart accordingly.
🐛 Bug fix on URL matching – trigger icons should now correctly follow URL matching rules.
---
April 13th, 2021
✨ Card view added to Microsurveys and Tooltips: Finding the right Experience has never been easier (visual thinkers – this one's for you). Try card view.
✨ New positioning options in the Builder: Better UI for positioning your Chameleon Experiences. Easily choose where your messages appear in relation to elements.
🐛 Microsurvey responses bug fix: Fixed an issue where you would be unable to load more survey responses in the Dashboard.
🐛 Microsurveys comments bux fix: Fixed an issue where it was difficult to adjust the dismiss text in the comments step of Microsurveys.
🐛 Buttons styling bug fix We improved the styling of the dismiss and buttons so that certain positioning options no longer cause them to overlap.
---
March 23rd, 2021
🎁 New Microsurvey targeting: You can now leverage Microsurvey responses to target more user segments e.g. those who didn't see/respond to a Microsurvey or those who didn't give you the response you were looking for.
🎁 MAUs graph in your Dashboard: Head to your Billing page to see historical data on your MAUs.
🎁 New Step snooze options: When a user chooses to dismiss an Experience, you can now set a snooze timer for hours, as well as days, weeks, and months.
✨ Tagging improved for all Experiences: Add, remove, and filter tags for every Experience you create. Do this on an individual basis, or go to your Data Management tab to review and update tags at scale.
✨ Bulk archive or unarchive events and properties: Additional updates in Data Management to save you time. More on managing your imported data here.
✨ Builder updates: Adjust the Canvas width incrementally, add blur with a slider, and use keyboard shortcuts to customize text blocks.
🐛 Title text: There was a bug making it difficult to select and edit title text blocks. This is now resolved.
🐛 Buttons: Fixed an issue where changes to the currently selected button did not appear in the Builder.
🐛 Team members: Newly added team members can now immediately be given admin rights. With this fix, team avatars now update more quickly.
🐛 Dropdown Microsurveys: The width of dropdown Microsurveys was not behaving as expected. This is now resolved.
🐛 Microsurveys input text: Fixed an issue where comments on Microsurveys were sometimes appearing twice.
🐛 Tooltips positioning: Resolved a bug where some Tooltips were anchoring to all matching elements instead of the first one in the hierarchy.
Chameleon browser update: We have ended support for Internet Explorer in light of its discontinuation from Microsoft. You can find all of our supported browsers here.
The next branches we're climbing
Product updates coming your way soon…
Arrange your Experiences in the Dashboard by tag or priority, drag and drop to adjust your view, and focus on the Experiences you care about most
Adjust the positioning of your Experiences and triggers more quickly with our Builder UI improvements
Add buttons and media to Microsurveys and Tooltips
Choose between Manual or Timed dismiss options
---
March 11th, 2021
🎁 Advanced element matching rules: Choose which elements need to be present or hidden for a Step to appear. You now have more control over when Steps should appear/skip and for how long Chameleon should wait for set elements to appear on screen. Read the guide.
🐛 Dropdown Microsurveys bug: Resolved an issue where the options in dropdown Microsurveys would still display in the comments step.
🐛 Step and Tooltip reset fixed: If your Step wanders off-screen, you can bring it back to the center in a click to reset the position.
Tooltips are more powerful than ever!
✨ Tighter Tooltip hotboxes: The hover area to trigger and interact with Tooltips is now more accurate, so your users will see exactly which tip they need – even when many are shown on one page.
✨ Speedier Tooltips: Tooltips now close at the same speed they open which further reduces the risk of overlap. They still have a 'fade' animation so it's clear to your users that their behavior caused the Tooltip to close.
✨ Improved pointer positioning: Choose whether your pointers center to the canvas body or the target element for better customization.
✨ Improved trigger icon positioning: Choose whether your trigger icons anchor to the center, left, or right of chosen elements. Useful for Experiences on mobile/responsive browsers where the element changes position.
The next branches we're climbing
Product updates coming your way soon…
Add and remove tags to your Experiences – then filter by tags in your Dashboard
Review your MTUs in the Dashboard
Rename/delete your tags in Data Management
Archive/unarchive events and properties in bulk
PS. The "What's New" page has landed in the sidebar of your Dashboard. Follow the sparkles…

---
February 23rd, 2021
🎁 Card view for Tours: Finding the right Tour has never been easier (visual thinkers – this one's for you). Sort my Tours by cards.
🎁 Bulk archiving for Tours: You can now remove all old and irrelevant Tours from your view by archiving them. Start sorting them.
🎁 Filtering available for all Experiences: Filtering is now available for Tooltips, Launchers, and Microsurveys too so you can quickly view relevant Experiences in your Dashboard.
✨ Making it easier to get help: Chameleons like to blend in, but our help widget was a bit too camouflaged on the left. The "Get Help" Launcher (built with Chameleon) now lives at the bottom right of your Dashboard.
✨ Improved loading for Segments: If you are using larger Segments, you can review your segment data even while the total number of users is still loading.
🐛 Improved Microsurvey analytics: Deleting survey responses will now immediately update Microsurvey stats.
🐛 Accurate Panels: Builder Panels (e.g. for editing titles, canvas, etc.) remain fixed on your Experience or quickly re-settle into place, even when scrolling.
---
February 9th, 2021
Organize your Experiences and your team with these latest updates:
🎁 Tour filtering: Find the Tour you need in seconds – filter with multiple conditions including name, creator, segments, status, URLs, and/or tags. Try it out in your Dashboard.
🎁 SAML SSO is out of beta: Keep your Chameleon account organized and safe by managing access via your SSO provider. Send us an email to get set up with this add-on.
✨ Download CSV files of your Experiences: Choose which columns to display, arrange in the order you want, filter your results, and download your custom CSV straight from your Dashboard.
✨ unsafe-eval and unsafe-inline no longer required: Chameleon previously required these exceptions within Content Security Policies, but this has now been removed! Learn more about CSPs.

---
January 27th, 2021
Our chameleons ate a lot of bugs this week, among other updates:
🎁 Tooltips page in the Dashboard: Review your Tooltips and see performance data from your Dashboard.
🎁 Release Log: See and share all our product updates, right here as you are now!
🐛 Emoji show in response data: Less :heart_eyes:, more 😍. Emoji now appear as expected when you view your Microsurvey responses.
🐛 Comments Step on Microsurveys now removable: Need feedback in just one click? Microsurveys no longer require a comments Step. Learn more about Microsurvey configuration.
🐛 Step URL correctly reflected in Sidebar: After releasing multiple URL matching, the Builder summary didn't correctly reflect the conditions set on the first Step, but this is now fixed.
🐛 Microsurveys stay in style: Styling set on Microsurveys will apply to all Steps to maintain consistency from one Step to the next.
🐛 Bug resolved on fixed element Steps: Fixed Steps were scrolling with the page – this has now been resolved so that these Steps remain sticky.
🐛 "Click anywhere" bug resolved: There was an issue where "click anywhere" to dismiss or progress in a Tour was not functioning when a lightbox or shroud was used. Now working as expected.
---
January 19th, 2021
New year, new features. In the last few weeks, we've shipped:
🎁 Updated UI for Experiences. Review heaps of Microsurvey, Launcher, or Tour data at a glance with larger graphs and custom date ranges. Dig into your data
🎁 Multiple URL matching conditions. Go deeper with your targeting. You can now add multiple URL conditions e.g. URL contains "home" but does not contain "admin". Learn more about URL matching
🐛 Bug fix for media sources. Fixed an issue where Vimeo and YouTube videos would not preview nor display when added as a media source. Now working as expected. Add media to your Experiences
✨ Improved Dashboard tables. Choose the columns you want to display and pick the order in which they're shown for easy reporting. Set the table 👇
---
December, 18th 2020
Your final product update of 2020, this week we released:
🎁 Mixpanel integration in open beta. Use Mixpanel cohorts to target Chameleon Experiences. Set it up from your Dashboard
🎁 SAML 2.0 SSO private beta. You can now control access to Chameleon via your SSO provider. Currently in private beta for Growth plan customers—send us a message if you're interested in learning more.
🐛 Microsurvey analytics fixes. Better pagination of responses, responses listed in the table now appear as per date-range set, and short-code emoji :blush: now show as emoji 😊 View your analytics
✨ Team management improvements. Admins can now make changes in bulk to team members' roles. Review and update your team
---
December, 11th 2020
This week we shipped:
🎁 Dropdown Microsurveys. More options, multi-select, and randomization options. Give it a go
🎁 Updated HubSpot integration. More reliable and effective. Target static and dynamic HubSpot user lists with Chameleon. Set up the integration
🎁 New webhooks. Send real-time data when Tours are started, exited, or buttons clicked. See developer docs (limited to Chameleon Growth plans)
🎁 Account picker. You can now have multiple Chameleon accounts—great for separating data, styles, and access. Growth plans add-on. Interested? Send us a message and we can help set you up.
---
December, 4th 2020
Your espresso shot of key product updates to stay in the loop. This week we shipped:
🎁 Slack integration. Choose Microsurvey responses to share with your team—now out of beta. Set up the integration
✨ New Builder settings. Turn on Experiences for mobile devices, allow HTML in Steps, and disable custom code. Enable new settings
✨ DPA available to sign. We updated our agreement to include Model Clauses and conform with the demise of the US-EU Privacy Shield. Email us to sign a DPA together